THE "ORIGINAL" ARX-160 BERETTA GAME SET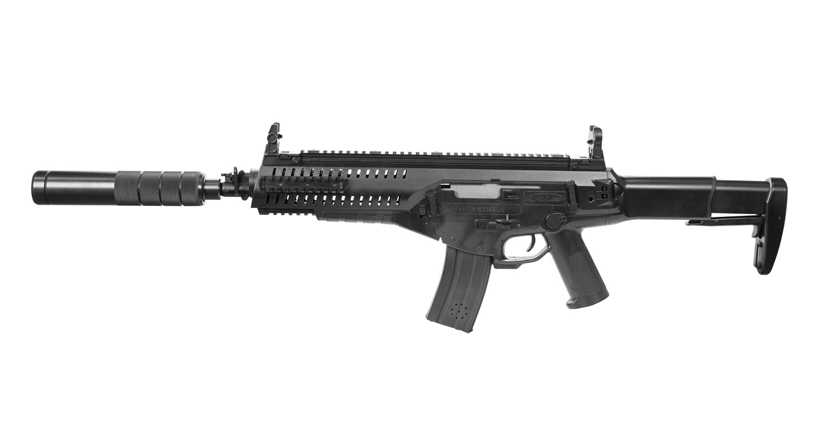 The BERETTA ARX-160 is an Italian automatic rifle developed for the Italian armed forces as part of the Soldato Futuro program. Its design concept is to increase the efficiency and tactical performance of every military man, thanks to the XXI century technological advance. Nearly all Soldato Futuro equipment is aimed at the soldiers' involvement into the digital battle control.

If you are an expert in a stormtrooper's gaming power, The LASERWAR company will equip you with its new technology concept. The BERETTA ARX-160 is now available for individual use!
The receiver and the accessories are made of shock resistant ABS plastic. The famous Picatinny rail is fitted on top of the tagger and provides easy attachment of various accessories (tactical lights, target indicators, a variety of optical and automatic sighting systems, etc). The barrel sight also has three dedicated rails to attach additional gear – the tactical handle and the lights. The tagger's length with an extended stock is 98 cm.

The BERETTA ARX-160 is equipped with a side-folding L-shaped plastic stock. It is a four-position telescopic stock, adjustable in length. The game-set is lightweight – 2,5 kg. Ambidextrous safety levers of swinging type are fitted above the pistol handle on both sides of the rifle, which allows to shoot with either hand dominant. The rear peep sight and the front barrel sight are on foldable rails - that allows to use them in the battle and keep collapsed in peacetime in order to avoid accidental damage.

Easy use and fast repositioning and adjustment of the combat sling are provided with 5 different sling swivels. The ergonomic pistol handle is implemented into the lower receiver which only highlights the authentic design. In spite of its impressive combat-like exterior, the trigger is very sensitive to even slight pressure. Recharging is done by pulling back the slide, smooth bolt operation. A lithium battery of 2,6 Ah is used as power supply and guaranties up to 30 hours of autonomous operation. The optimal firing range is 200 metres. The loudspeaker is fitted on the magazine, the power supply socket is at the bottom of the pistol handle.
Flexibility and easy use, convenience and ergonomics, high resistance materials and electronics, maintainability and excellent customization options – this is the BERETTA ARX-160 - a gaming rifle that will never let you down. The ARX160 is an extra-durable piece of gear that will satisfy even the most demanding tactical shooter. Do you want to become a future soldier? LASERWAR is happy to make your dreams come true.
Related news