Firmwares
Lasertag firmware
Lasertag firmware
Download
The LASERWAR company produces equipment versions 4,5,6,7,8 and 9
Version 9
The version 9 Smart RGB supports the new Smart RGB headband which brings about a whole new level of game process. The SRGB headband supports the multi-zone and background illumination functions. A game involving such a device becomes straightforward and spectacular. Particular attention was given to its balance adjustment and weight: the headband fits one's head well, its weight is 220 grams. For the device, we used new double layer cuffs, which have excellent humidity absorption properties and protect the electronics from humidity. Its continuous operation time is 48 hours. The device is powered by a lithium-polymer accumulator with a capacity of 1.8 Ah allowing to use any chargers of the Li+ range to charge the headband. The LEDs used in this device are way brighter than the ones used in the old version. The feedback function is preset by default in all 9th version play sets.
Version 9 play sets can be fitted with an OLED display. For these displays, the innovative technology of self-illuminating pixels comprised of organic light emitting diodes is used, meaning that they produce bright and intense colours. The OLED technology means that image quality remains the same under any viewing angle. Among the advantages of this display are high levels of contrast and precision. The introduction of a glare free feature made working with the display as comfortable as it can possible be. A defeat sensor, which is fitted into some of the play sets, rules out shooting from behind a hide out. For such incidences, there will be a punishment – it will become possible to hit the weapon. V.9 Smart RGB + OLED will make it possible to enjoy to the full fierce combat games.
Version 8
Version 8 Sport is represented by wireless play sets. It has the following parameters, which version 7 lacks: the new built in processor will make it possible to use new radio modules or to connect various additional devices to the board, while keeping the platform generally unchanged, to read version 8 statistics using standard programs. One can choose to use an OLED display. Among its advantages are bright and intense colours, superior viewing angle and no glare in the sun. Hardware switching function before a game allows to choose the most suitable shooting mode. The new infrared module and a hybrid optical system decreased the number of ricochets. The shooting range does not depend on the amount of charge left in the accumulators any more.
Up to 64 characters can be loaded;
Characters and "one round scenarios" are activated by a remote;
New parameters added: Round time, Bleeding, Regeneration;
The speed of Bluetooth connection between a PC and v.8 equipment increased and became more stable; the speed of settings sending;
It has been made possible to regulate the volume of sound effects using the program.
Without an exception, all versions are fitted with Li+ accumulators (up to 36 hours of non-stop operation), with a top optical system that can be found on the market (hitting range and mark, certified safe infrared diodes), a unique function of cross shaped shot illumination, flawless sound, which includes 25 unique sound effects. There is an option to add a fire mode selector. The possibility to simultaneously use 2 weapons has become classic. The 16 new default presets allow a team to change all weapon settings and to play the most popular scenarios, such as Zombie, Last hero and Terminator, using a remote. The new software of the MILITARY SIMULATION standard is most convenient and of the highest quality on the market of laser tag technologies. The headband is connected to the weapon automatically – no additional setting up using a PC is required. All the equipment follows the Plug and Play principle. The equipment of all the versions is fitted with li-ion accumulators (up to 36 hours of continuous operation), best optical system that is available on the market, has unique cross shaped shot illumination function, excellent sound and the possibility to use 2 weapons simultaneously.
Version 7
Version 7 Smart LT is represented by wireless play sets. They use Bluetooth technology to connect a blaster and a headband. The play sets support LCD screens, laser tag vests, underbarrel grenade launchers. They have energy saving feature, a new Zombie scenario, radio statistics, recoil imitation and tactile feedback. Blasters parameters can be set up using a wireless radio channel.
Zombie Apocalypse scenario has been improved. As before, on killing a zombie, a common player becomes a "living laser tag dead body" himself. We have made a small adjustment, which will add variety to the game – within a rebirth period (that is, within 30 seconds) the newly converted zombie cannot shoot, nor can he be shot. This gives players a chance to take more advantageous positions. The LEDs on Zombies' headbands will indicate to other players who are in front of them. In a half a minute interval, the zombie will be reborn.
There has been an added an option of team colour indication on activating the weapon. Thus, if on activation blaster illumination flashed once – the colour of a team is Red, 2 flashes – blue, 3 flashes – yellow, 4 flashes – green.
Version 6 MILSIM
Version 6 MILSIM (product launch – 2014) – besides the "headband – weapon" wireless connection – supports a laser tag vest (2 defeat zones) and the variable coefficient of dynamic armour. The fact that version 6+ firmware is modular means that an LCD screen and an underbarrel grenade launcher can be connected to it (separately or both at the same time). The latest firmware update was released on April, 6, 2014.
Version 5
Version 5 PRO+Wifi (latest version 5.02). Product launch in 2013. Compared to Lite version play sets, PRO+Wifi play sets have wireless "headband – weapon" connection, which is achieved by means of Bluetooth technology. Programming of tactical and technical characteristics of the weapon and the statistics is also realized through the wireless infrared channel. The latest firmware update was done on April, 6, 2014.
Version 4
Version 4 Lite (latest update 4.089) are wired laser tag play sets, which can be connected to a PC using a wireless infrared channel using a USB base for extended programming of technical and tactical characteristics settings. They support the feature of detailed game statistics viewing (number of shots, hits, used up cartridges, time of game equipment operation, etc.). Developed in 2012, it remained the most popular generation of laser tag equipment on the Russian market till 2013. The set comes with a new version of wired headband.
Download the firmware
Firmware Description
P.S. All the firmware upgrading that you carry out is at your own risk. The producer holds no responsibility for your equipment safety.
How to update firmware?
Now, to update equipment v.8 Sport and v.8 Sport + feedback to the latest version, download the firmware file from our website and send it to the blaster using the configurator. There is no need to dismantle a play set any more, which is done at one's own risk, to extract a processor, nor to update software using the programmator – this all remained in the past thanks to the new features.
Step 1
Download the file for v.8 Sport in .bin format from our website.
Step 2
Activate the rifle while pulling and holding the trigger (the so-called service mode). The blaster will produce no sound upon that. Launch the configurator. In the Settings menu, open Microprogram update in the menu.
Step 3
In a window that appears, enter the path to the file that has been downloaded. Click on Update.
Step 4
The configurator will perform search for connected devices. Select the one you need and click on Send.
Step 5
It will take a few seconds for the firmware to get updated; the blaster will get restarted. All the settings will be restored to default values.
LW firmware and firmware provision conditions under a limited license
LLC LASERWAR only allows to use the firmware to update the firmware of microcontrollers on circuit boards produced by LLC LASERWAR that were purchased from an official dealer; to obtain new functions, support devices, improve the performance or routine maintenance of laser tag equipment.
It is forbidden:
To get firmware for microcontrollers with the purpose to receive profit from selling laser tag electronics, printed circuit boards with a device area for MK PIC16F886. Especially when the unconscientious copying is performed by an outsourced laser tag manufacturer irrespective of their aims (education, non-commercial use or any other action that causes any harm to the LLC LASERWAR rights holder).
To copy, distribute via websites, e-mail or use any other means to pass it on to third parties without notifying them about its limited use and without providing a link to our website.
By downloading the firmware, you agree to the limited license conditions and assume the obligation to comply with this agreement.
How can you update firmware for microcontroller PIC16F886 on your own?
Step 1
You must have at least the simplest version of a PicKit 2 programmator, which is the best choice…
You can assemble one by yourself, but if you have no experience doing that, you had better buy a ready one. The programmator sold at our online store has a special adapter for our control processors.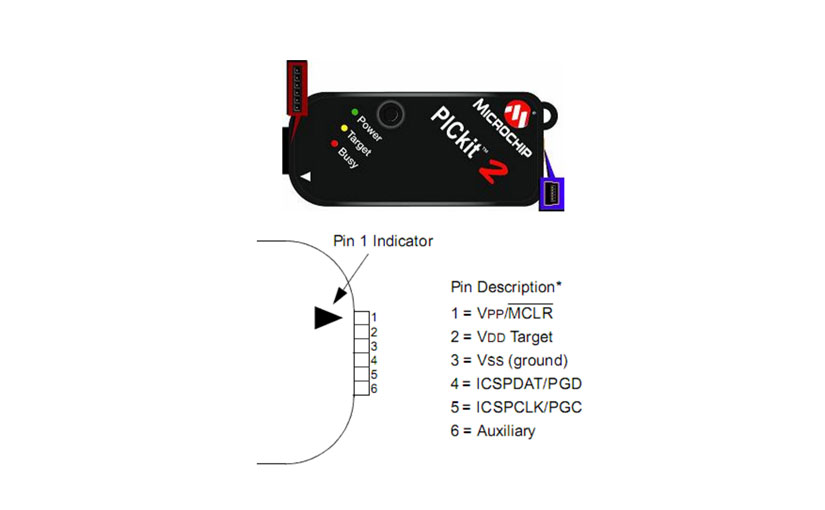 Step 2
Step 3
Connect to the power supply. The device is now ready to operate.
Launch the PICkit 2 v.2.61 program. Ideally, the PIC16F886 microcontroller will be automatically selected in the program. Otherwise, select it manually
Programmer menu – Manual Device Select (put a tick)
Device Family menu – Midrange
In the main window of the drop-down menu, select PIC16F886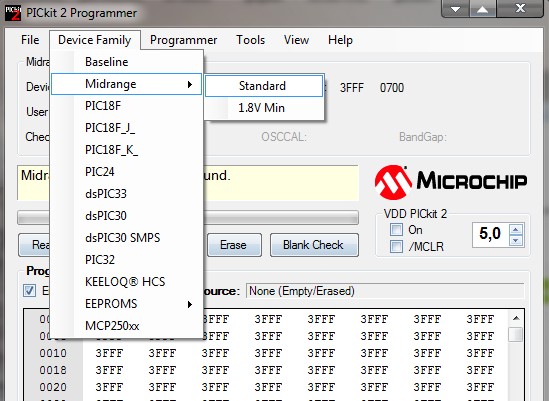 Step 4
In the File – Import Hex menu open LW firmware 4.8.hex; the Program Memory window will get filled out with data.
Click on Write in the window – the programming process will begin.
If the message window acquires green background, the microcontroller firmware update has been successful.