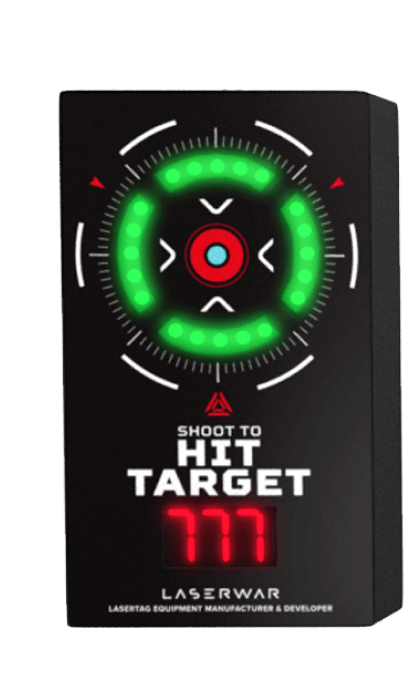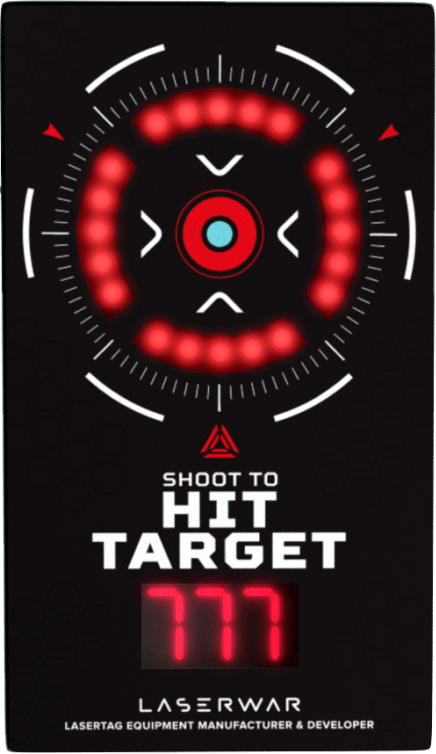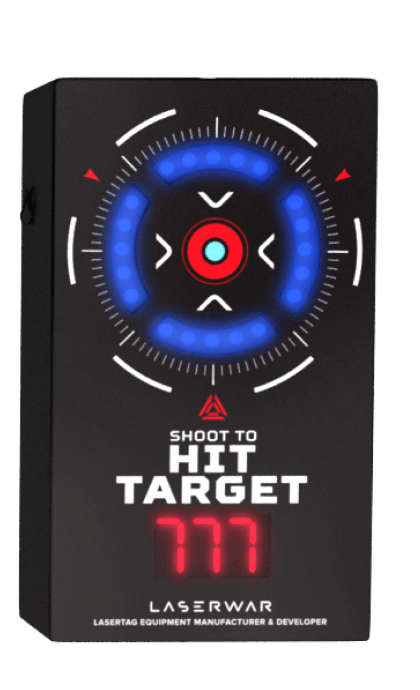 Must have RENTAL SOLUTION
Zero a rifle, have a marksmanship contest, while away some time before the start of the main game - with Electronic Target you can do anything. This is a universal assistant for instructors and a must-have companion at laser tag tournaments.
I bought a target, and you know: how can we zero guns without it? Now it's an indispensable device for our club!

MIKHAIL, KRASNOYARSK CITY
DESIGN
The "heart" of the target is a circle of 20 RGB LEDs and icons. They visually highlight the shot area on the black body. The LEDs are segmented into 4 sections. When hit, the circle flashes with the color of the shooter's team - red, yellow, green or blue. The device is noticeable from afar and does not look like a boring plastic box.
VISIBILITY
Large and bright OLED-indicator shows the data that will be useful in the game: the number of hits, weapon damage, player ID. When you turn it on, the screen shows the battery charge, so you don't have to guess how long your battery will last.
EASE OF
OPERATION
You can change the sound level, brightness and type of backlighting in a couple of minutes using the Universal Remote, Smart Nano Remote, Remote Pro... You don't need a laptop or a smartphone - you can set up your device right "in the field".
THOUGHTFUL
DETAILS
The power socket is tightly covered with a rubber plug. It protects the electronics from moisture and dirt.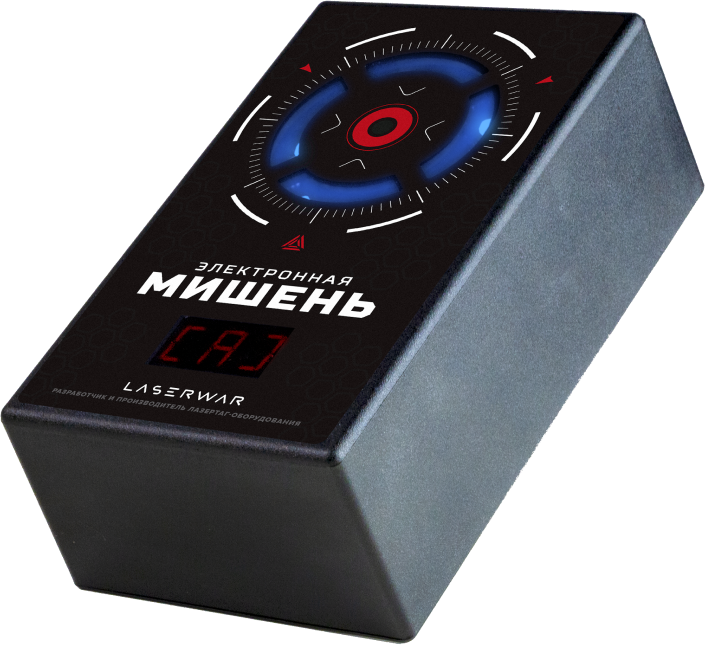 Backlighting:

20 RGB LEDs

Case Material:

plastic

Weight:

0,9 kg

Dimensions (HxWxD):

18,5×11,5×6,5 cm

Operation time:

up to 36 hours

Battery:

LI+ (2 AH; 7,4 V)

Battery
charger type:

LI+ (1000 MA)

Warranty:

12 months
HIT COUNT
WEAPON DAMAGE DETECTION
PLAYER IDENTIFICATION
DISPLAYS DATA ALTERNATELY

ARCADE SHOOTING MODE

A special mode for practicing marksmanship, attentiveness, and reaction speed
Arcade shooting
Find out who is the most accurate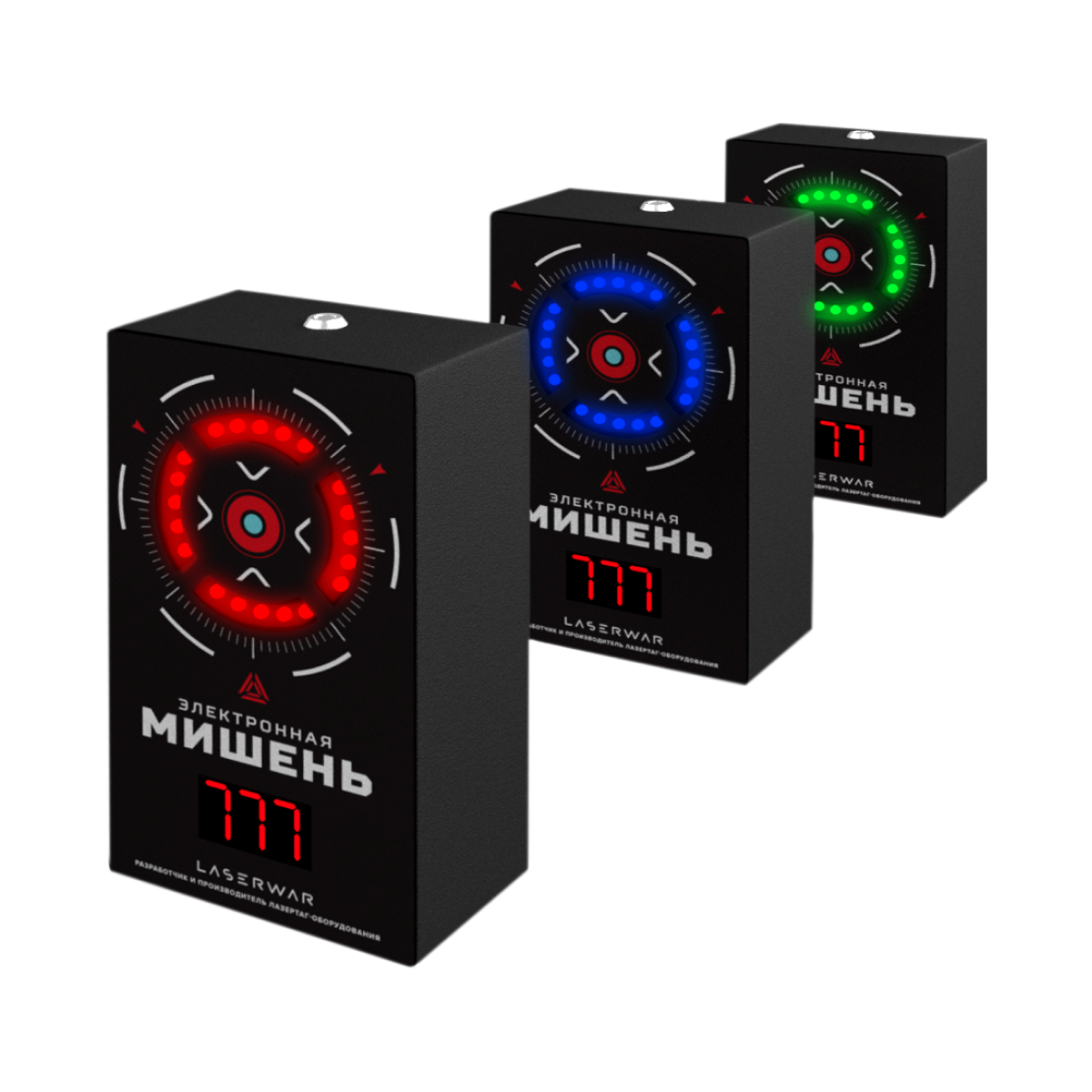 How does it work?
The player can hit the target when the lilac light comes on. This is a sign that the device has entered the active state. We have to hurry: the time for activity is limited. The moment of activation is chosen at random. When hit, the target lights up in the color of the shooter's team, beeps, and displays the number of hit points. The frequency of activation, flash duration and hit points can be edited.
Arcade Shooting allows for competitions between players and entire teams. Take one device, and players from different teams will compete in speed - who will be the first to hit the suddenly flashing target?
Thoughtful design, bright backlighting, quality display, ability to adjust in the field and Arcade Shooting - all this is Electronic RGB Target from LASERWAR.
NEED MORE
OPPORTUNITIES?
Laser tag shooting range
PERFECT TANDEM WITH HORNET LASER TAG GUN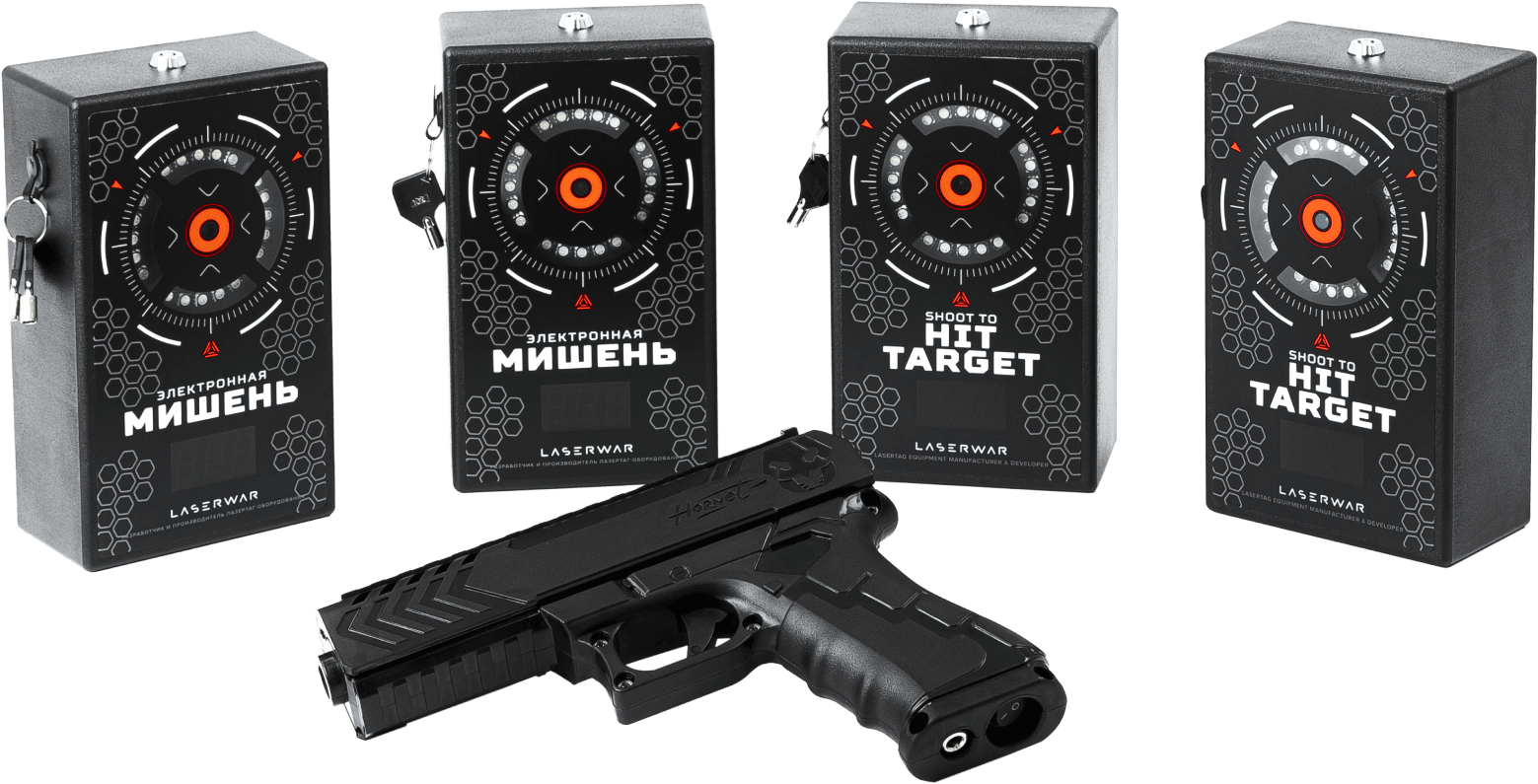 Bought such a set for my playground, not far from the recreation area. People like it. Maybe I'll take another one: it's great fun watching players shoot targets, cross the belt and see the end results. You don't need a PC to configure it. It can be used in field conditions. I haven't charged the targets yet. They hold the charge well. The pistols hit accurately, there's a Parallax installed. All in all, I'm satisfied

Alexander, Moscow City
Shooting Range is four Electronic RGB targets and one laser tag gun Hornet, version 9 Smart RGB with special firmware that allows you to play without a headband.
All you need to do is to put Electronic Targets into Arcade Shooting mode. In the settings it is denoted by the letter "A". You know what to do next. The target will light up at the set period of time. Aim, shoot, compete. Like a real shooting range, only more interesting!
LIKE A REAL SHOOTING RANGE,
ONLY MORE INTERESTING!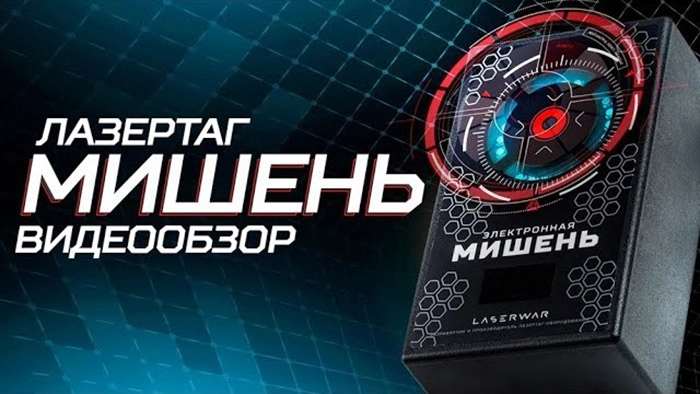 For school
Organize competitions on February 23 or Victory Day, conduct a quest or an obstacle course. A non-boring option that will appeal to kids of all ages.
For home
Variety of leisure: invite family and friends to spend time actively. Take your equipment outdoors and have a tournament.
For relax
Offer your guests an original entertainment experience that your competitors don't have. Have a competition at a kids' party, corporate event or festival.
The Hornet
Will always be in demand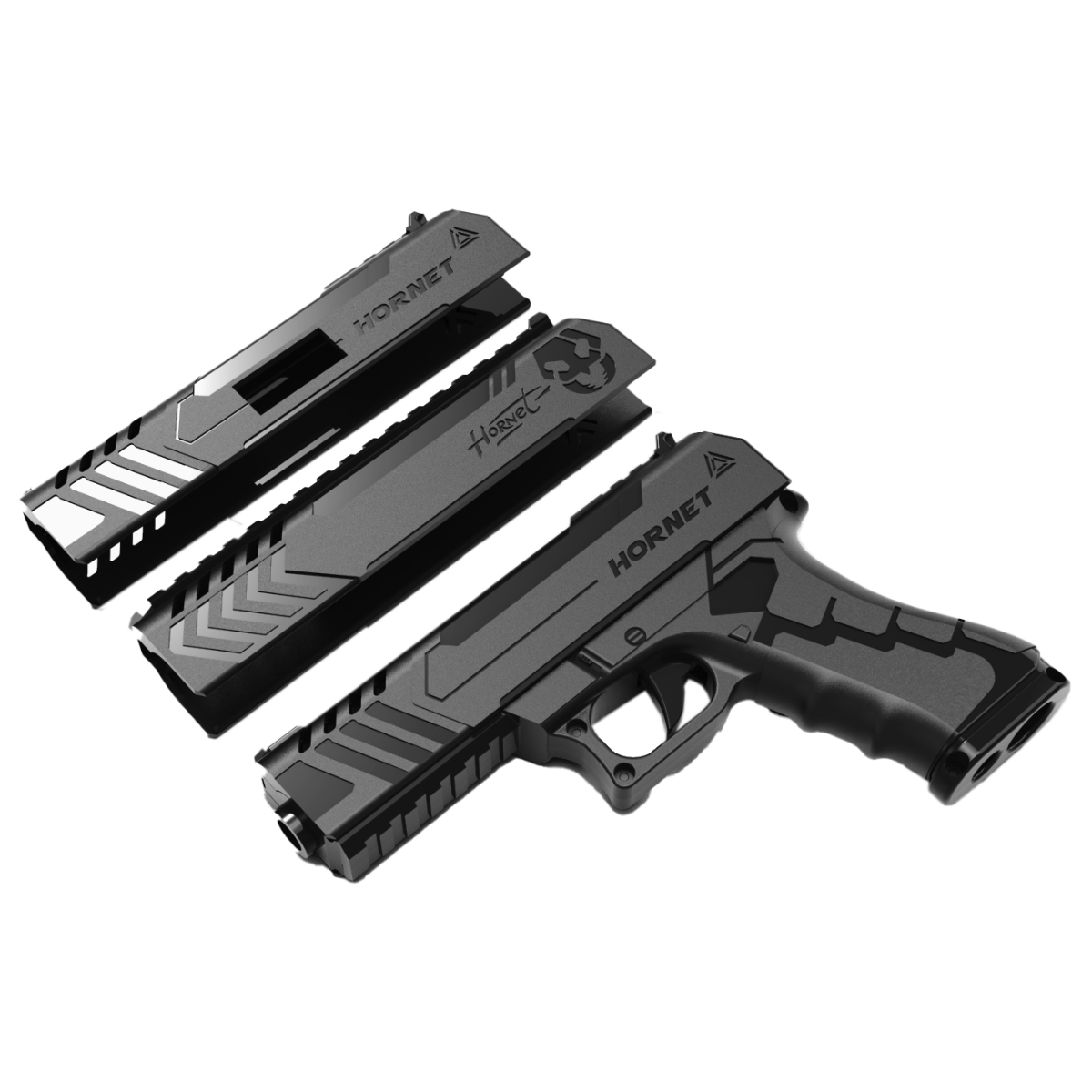 Hornet laser tag gun - designed for shooting ranges. This is the only pistol model with built-in Parallax optics. Capable of hitting the target at a distance of up to 100 meters.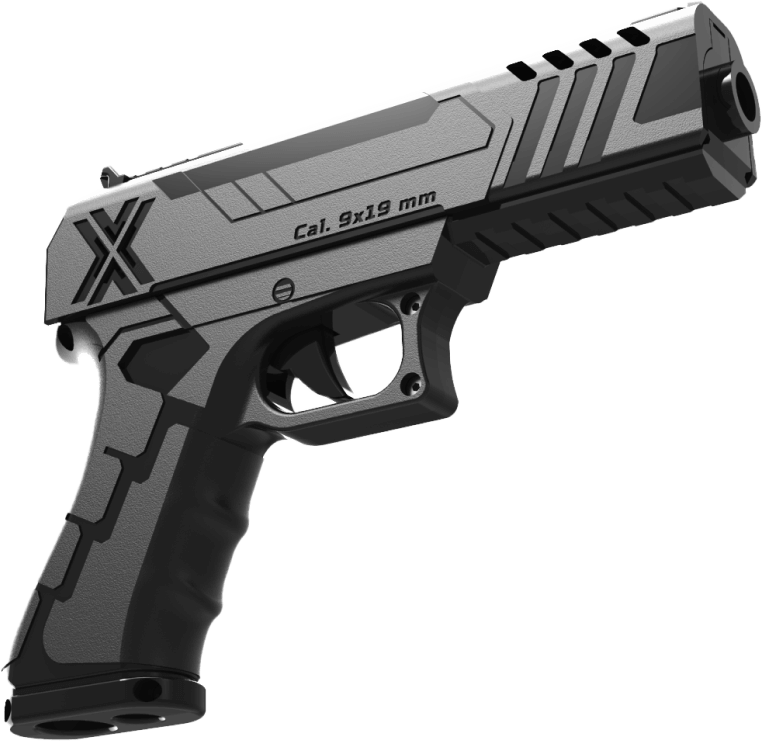 Weight:

350 g

Dimensions (H×W×D):

15×22×3cm

Wall thickness:

>3 mm

Operating time:

up to 20 h

Battery:

Li+ (1.4 ah; 7.4 v)

Warranty:

24 months
Aim - Shoot - Win!
AT A RENTAL CLUB, OUTDOORS OR AT HOME? CHOOSE YOURSELF FUN AND SAFE GAMES WITH LASERWAR