Laser tag hasnever been so realistic
"Adrenaline" shock bracelet is designed for the fighters who want the best performance and feel adventurous. The device reacts each time the opponent hits you: you feel the electric impulse that affects your muscles. It's safe for your health (but not your character's health).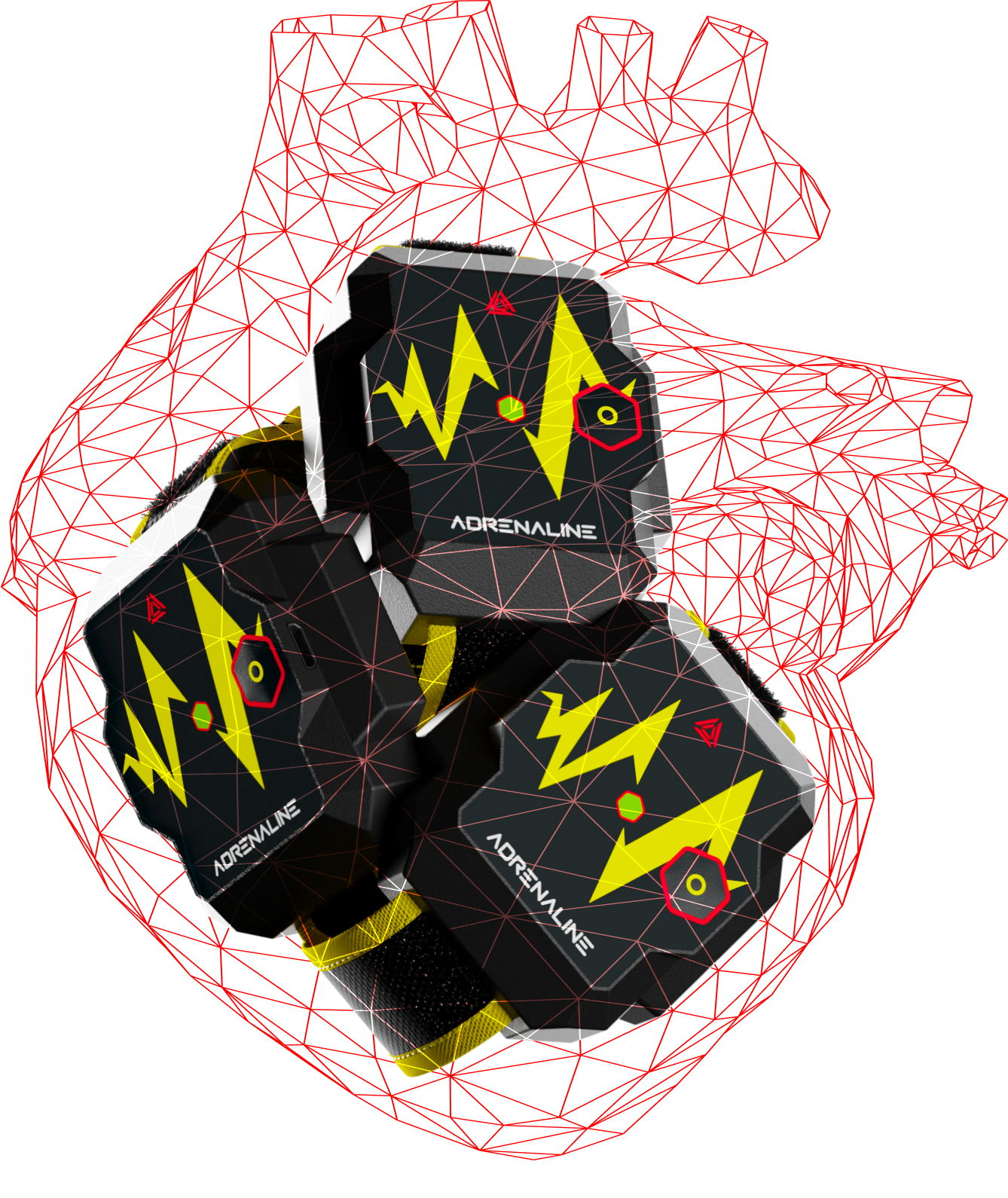 «Adrenaline»

is designed for new experiences
Swifter.
Higher.
Stronger.
"Adrenaline" shock bracelet gives players an adrenaline buzz and makes each motion more adventurous. It will become your personal undeniable advantage. Stylish, convenient and safe – "Adrenaline" gives you motivation to do your best in every laser tag battle.
The device juxtaposes bright yellow and classic black colours. There's a settings button on a durable case. A shock bracelet fits the player's wrist tightly – this is what for there's special electrically conductive fabric on the strap.
POWER LEVELS
Shock bracelet has three power levels. Light indicator will let you know about switching to a different mode: green – minimum level of exposure, yellow – average level of exposure and red – high level of exposure. This level largely depends on the individual physiological characteristics of a player.
The light indicator informs a player about the level of exposure. When it's connected, it blinks turquoise, once the connection with a headband is made, the indicator shows the colour of the team. When someone hits a player, it blinks the same colour.
Safety
"Adrenaline" uses safe electric muscle stimulation. There's special electrically conductive fabric on the strap, thanks to it, the strap fits tight. The technology of conductive fabric and the location of the electrodes everywhere on the strap increase the contact area and exclude point impulse, thus protecting you from pain and discomfort.
Very comfortable
The device is small, it reminds of a watch. Neat case and adjustable strap make it convenient for playing in any conditions. It fits tight even if you are very active. 
Characteristics
Accumulator capacity1500 mAh
Charging micro-USB
Continuous work time6 hours
Power modes3
Durable materialYes
HighlightingYes
Quasi-touch buttonYes
Extra light emitting diode indicatorYes