Who is
the best
shooter here?
Feel yourself a
real cowboy
Laserwar has developed an autonomous attraction that will make you a real "Wild West" shooter. A new mobile laser tag shooting gallery features a unique design of targets, special software, any weapon of choice, and it is indeed an exciting game regardless of place and time.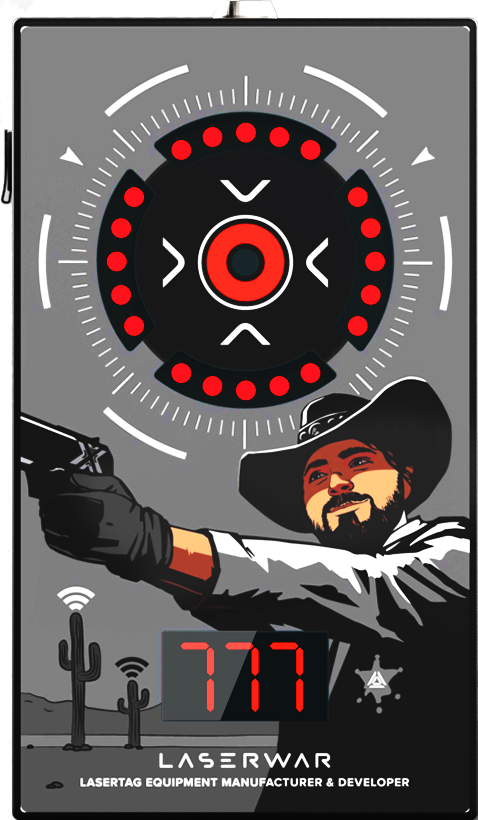 play with benefit
and pleasure
Interactive lasertag contributes
to the development of:
- coordination of movements;
- speed and accuracy;
- the concentration of attention;
- visual perception;
- healthy posture and breathing.
Why is it better than others?
Free access
Play anywhere you like with new software for mobile "Wild West" shooting gallery. Your progress is saved in the statistics which can be viewed on the monitor's screen.
Game scenarios
The Mobile laser tag shooting gallery supports 7 scenarios: arcade shooting range, training mode, confrontation, outpost, moving target, level up, and color mixer.
Any kind of weapon
Absolute advantage! A new mobile "Wild West" shooting gallery is compatible with any type of weapons from Laserwar shop.
Training mode
Mobile "Wild West" shooting gallery features a training mode which can help players improve their skills before an upcoming laser tag tournament or a duel battle in the shooting range.
Targets for game
We aren't kidding - you can set two, three, five, tens or a hundred of targets. Maximum number - 250 devices per game * a
*A shooting range USB base is required for every 50 targets
Who can use it?
The key feature of the shooting gallery is that it is a fully autonomous attraction, you can install it in a laser tag club, use it in the shopping or entertainment center, buy it for home, or take it outside to play in the open air.
play with family;
arrange duel battles;
hold tournaments;
add a new service for your club
What is it?
The mobile laser tag shooting gallery has not been simply updated, it has become a powerful innovation. You don't just play another "shooter" game, you develop accuracy, logical thinking, speed of reaction, and team spirit. A new shooting gallery supports seven scenarios. A broad variety, a choice of difficulty level, a selection of games to suit every taste.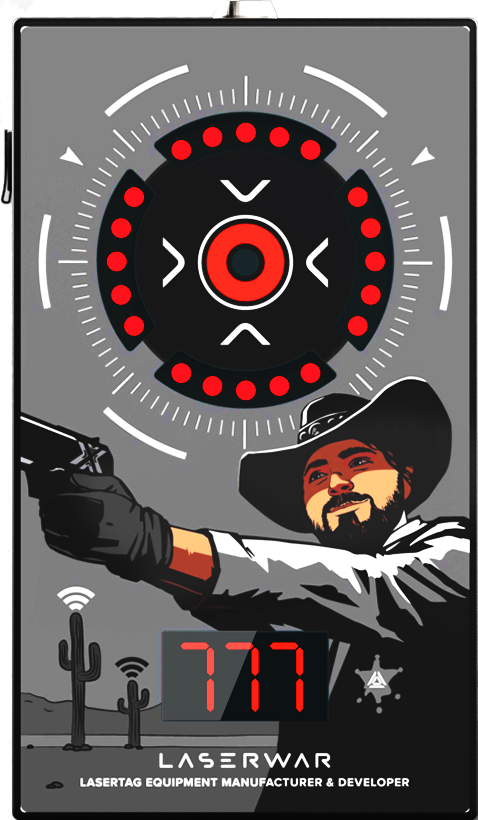 PLAY WITH PLEASURE
AND BENEFIT
The mobile laser tag shooting gallery is connected to the application via a 115v radio base. Connection takes just a few seconds, and all you have to do is to choose a scenario and play an exciting game. An intuitive application interface doesn't require complicated instructions. Even a child can start the game.
FREE SOFTWARE FOREVER
"Wild west" application offers seven scenarios of choice, quick connection and dynamic statistics.
Players are added to the game by a shot to the target - the color of the player's team and his id are detected automatically. The application has a step-by-step instruction for setting up the game with four different controls.
You can view the winners and statistics with all hits in the game history. A target testing button is provided in the settings so you can check the range and quality of communication.
You can download the laser tag shooting gallery application for free right now
F.A.Q
Should i pay for the application?
No, the application is absolutely free of charge. It can be downloaded from the laserwar official site.
How can i configure targets, taggers and software?
The software contains all instructions for configuring the targets, you'll need a usb radio base to connect the targets to the software. Taggers are activated by a special key or button.
Can i play the shooting gallery in the open air?
The shooting gallery is fully mobile, you can play it in a small room, at the firing field, or in the forest. Only your imagination can set limits to the places where you can play. You'll need targets, a usb radio base, a tagger of your choice, and a laptop with installed software.
* for stable operation of the shooting gallery, make sure that the targets are set at a distance not exceeding 50-60 meters from the usb base. And the distance from players to targets is limited only by the shooting range of your taggers.