Company history
LASERWAR: WORKING UNDER PRESSURE! HOW A FAVOURITE HOBBY TURNED A SUCCESSFUL BUSINESS
Mum, can I play another half an hour? – a disheveled boy with a toy rifle in his hands is asking for his mother's permission.
You've been shooting and running amok for a whole two hours – mom tries to be strict.
We are going to play "control points capture" now! We are not coming back here any time soon, are we? – the boy tries to convince his mom.
Let him play the game. I wish we had such games when I was a child… - dad cuts in.
Laser tag is a game that brings together dads and sons. More often, though, it is called laser paintball. Yet there are no balls of paint in it nor pain sensations. The laser tag play weapons fire infrared impulses, while the hits are registered by special sensors.
The Russian company LASERWAR produces the equipment for this military game. Their equipment is used by over 1000 laser tag clubs the world over. You may come across the LW brand label not only in Russia, but also in England, France, Spain, Germany, Thailand, and Malta. Playsets produced by the company have been included in the collection of the International Laser Tag Museum, USA.
It took the company 10 years of sustained effort and hard work to achieve these results. From an interview that we took from LASERWAR directors, we've learned what's a "production process", how to works under pressure successfully and what it means to set a standard for the whole laser tag industry.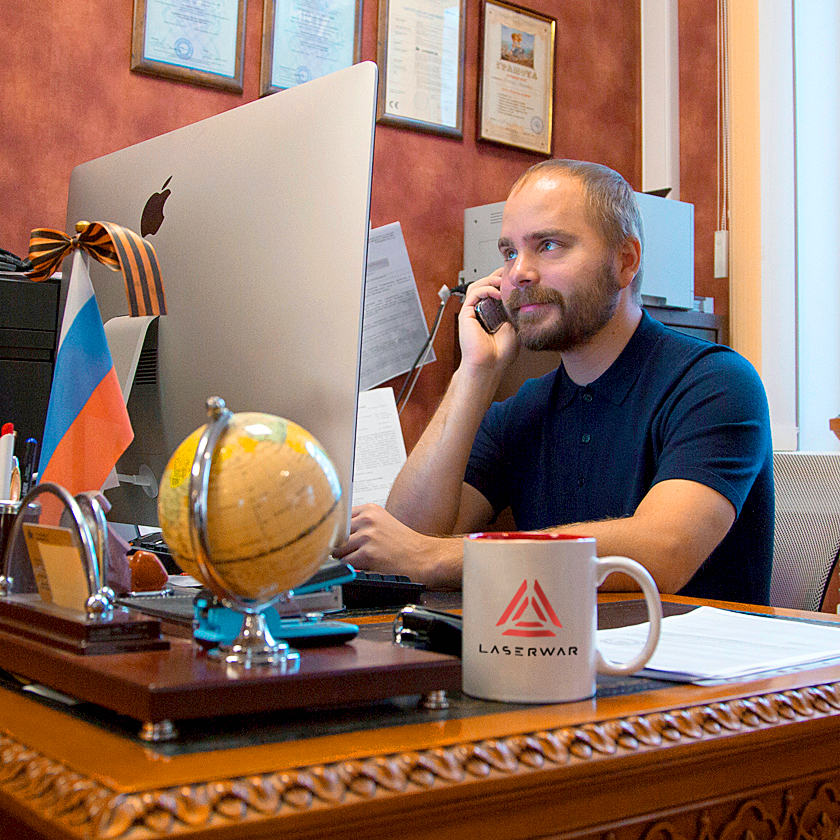 PERSISTENCE IS KEY TO SUCCESS
The Tereschenkov brothers mentioned laser tag for the first time in 2005. Alexey visited the International youth educational forum SELIGER, ran across people with play rifles and offered his brother to open a laser tag club of their own. At first, Sergey thought the idea was stupid and futile. At that time, the prospective LASERWAR technical director was actively involved in the Nashi youth democratic anti-fascist movement. Three years into joining the movement, he became the director of the economic division of the Smolensk region. It was this youth movement that helped Sergey make his final decision.
In the autumn, 2005, the Nashi set up a competition "Start your own business". Participants had to draft a business plan in which they would explain the idea and calculate the cost of the future project. Sergey remembered about his brother's suggestion and went to Moscow. There, a laser tag arena, equipped with the gear produced abroad, was already operating.
"I had enough money for a 15-minute game only, but it became completely obvious to me that laser tag was what I wanted to do for the rest of my life".
On returning to Smolensk, Sergey drafted an 80-page business plan. In it, he stated that they needed 1 million roubles to open a laser tag arena. Winning wasn't easy: the main prize went to a mini printer company with a budget of 200 thousand roubles. The jury believed it to be the most simple and profitable project.
The assistant of the head juror added fuel to the fire. Even though he mentioned that the business plan was well thought out, he pointed out that Sergey must first learn to manage a hundred thousand roubles before asking for a million.
Having put into the project so much effort, time and after so many calculations that have been done, they received a painful defeat. Alexey, now the LASERWAR business director, was there to support his brother. In the new business plan they had created together, they changed the specifics of a laser tag game, the amount of equipment and designed a new technical base for devices. As a result, the cost of the project dropped down to 300 000 roubles. In the new contest "Corporation – Russia", the Tereschenkovs hoped to get this sum.
Their business plan took the first place. Nevertheless, there were no money prizes in the contest. The idea of the contest creators was to make the "Corporation – Russia" the springboard where the participants may find potential sponsors.
"That was one of the critical moments when the LASERWAR project may not have been brought to life. Two contests, a business plan, miserable defeat, while the sponsors had a laugh and did not give any money. The situation annoyed us so much, that we were determined to go to the end" – Sergey shared with us how he felt at the time.
The brothers found the Shark company on the territory of the Commonwealth of Independent States supplying the electronics for laser tag rifles. The price of one set was 500 euro. At the time, that was a huge sum. Sergey and Alexey took on any available small jobs in the hope to save the required amount. That took them half a year.
To save 500 euro, they repaired computers, mounted and set up satellite dishes, and even worked as loaders. Their parents helped them with the rest of the amount.
"What this basically means is that we took whatever money was left from our family. What for? We didn't know how to solder, where to get blaster bodies form nor how to program all this equipment. Yet we believed in our idea".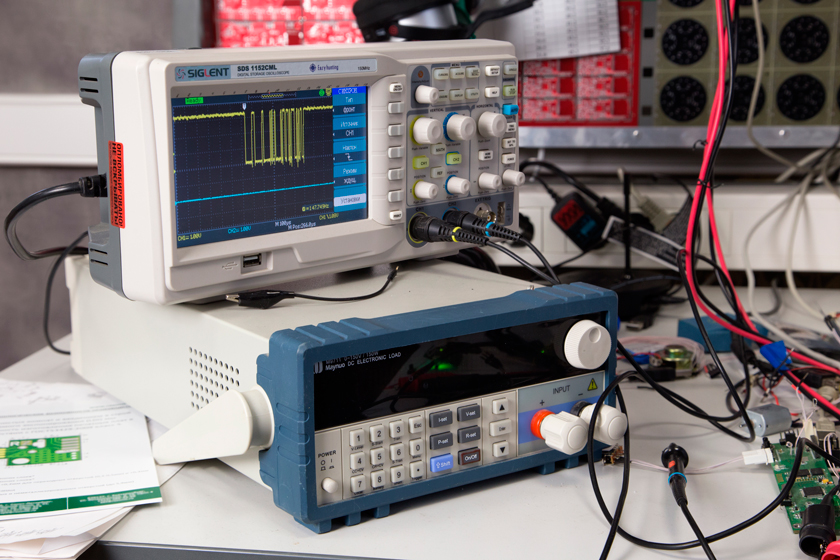 Having bought 2 sets of electronics from the Akula, Sergey spent the remaining money to buy 2 blaster bodies from Izhmash. The electronic components now had to be integrated.
"I had never held a soldering iron in my hands before. I often have doubts as to whether I would have been able to go through all this again if I had to." – recalls Sergey with a smile on his face.
After watching videos online, reading information on forums and familiarizing themselves with technical literature, Sergey managed to solder the electronic components and insert them into a rifle body. Now the playsets had to be tried out.
"In May, I went for a hike with friends and took both the blasters with me. As a result, we played laser tag 8 hours every day – for this is how long the accumulators lasted".
From that time on, Sergey and Alexey knew that the business would enjoy popularity. Yet lack of money killed the enthusiasm. They had 2 play sets, passion for it and loads of ideas. But how about the material resources for bringing the idea to life? The brothers had to ask their parents for support again. The conversation lasted 30 seconds.
"That was another critical point when our idea could have failed. The Dad had never taken a loan in a bank, so his reaction was obvious. Now I can understand him. This all seemed to be rather like an entertainment rather than business. We didn't even hope for a positive reply. We always were reluctant to ask for money, for we knew how hard it was to make it. But the following day, Mum came to us and told us that she and Dad had given it a thought and decided to take a risk. By the way, we went for the loan together with Dad…"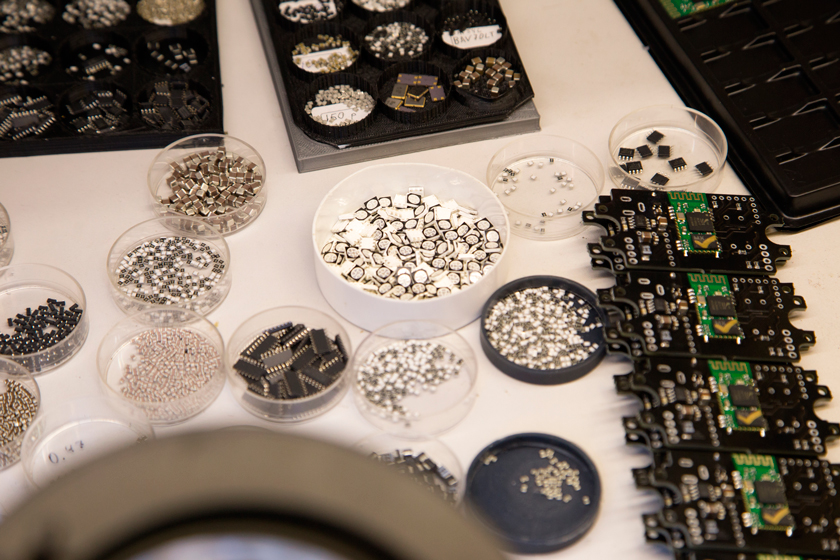 FIRST STEPS
They only received a 120 000 rouble loan in the bank – still, that was less than what the brothers needed. They saved another 30 000 roubles and added this to the start-up budget, which was then 150 000 roubles. For this money, they bought 10 rifle sets, charging devices and a couple of additional devices for the game.
1st of June, 2008, Sergey brought the equipment to Smolensk. From that day on, the history of LASERWAR began. Company name choice was not random: it was associated with Star Wars and this way, it was easier to explain the principle of the game.
"The name of a brand, a company, a product or a business is a very important matter. We took a serious approach to the choice: we conferred for several weeks as we searched for a more suitable choice. Now, we understand that the time we had spent choosing the name was well worth it. LASERWAR is a brand that is now recognized in 60 countries all over the world."
Now, let us return to the initial subject matter. Having bought a bundle of equipment, we arranged the first battle.
"We found clients online. We wrote on an online forum that there existed a game of laser tag, and offered to take part in one. The first battle gave us memorable experiences: it left the teams exhausted, dirty, yet happy."
Then, the business was commenced. Ads on the pavement, leaflets, own website – all the available promotion means were used. Alexey created the website, Sergey spent days and nights writing articles and news and creating photos. Within the first year, the brothers received 120 000 net profit, bought 10 more play sets. Half a year later, they paid off their parents' loan. At that, they both kept their jobs. The games were held in the evening time and at weekends.
LEARNING IS BEYOND PRICE…
Any rental equipment needs maintenance. Our laser tag equipment was not an exception. After a month of operation, the play rifles started getting out of order. Sergey repaired them after each game, perfected their construction, changed buttons and micro switches, resoldered cables.
"We had to examine the internal construction. There was no time to send them back to the producer. We needed rifles that would work here and now. At the time, we gleaned the knowledge. We had to obtain advice from specialists, read online forums, watch educational videos."
Having done a search, the brothers came across an English language source. On it, there was a protocol scheme for laser tag. Sergey realized that he had a good command of knowledge to design own circuit boards, order components, solder, and program controllers. He laid down his experience and knowledge in his diploma paper: "Equipment for the Laser tag tactical game. Even here, laser tag was of use.
For the first time, the brothers placed an order for 100 laminated printed circuit boards. When they were collected, it turned out that they had a fault: the factory engineer had made a mistake. This had yet to be proved. Alexey called the shop floor supervisor but received a rude reply.
"I will never forget this conversation. Never again have I heard anyone tell me anything like that. Our business development could have ended on this yet again. Fortunately, everything was sorted the following day…" – said Alexey.
The head engineer called Alexey apologized and promised he would have the PCBs redone free of charge. All the required parts were purchased for the PCBs. As a result, the Tereschenkovs had the details that were needed to assemble the first one hundred sets.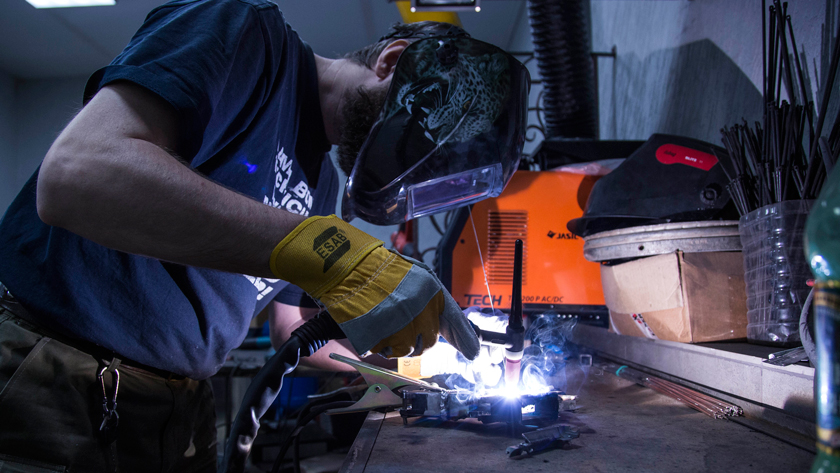 LASERWAR COMPANY
The idea that LASERWAR must be a production company instead of a club didn't come out of a sudden. Sergey and Alexey received numerous letters with offers to buy laser tag equipment from them. They forwarded the correspondence to the producer in Veliky Novgorod. Yet they decided to take on the next order from Ulan-Ude having passed the diploma paper and designed own printed circuit boards.
"While our parents were sleeping in the next room, I soldered play sets, while my brother assembled the mechanical parts of the rifles. The customer was busy with the screws in the other room. Later, we ran down the railway station loaded with bags, almost late, determined to see off the client. The first laser tag club that used our brand was launched in Buryatia, and bore the name of Laserwars-UlanUde." – told us Sergey.
"In 4 years, we updated all the electronics in this club for free. It was our dream to give thanks to the first client."
Yet this order made the guys suffer extra financial losses. Wrong cost calculations, cost of production, wrong parts cost calculation added 20 000 roubles to the overall spending. There was still a lot to learn.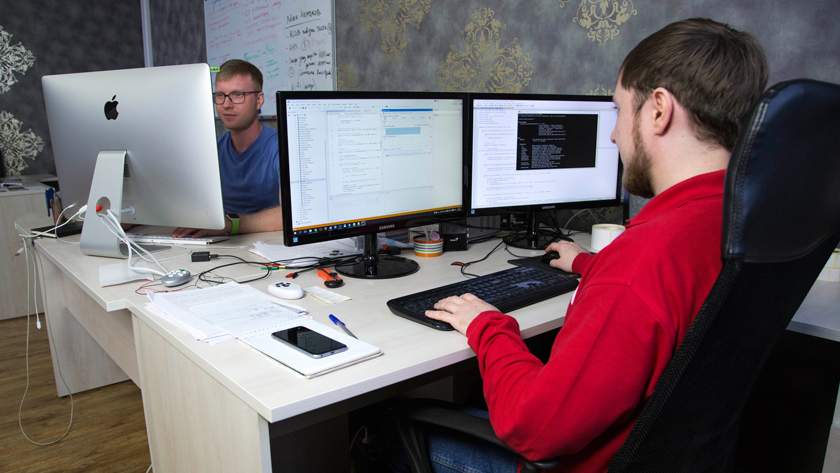 LASERWAR TEAM
The brothers had their main jobs at the time. Sergey was involved in the civil service, while Alexey worked at the Crystal factory. They left their official jobs after a revolution in the electronics field: samples of new circuit designs with a digital sound were published on a foreign online forum. Thanks to them, laser tag sets produced authentic sounds and added a special air to the games.
Sergey was the first to design a new circuit board. He improved the firmware and launched its production. The new boards were ordered not from Smolensk, but from Zelenograd. There, the quality of the final product was way higher.
"As soon as I heard the first sounds produced by the weapon speaker, instead of a piu-piu noise, I realized that we now had a product that hasn't been available to anyone before. We became the first! But what next?"
After that, we started receiving orders one by one. The brothers left their jobs, rented their first office and spent next one and a half years assembling equipment, setting new records in the number of rifles welded per day. All this was done along with technical support, sales and creating website design. Soon, their friends started coming to their office offering their help. Thus, the core of the future LASERWAR company was created.
"Our office looked like a hostel. We worked there, met clients, arranged corporate parties and celebrated birthdays, even had to stay at work overnight. That was a great time, when we had all the support and had an idea about where to move on next." – recalls Alexey.
COMPETITION AMONG PRODUCERS
Up until 2014, the company growth rate was 300% per year. At that, there was an information war against LASERWAR. Competitors filmed fake videos, held false crash tests, called LASERWAR an untrustworthy venture. The company online resources encountered DDoS attacks.
In this non-stop battle, production quality had to be constantly increased and the laser tag enemies in the internet had to be bet off.
"Our competitors even applied for a patent on the LASERWAR brand name and created a fake website with a set of radio electronics for laser tag. We learned about that accidentally and it took us rather long to prove the commission that was unlawful and the application was part of the competitive struggle. We won. If we had not won back our brand, it would have been a disaster." – said Sergey.
"After the incident, we realized that we needed to gain more control over the virtual environment, to do advertising. We hired young promising employees: photographers, cameramen, editors and designers. We organized cooperative work involving all the subdivisions and set them off. This machine still does not leave anyone a chance."
Gradually, the quality of the products got better and our competitors' clients started using LASERWAR electronics and equipment.
"Some companies, unable to keep up with our pace, closed down. Yet new ones opened up, and this challenge encourages us to develop even further." – says Alexey.
PREDATOR EATS UP PRICES
The AK-12LT PREDATOR has the most elaborate and unique body, which has been specially developed for laser tag by LASERWAR. It was introduced on May 1, 2014 during an International Laser Tag Tournament, which was visited by 512 people.
"You see, before that, producers used airsoft models or replicas of combat weapons. They emptied them, integrated the electronics and then sold them. The AK12 PREDATOR was designed from a scratch. Its introduction to laser tag community can be compared to a new iPhone model release. When we showed it during the presentation, we only heard "Wow!" exclamations in the room."
It took us 2 years, 10 million roubles, 380 letters of communication with the constructor to create the PREDATOR. The mold was produced in Turkey. 25 prototypes were created. Each element was discussed and perfected.
"The constructor that designed the combat AK-12 came up to us during the 2016 ARMY exhibition, and as he held our model in his hands, he said: "Well done, guys. I like it." These words are an indicator of our performance."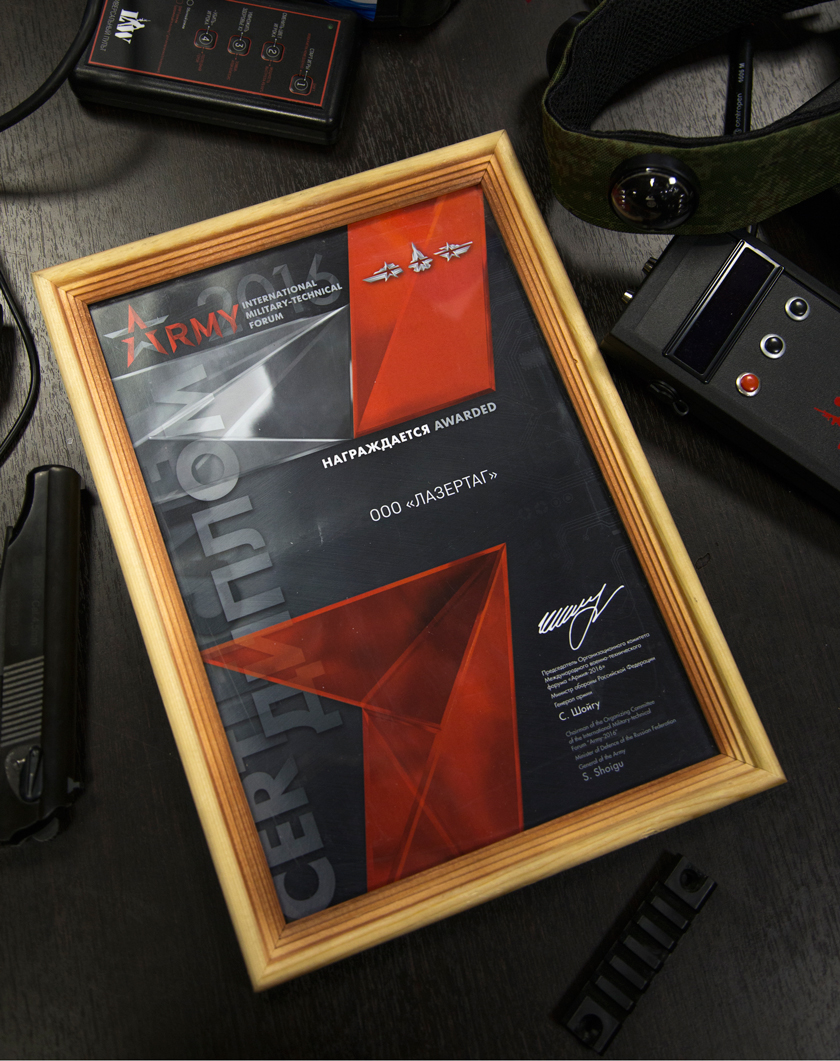 The AK-12LT became the central product of the company, doubled the takings and made LASERWAR the ultimate winner on the Russian market.
PHOENIX: REBORN FROM THE ASHES
The MP9-LT PHOENIX is the company's second blaster. It was designed using the experience of AK12 operation. As we were creating the submachine gun, we closely cooperated with SOBR fighters. Therefore, there can be no doubts as to its ergonomics and comfort. We sell over 150 PHOENIX sets each month. The model is ideal for everyone: it is light, durable and reliable. It is top rental choice.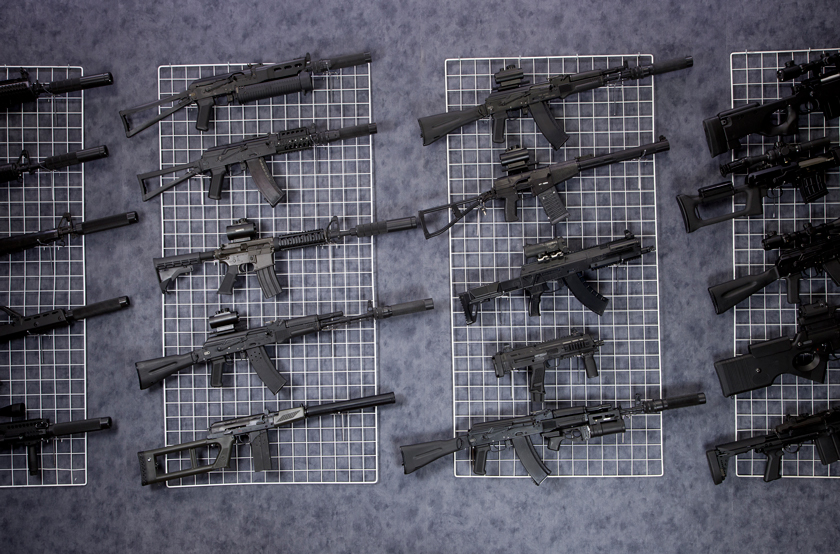 LASERWAR BUSINESS MODEL
"We do not just sell equipment – we educate starting businessmen on how to avoid typical mistakes. We have enormous experience in club management, we are aware of all the problems owners may encounter and disclose them in our webinars. A methodic association called the LASERWAR business school function as part of our company. We ensure that our customers get not only reliable equipment, but also knowledge that aids in making money."
At the moment, there are 62 employees at LASERWAR. Some of the employees are working remotely. A separate industrial building for new projects is being built. In 2017, we are planning to increase the number of employees to 100 people. Our company is in the top 100 of the "Nations Elite". This companies rating is based on a relevant type of the Russian classification of economic activity types – "Scientific research and development".
CRISIS – A CHALLENGE THAT MAKES US OVERCOME OURSELVES
"We have always adapted to the changing requirements – our play sets bear true resemblance to combat weapons. Therefore, they are hard to certify, export, and product passports are hard to acquire. The requirements to registration have always varied, tests kept getting more challenging. We were pioneers in many respects, and we always came out winners. Yet the world financial crisis became a real challenge for our firm. We suffered monthly losses of 4 million roubles. At that rate, the company would have stayed afloat for a maximum of half a year."
The brothers developed an anti-crisis plan for the company: they lowered their spending on parts and launched the new items that had been developed by the time.
"A search for new niche markets, new generation of electronics launch, updating products, rapid international expansion and lowering the cost of the main product line all did their part. In two months, the company takings increased. I would like to thank my employees for that. We worked over weekends, and we still do. We stayed at the company premises overnight, slept outside a night before a big laser tag tournament. We did our best to make our work more productive. Growing and developing, while competitors are having their weekend rest, is vital."
Yet such work load affects health. Sergey got into hospital.
"Then we understood that health was of primary importance. We had to give everything a good thought so as to free up our weekends, to become more productive and attend more to urgent projects, instead of getting distracted by typical tasks. We managed to do it. At present, company employees study English, stay fit by doing regular exercise, go for business trips all over the world. The crisis gave them a slap in the face and made them outgrow themselves."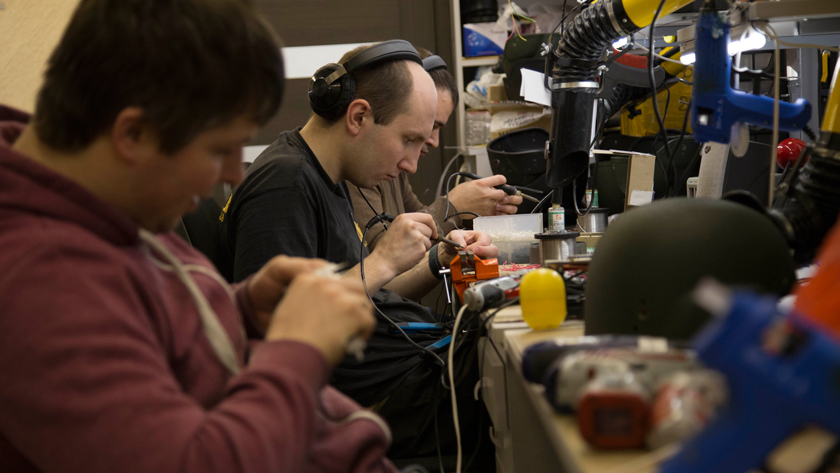 HELP FROM ABROAD
CYBERTAG is a project that has been launched for the market segment abroad.
"One must note the specific character of foreign markets. Indoor laser tag is popular in Europe and in the USA. Game battles take part inside premises in it, not outside. Arenas often have futuristic design, while special blasters and vests serve as play sets. We launched this segment not so long ago. We had spent one and a half years to develop program software and equipment. The result came out marvelous: our development is 6 times cheaper than its foreign equivalents, while having same functions. During an international exhibition, a representative from a company with a world-known name in the segment of indoor laser tag came up to us and literally exclaimed: "Only $8000? You must be joking, it can't be!"
We now have no competitors in outdoor laser tag. After a change in exchange rates, the Russian made equipment was purchased by foreign clients at a competitive price. Guarantee, service, technical support, sending of the equipment to any part of the world have all been made available to them. The company already has 30% of the foreign market. The next two years, it is going to expand to 50%.
LASERWAR turnover nears 100 million roubles per year. But the owners believe that the company is just starting off. The day before our meeting, they had bought a piece of land. Soon, a new building will appear on it, and more employees will be hired.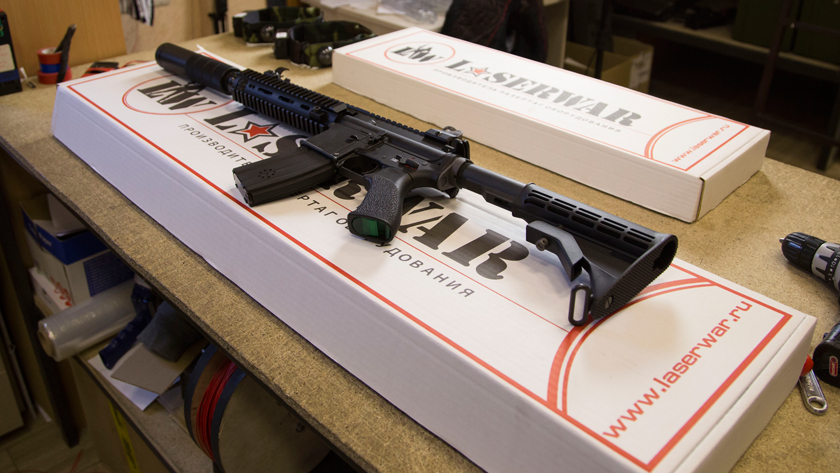 "SHALL WE PLAY A GAME OF LASER TAG?"
Sergey finishes off our interview with this question. The editorial team of the portal would like to thank the company for the help they provided during this article creation.