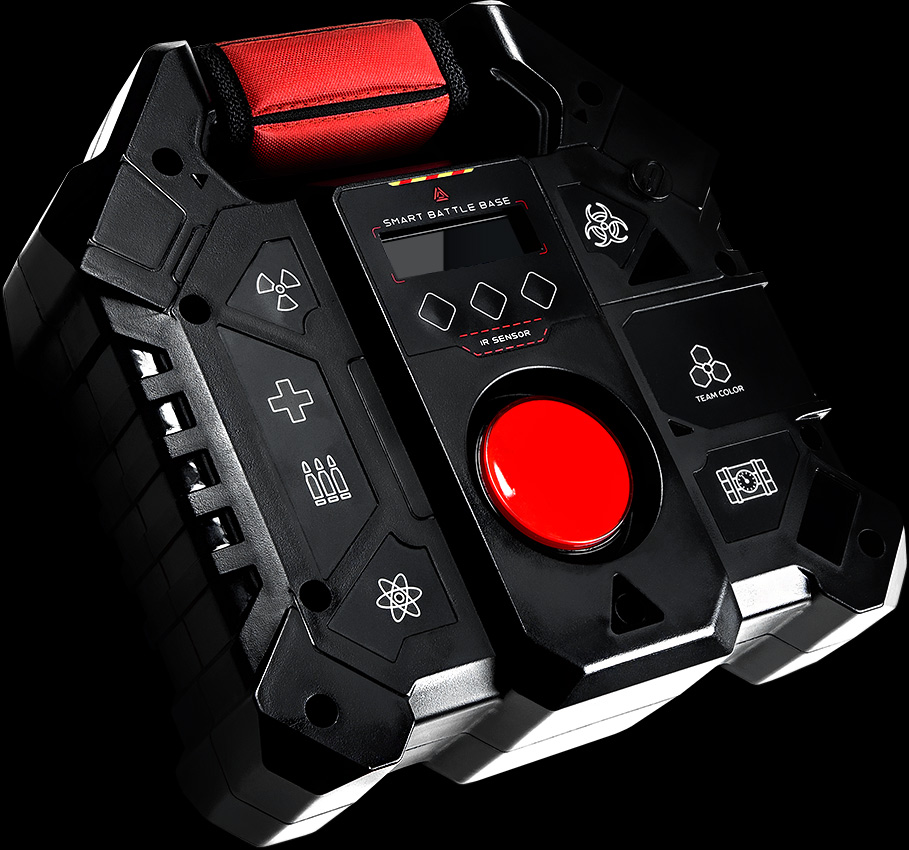 Smart Battle Base
Our developers have been slogging away for two years as they have been thinking out each single detail of the Smart Battle Base. Numerous features, original body, equipment fittings — all these have been thoroughly designed by LASERWAR specialists. We paid special attention to video and sound effects. After hundreds of trials and tests, here you go! We would like to present it easy to control, arresting and reliable game base to laser tag fans.
Practical body
We have developed a compact, lightweight yet ultimately strong body for our battle base. We have considered all the possible extreme situations in which our device may happen to be. It will withstand falls, hits or smashes over obstacles. All this thanks to the intricate surface shape, the reinforcement ribs inside the body and, certainly, the material itself — the base is made from special impact resistant polymer with high viscosity value.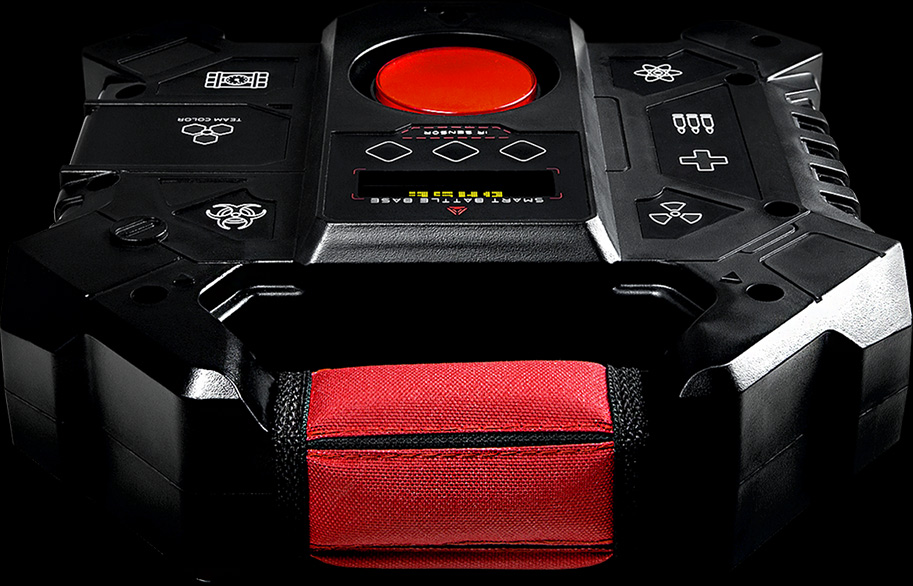 Clear cut design
Smart Battle Base is an eye-catching ergonomic device. Its construction is void of unnecessary details. Its compact and bright OLED display shows all the information about game settings. The indicators on the body light up different colours depending on the scenario. On the other hand, mode selection buttons have been made inconspicuous not to distract the attention. The base is free from sticking out details: our designers have built both the large speaker and the main button into the body. Nothing will hinder the development of a game anymore.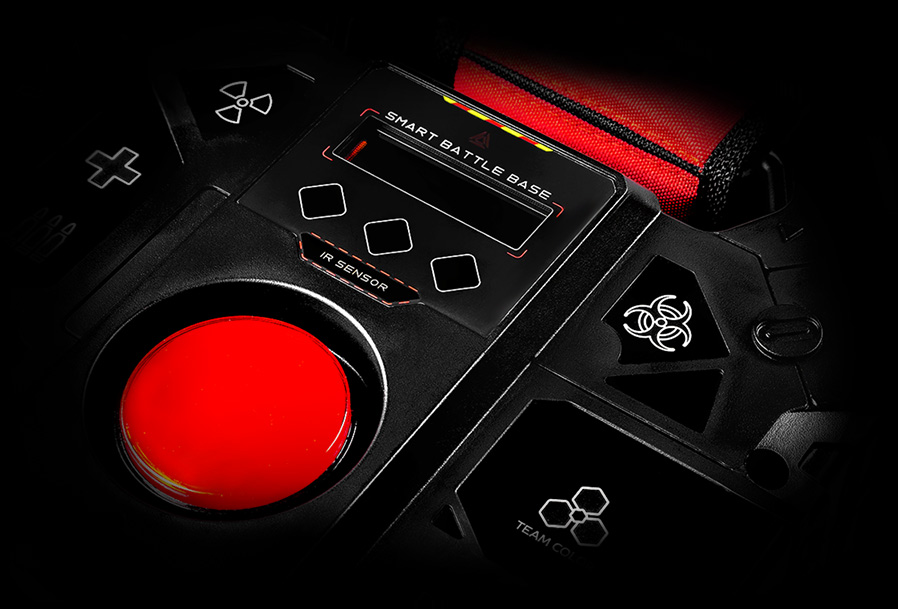 High functionality
You can hang the base on a wall — there are special mounting plates at the back of the body. Or you can take it with you — there is an easy-to-remove fabric cover on the strong handle. In bad weather, it will protect skin against the unpleasant feel of cold material. It will also serve as a distinction sign for teams. You can choose the cover colour yourself.
A variety of scenarios

A Battle Base is a universal device that can perform several functions during a game — it will depend on the plan that is picked for the game. There are three main scenarios to choose from — Support Base, Blockpost and Bomb. A great number of variations are possible: varying the type of impulse, game time, activating or deactivating certain settings will change the way events unfold and will help to create a new individual mission. To experience all the possible options, your guests will come back to you again and again. LASERWAR will make sure that laser tag battle fans do not get bored. We consider our clients' wishes and suggestions and keep developing new game scenarios.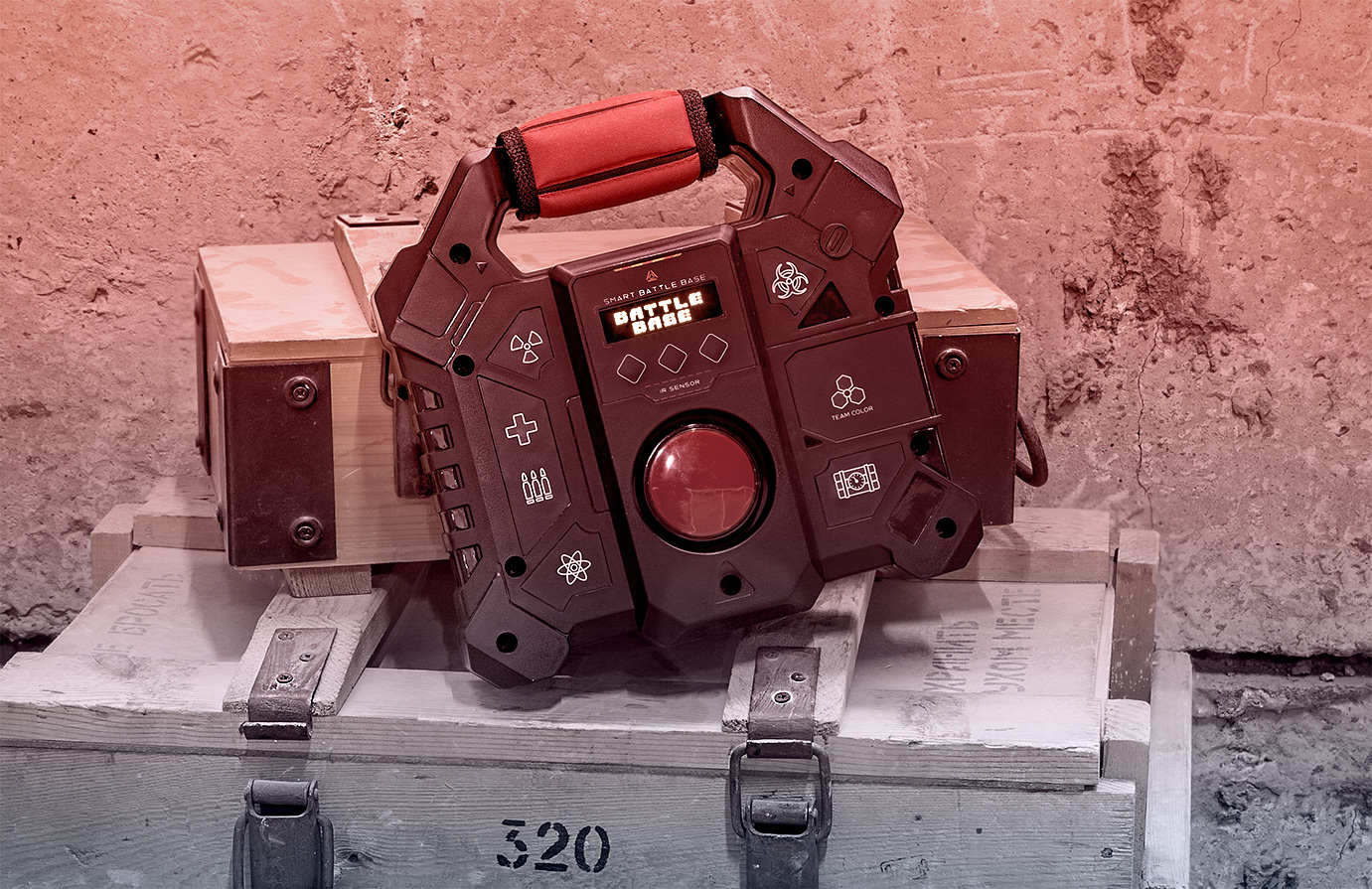 Usability
We have made the Battle Base ultimately comfortable by adding a user-friendly menu interface. No additional equipment is needed to set it up — any player will manage to do it. Using its three buttons, you will easily select the required settings and choose any of the great number of original scenarios to your liking. All the performed actions are clearly displayed on the bright OLED screen and will be seen even in bright light and from big distance. A nice bonus — video and sound effects following the results of completed missions.
Being objective
Laser tag is a hi-tech game. Time countdown, the completion of the objectives set up by a user, hits precision — the advanced electronic stuffing of the Smart Battle Base will fix all these. Electronics is impartial, meaning that any possibility of cheating is ruled out. With our Battle Base, players won't need to argue about who has won — our device will become an unbiased referee at your laser tag combats.
Quality sound
The base speaker has been 'hidden' inside a special speaker jack at the back of the device. The powerful stereo sound of this modern audio device will fill a game with emotions and add realism to it.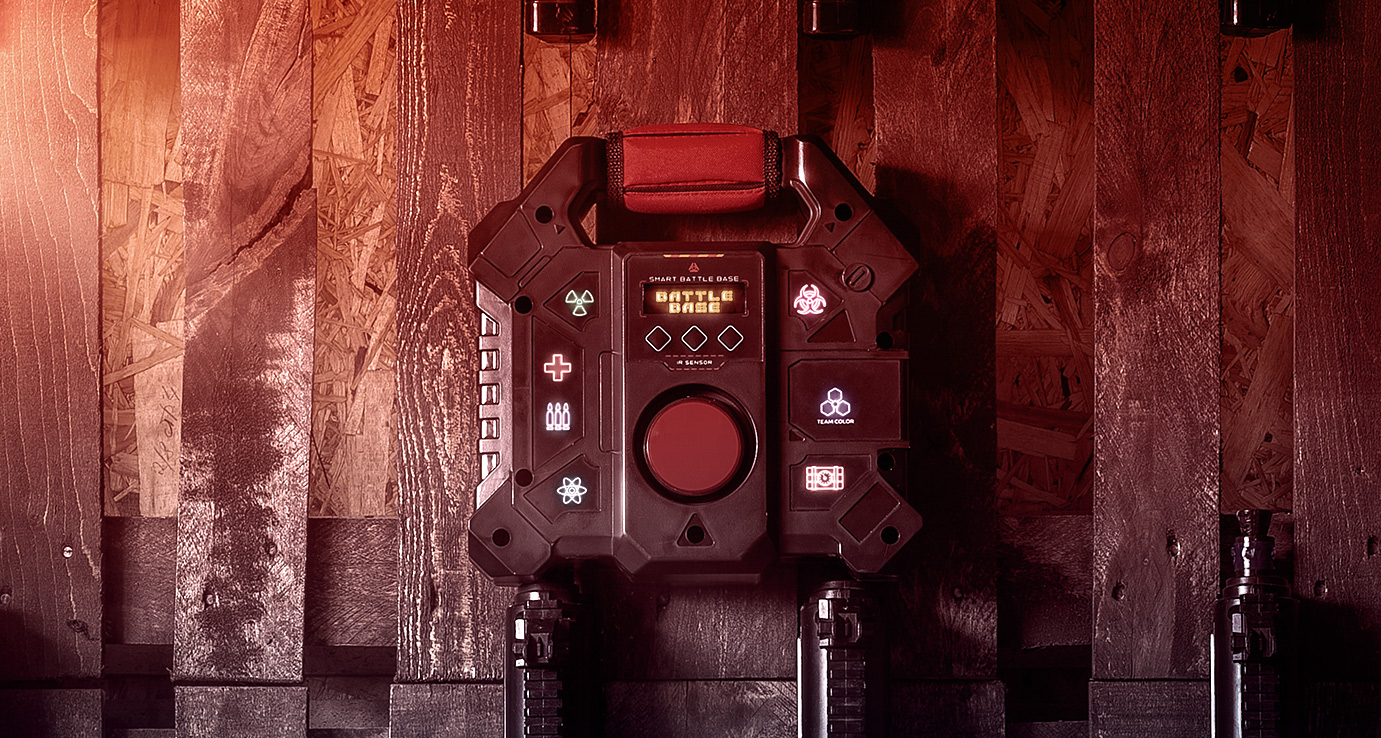 Technical characteristics
Weight — 1,15 kg
Length — 25 cm
Width — 25 cm
Depth — 9 cm
Audio output — 3 W
Battery life — 12–24 hours
Battery type — LI+ (2,2 AH; 7,4 V)
Charger type — LI+ (8,4; 1000 мA)
Material — impact resistant polymer
OLED display
Powerful speaker
Ergonomic shape
Shock resistant