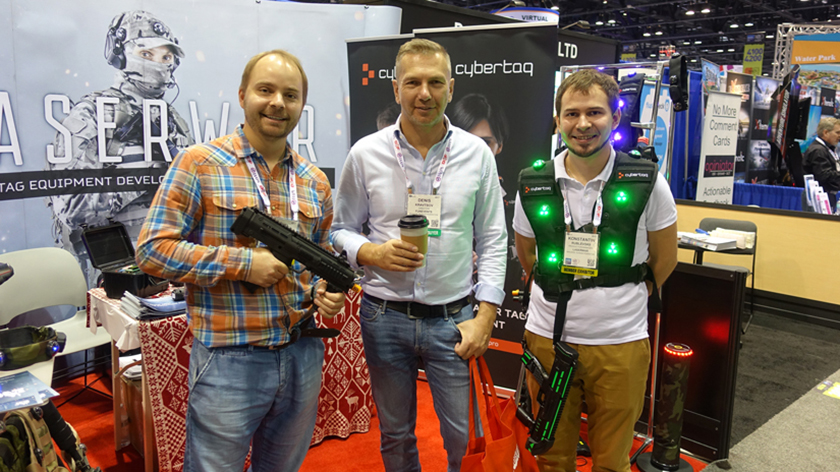 Morning, everyone!
Today is the third day of the grand IAAPA2017 exhibition in Orlando and we are at our LASERWAR stand as usual.
For the record, LASERWAR is one of the 4 companies representing Russia in America. Among them are the Moscow based firm Anviro VR developing virtual reality platforms; Robolabs, Moscow, producing equipment for popcorn - an indispensable part of the entertainment industry; the Russian Association of Amusement Parks and Attractions RAAPA EXPO; and, finally, LASERWAR - the developer and producer of laser tag equipment from Smolensk.
Well, it seemed, what can have gone wrong... We were having our morning coffee in a nice relaxed atmosphere together with an old friend of ours, Denis Kravtsov, the director of the FUNEVENTS company from Moscow and didn't notice at once that there had become more of us...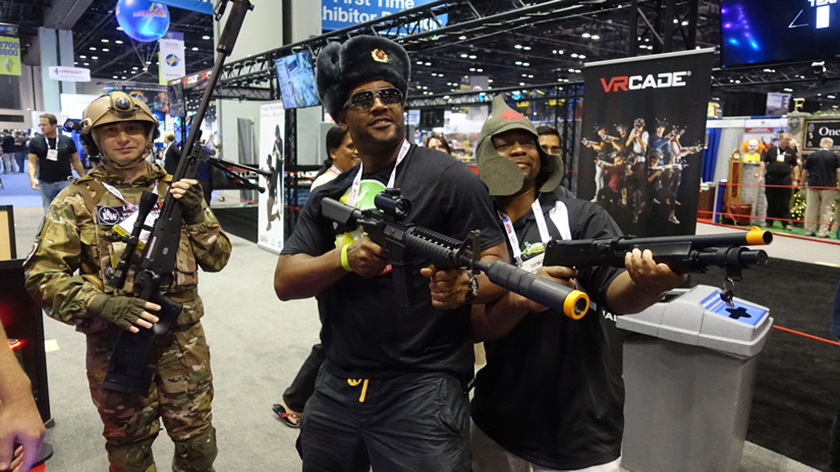 We took a closer look - hats, budenovkas - these all are our lads! Still, some doubts remaining... They said, among the guests there was a famous football player. Yet this information may not be fully accurate.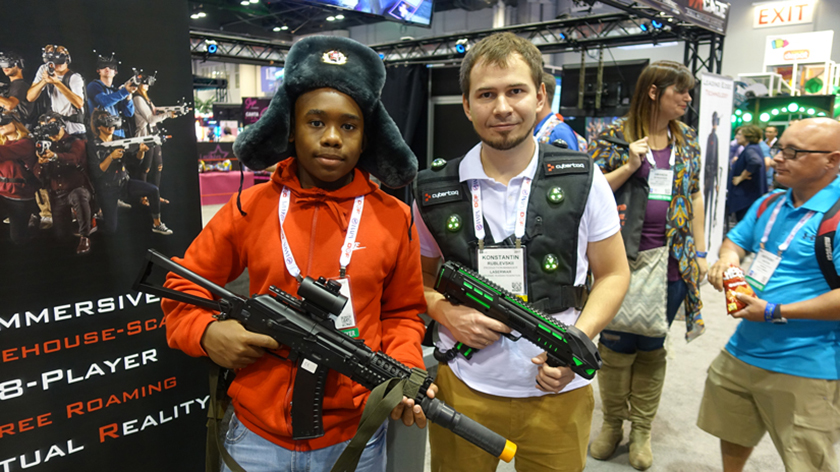 The Russian subject remains invariably popular among the exhibition visitors.
Well yes, things are quite different today. Yesterday, crowds of visitors walked decorously along the rows of pavilions. Today, everyone's eager to play up - it's an entertainment industry exhibition, after all.
By the way, check out the photo below. A simple gadget attached at the end of the barrel turns the sniper rifle into... a selfie stick. Try on the sniper role and share about this in all social networks.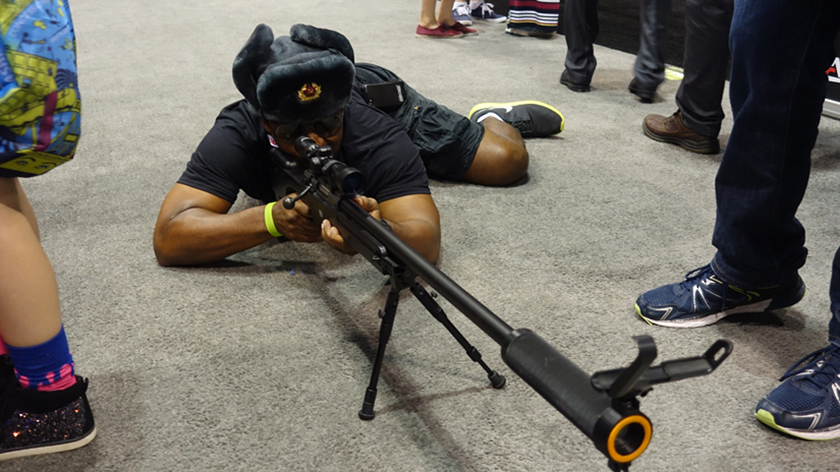 During a moment of calm, our stand was visited by Tony Campa and Bobbie Sutton from APOCALYPSE GLOBAL. Clearly, the name speaks for itself - the company specializes on zombie apocalypse. It all started with a harmless ghost house, where exceptionally well made monsters petrified its guests. There is no limit to creative thought, so now visitors of their show have to square off zombies. Naturally, clients need to be armed with something - letting them go empty-handed to deal with the zombies is somewhat inhuman... So here is Bobbie casting his evaluating look at the Phoenix - will it be effective against zombies? We believe it to be top choice. We frequently use it ourselves.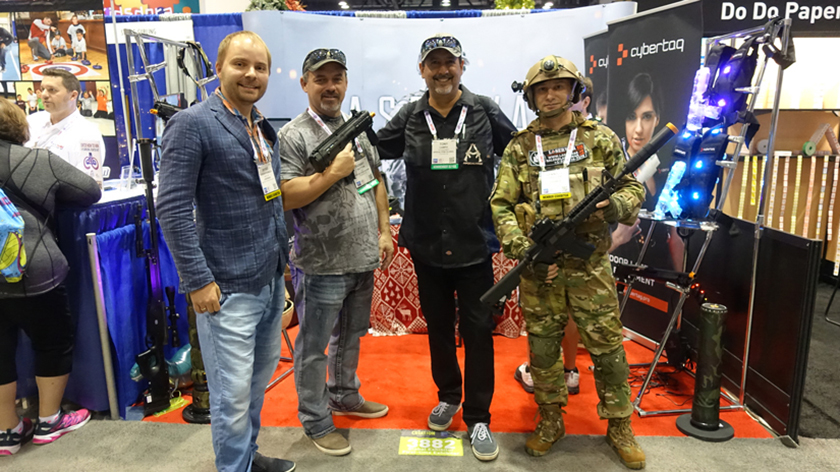 Good Lord, who are these people? Are the guys from the exhibition centre security service really doing their job?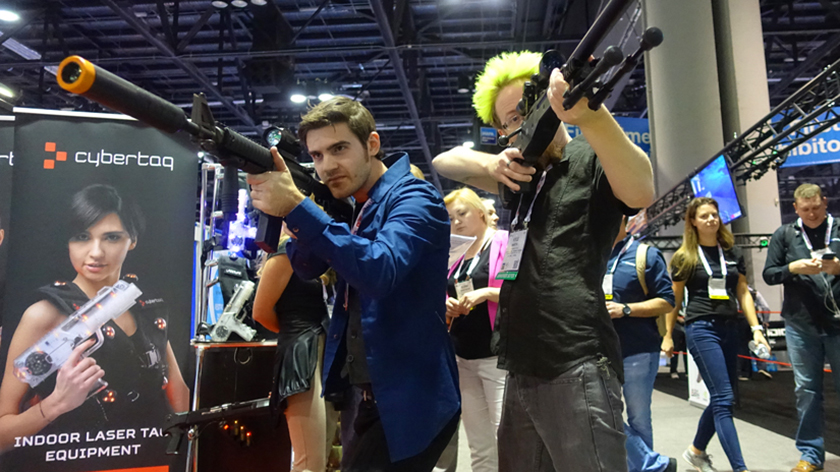 Houston, we've got problems... Our stand has been taken over by terrorists)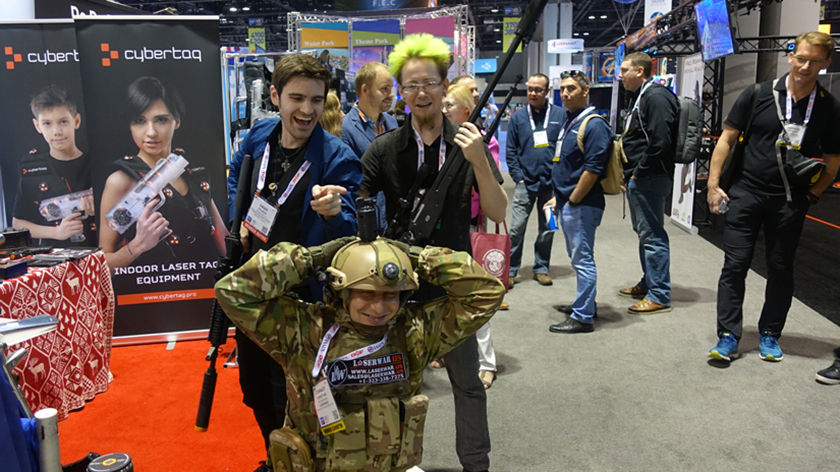 Fortunately, one of the terrorists took our checkpoint for a bazooka and attempted knocking out the competitors with it. During the attempt, he was taken down by the security service.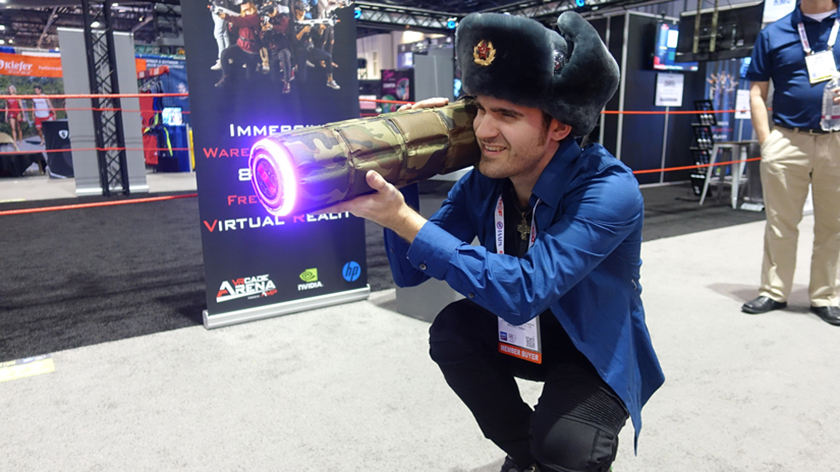 The largely hectic day is coming to an end. Hopefully, the adventures have been over for today. Tomorrow will be the final day of the exhibition. See you at our stand.
Related news