FIREFLY – THE CHARGING UNIT SPECIALLY CREATED FOR SMART RGB HEADBANDS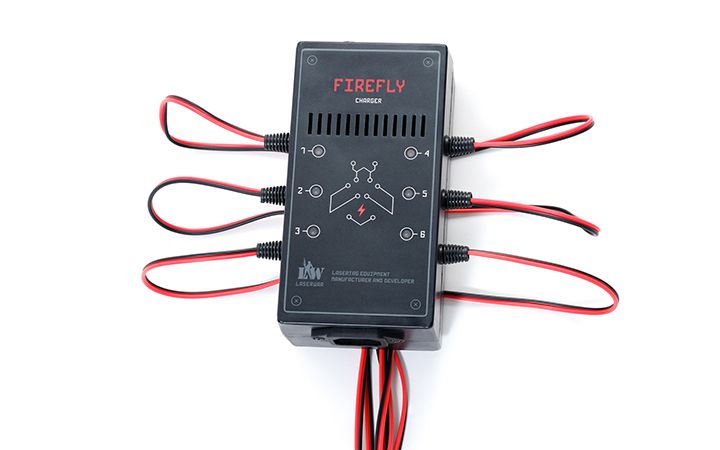 After SMART RGB bands started getting actively adopted by laser tag clubs, the problem of how to charge them quickly immediately came up. As a rule, new clubs buy SPIDER charging units for play sets and Li-ion range chargers for SRGB headbands.

While charging laser tag rifles is easy, when it comes to charging headbands the "singletail" chargers get entangled in the cables, keep getting lost and are not convenient for plugging into a power supply filter. Therefore, the development of a multi jack device for SRGB headbands was just a matter of time.

Now we are ready to introduce a new charging unit – the Firefly.

The design of the device has preserved the original LASERWAR features. We have used the company special colour combinations, which can be seen in the cables, inscriptions and icons. The electronics has fitted inside the small frame: the device is easy to transport and will not take a lot of space in an arms room.

The Firefly can be used to charge 6 SRGB headbands simultaneously. In our equipment line we use a visual indication system. This gadget hasn't become an exception. The LEDs used in the charging unit and in the SMART RGB headband will notify the user when the equipment is ready for a game battle.

The Firefly is easy to use: plug the power cable into an electrical socket, press the switch button, connect the headband. The red LED light on the frame indicates that the headband is charging. The headband is ready for prolonged use when the light turns green.

The reliable lithium jacks, low weight, up-to-date design, added to the ease of use, make for a charging device that surpasses its "singletail" counterparts in every way.

When it comes to the price, the Firefly is the number one choice. The device saves a buyer's time, efforts and it certainly saves money. One set will cost a player 4400 roubles. At this price, you will get the charging unit and a power cable. The comfort from working with the device is invaluable, which becomes clear from the very first minute. The LASERWAR Firefly will fire your imagination.

There are two options to choose from: the item comes with an English or a Russian label. You can buy the charging unit right now from our online store.