January 24, 2017
TACTICAL LOAD BEARING VESTS FROM THE LASERWAR COMPANY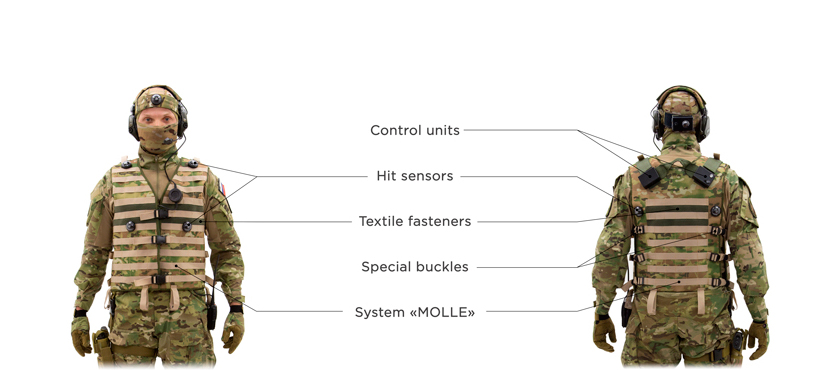 We are happy to announce that we have launched tactical load bearing vests of our own. The use of load bearing gear in laser tag battles has already become a popular trend. And the thing is not only that a tactical vest adds to the entourage, it also diminishes the damage received, thanks to its reactive armour system. At the beginning of the game you may set the parameters of damage according to your specific aims or the script. You will easily set the necessary settings with the help of the configurator.

Our tactical vests are made of polyester fabric specially chosen for LASERWAR. This wear-resistant material is highly endurable, easy to care and wash (machine washing is possible), doesn't crumple, needs no ironing.

The vest can be adjusted from size 46 to size 60 by means of special buckles on the belts. There are also special rubber holders on the belts where you can insert sticking out belt ends. There are "MOLLE" system belts all over the vest. We consider it reasonable to produce our combat vests without integrated pockets, so that every gamer could "equip" it according to his wish.

There is a zip fastener on the chest, which ensures the perfect fit. There are also additional fastex buckles. The length of the vest belts can be regulated and fixed with "Velcro" fasteners. There is a loop on the back, which is comfortable for the transportation of wounded men. We also thought of patches. The vest is equipped with four textile fasteners (2 at the front and 2 at the rear) so that you could put there the information about your club. You've only got to make your personal patches with your individual number, blood group or surname. The lower part of the tactic vest can be additionally equipped with belt support, if necessary.

Our tactical load bearing vest is equipped with 6 hit sensors and 2 control units, which are rationally placed at the front and at the rear of the tactic vest. You may be sure that no detail will disturb you during the game. A lithium battery of 2200 mAh is used as power supply and guaranties up to 36 hours of autonomous operation. The weight of our combat vest is 950g. We are ready to produce the vest of any colour: black, multicam, "digital" and others. There are constant arguments among the players, which type of tactic vest is better, and here everyone should find his own recipe. Producing our equipment, we first of all follow the wishes of our clients and try to make laser tag battles more exciting and realistic.

The price of the playing vest is 7,900 roubles.

But that is not all! We will eagerly modernize any army tactical vest. The cost of this procedure is 4,900 roubles. So if you wish to use your own tactical vest in laser tag battles, we will be happy to up-date it. See you at the battlefield!