SIGHTS BY LASERWAR COMPANY

We are happy to announce an updated line of optic sights produced under the trademark LASERWAR. In comparison with optics by "no name" companies our products have a number of advantages.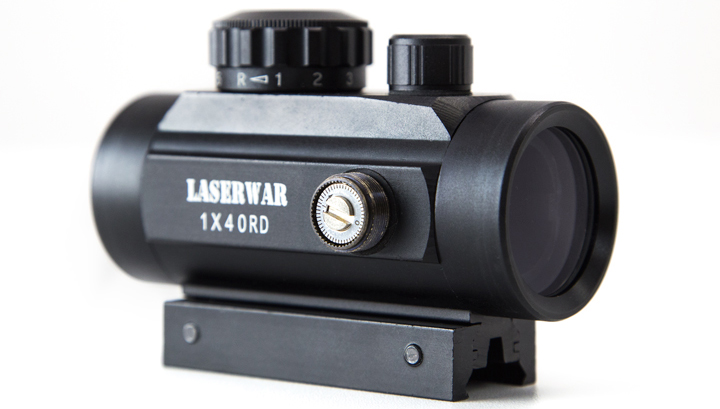 The collimator sights 1х40RD are equipped with a universal fastener which will perfectly fit the rails of the "Weaver" and "Dovetail" kinds. We use the reticle of LASERWAR brand as the aiming marking. It is available in two colours: green and red. Standard dots, which are usual in models by other manufacturers, can hardly be seen in the dusk and with vegetation in the background. In LASERWAR optics we provide an illumination adjustment control which allows adjusting the brightness of the reticle. There are 5 modes for every colour. Any player can adjust it optimally depending on the conditions of a battlefield or a game field. Adjustment knobs, located in the upper and in the side parts of the body, give nice clicking sounds. The division value of one click is one arc minute. The delivery set includes one sight with fasteners, a hex key, a cloth for wiping the lenses, protective caps and a manual.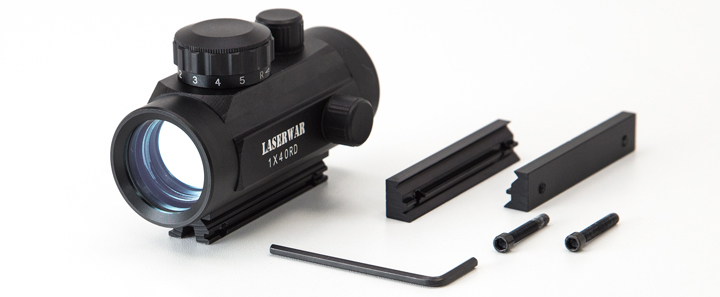 The optical sights 3-9x40 are not only equipped with the illumination adjustment control, but with the magnification control and the focusing control. The former ring will help to adjust magnification, and the latter will help to adjust the equipment to a definite type of eyesight (farsightedness or nearsightedness), that is why the players with eyesight defects are able to fire without glasses. As a target reticle we use the so-called "rangefinder reticle", which is also known to our readers as "the crossbow reticle". A comfortable range-finding scale and auxiliary reticles will allow to accurately estimate the range to a target, making necessary adjustments. The delivery set includes the sight without rails, a cloth for wiping the lenses, protective caps and a manual.

The engineers of our company test the sights and prepare them for playing in hard conditions. That is why both variants are marked with the logo LASERWAR which has already become the synonym of quality. And what about the price? It has risen inconsiderably. The collimator sight 1х40RD will cost you 1,800 roubles, and the optic sight 3-9x40 will cost 2,500 roubles.