LASERWAR AT THE INTERNATIONAL SINGAPORE EXHIBITION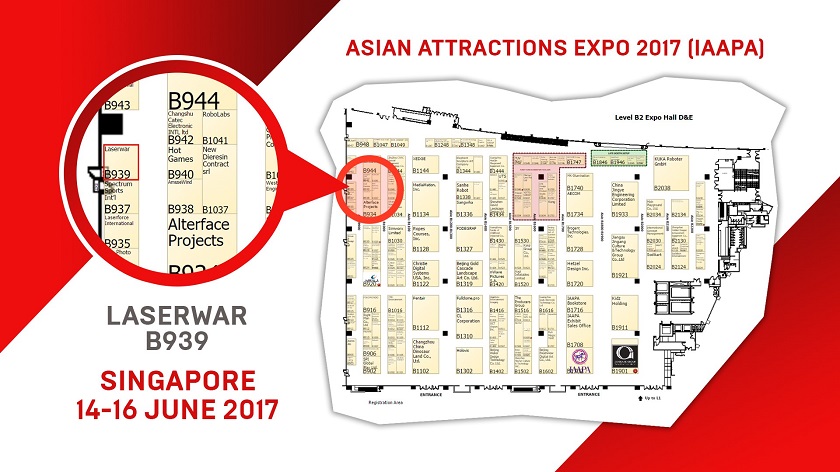 On 14 – 16 June 2017 LASERWAR took part in the Asian Attractions Expo in Singapore.
Despite the fact that LASERWAR had long entered the international market, this event was the company's first international exhibition.
The event was organized by the International Association of Amusement Parks and Attractions IAAPA,
Exhibition visitors will have three days to explore entertainment equipment by world's top producers. You will see groundbreaking developments in the field, as well as a unique array of offers and a variety of themes: attractions (for amusement parks, inflatable, water rides, etc.), play guns and dummies, entertainment equipment, bowling, paintball, shooting rooms, equipment for recreation areas and leisure centres, children's playgrounds and sports grounds, tourism and sports, electric carts and velomobiles, carting and race tracks, equipment for waterparks and swimming pools, landscape design, fountains and park and garden equipment, as well as an extensive range of other products for entertainment and recreation.
At the educational seminars that are included in the exhibition program leading companies will share their experience in the areas of attractions safety enhancements, customer services improvement, optimization of work flow and logistics within an amusement centre.
The Sands Expo Convention Centre with its 53 000 m2 area will take in over 5000 specialists, exhibitors from 60 countries – from Asia, Australia and a number of European countries.
The exhibition will play a strategic role for LASERWAR. The company will have a chance to establish business connections with potential foreign partners and to demonstrate flawless operation of company's equipment to foreign clients.
Months of the company's team collaboration in order to plan and get ready for the event prove once again that the Asian Attractions Expo 2017 is a whole new level of exhibitions for LASERWAR. The show start tomorrow. Our interactive stand number is B939. Welcome!
Related news