LASERWAR was awarded a diploma of RAAPA EXPO AUTUMN-2018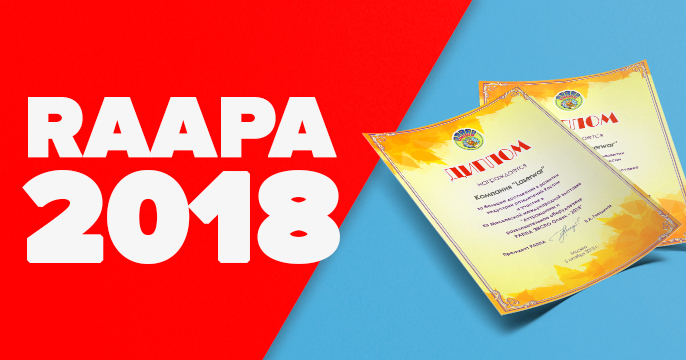 From 3 to 5 October the exhibition center in Moscow hosted the 12th Moscow international exhibition "Amusement Parks and attractions equipment RAAPA EXPO AUTUMN-2018". The LASERWAR team took part in the event. Our guys haven`t returned from the capital empty-handed – the company was awarded a diploma.
In total, the event was attended by about 100 companies from Russia, Belarus, China, Turkey, Italy, the Czech Republic and other countries. The theme of the exhibition covered all the main areas of the modern entertainment industry: park attractions, virtual reality, game simulators, equipment for children and sports grounds, bowling, water parks and much more.
The results of the autumn forum confirmed its relevance and demand among industry professionals. Thus, 18 companies participated in RAAPA EXPO AUTUMN for the first time. The number of foreign exhibitors has also increased. 16 foreign companies – firms from China and manufacturers from Europe came to the forum to exchange experience. The exhibition was visited by more than 1600 specialists – owners and managers of parks, entertainment centers, water parks, cinemas, holiday homes, health resorts, entrepreneurs and other interested persons.
LASERWAR has been a regular participant of exhibitions for many years, and this forum is no exception. According to the company's specialists, the interest in laser tag among visitors of RAPPA exhibitions is growing every year, so we bring to VDNKh our best equipment in outdoor laser tag and cybertag. For us, such events are a great opportunity to "show ourselves and see others", as well as to get acquainted with the latest trends in the entertainment industry, to find new business partners and expand markets for products.
This time at our stand we presented a new version of the CYBERTAG equipment: CYBERTAG 2.0 Black Edition, a revolutionary optical system ParallaX for laser tag, and also talked about the main advantages of the tenth generation X-GEN equipment.
The active participation of our team did not go unnoticed. As a result of the exhibition, LASERWAR received one more diploma "for great achievements in the development of the Russian entertainment industry and participation in the XII Moscow international exhibition "Attractions and entertainment equipment RAAPA EXPO AUTUMN 2018". Such awards stimulate the development and help to understand that we are moving in the right direction. In the anniversary year for the company it is especially pleasant to realize that our work is valued at the highest level.
Related news