Iaapa Attractions Expo 2017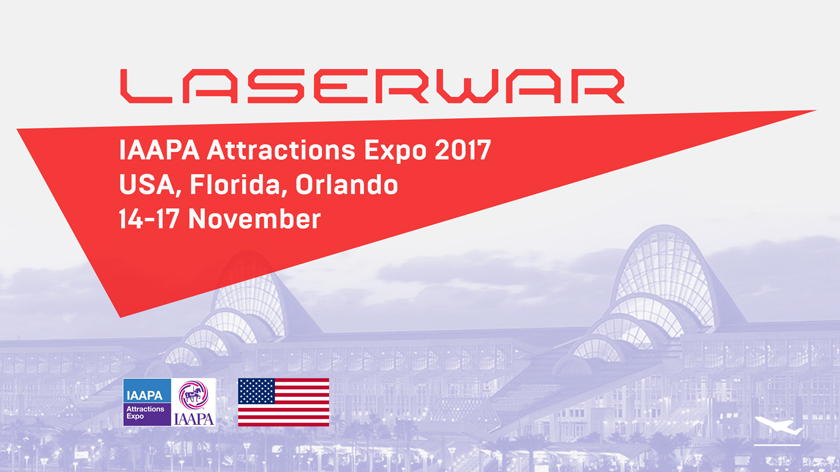 LASERWAR company has already got a great experience in exhibiting at foreign international shows and has come to a conclusion that the preparation procedure for such like occasions would better begin much earlier than the first announcements on the company website appear. Just after the managing group returns from an exhibition all the members analyze the event and draw conclusions. Together with the CEO and deputy director a lot of questions are discussed. Which of the laser tag equipment units have aroused most of the participants' interest? What else should be paid attention to? What questions of the visitors have been the most frequent to ask? The experience the company managers get at equipment shows are widely used afterwards, as a foundation for future exhibiting events.
As far as you know two rather great exhibitions have been a success for LLC Lasertag. One of them called Asian Attractions Show was held in Singapore in June. The other – Euro Attractions Show – took place in Berlin in September. Due to participating in these two events the Smolensk company was honored a special certificate where it is acknowledged as an active member in good standing of the International Association of Amusement Parks and Attractions and is entitled to all the rights and privileges prescribed within the bylaws.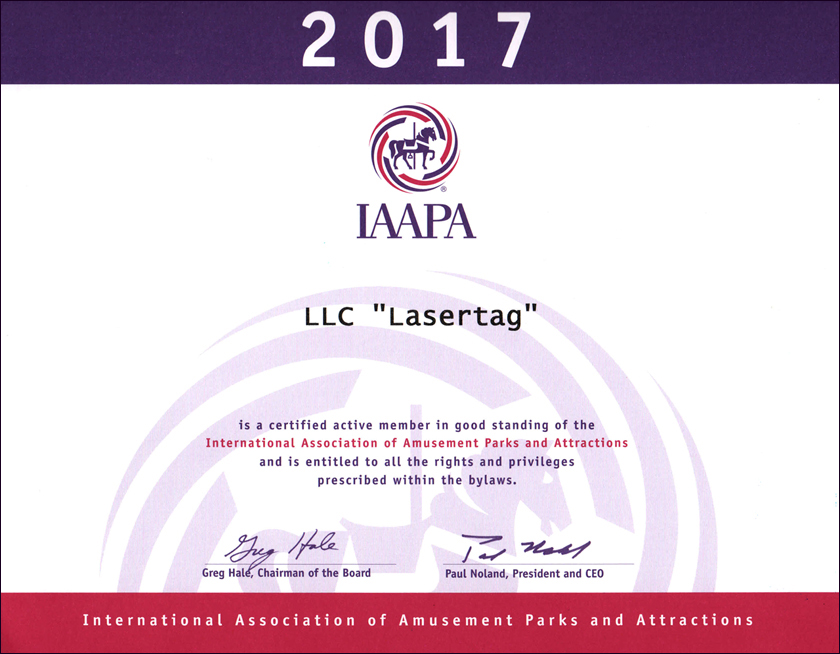 So very little time is left before the largest attractions equipment show in the world starts – IAAPA Attractions Expo 2017. IAAPA is the international trade organization that represents theme park attraction manufacturers and other members of the amusement industry which are glad to show off the latest products and inventions of the theme park business. This fall it will be held in the second biggest exhibition center of the USA – Orange County Convention Center (OCCC), North and South Buildings, 9899 International Drive – 575 000 square feet of exhibition space. 1 100 exhibitors from 120 countries will meet at a global gathering place. Industry leaders will connect to conduct business, learn from each other, address challenges about the attractions that will put smiles on people's faces – faces of more than 32 000 attendees that are anticipated to be present.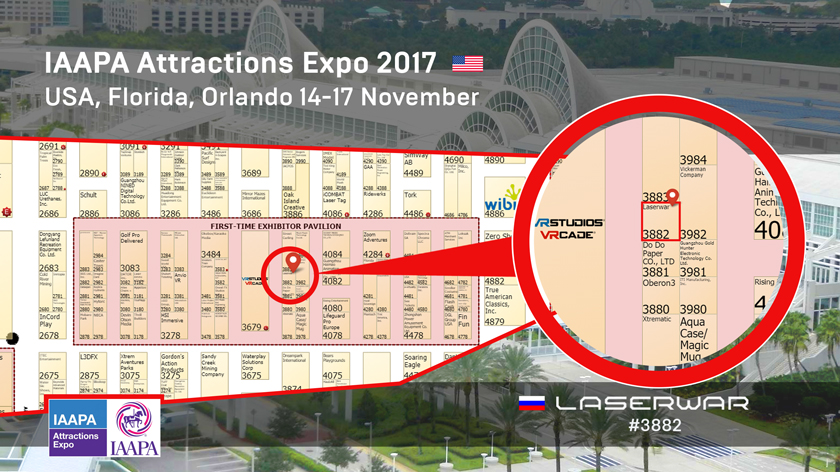 So well, now when the basic preparation for IAAPA Attractions Expo 2017 is finished and necessary laser tag play sets and devices are packed LASERWAR specialists are ready to head for America in order to face new impressions, discoveries and wins! The whole 4 days (instead of habitual 3 ones) of captivating, illuminating and breathtaking experience are waiting for those who will be able to attend the show: November 14-17 from 10 a.m. till 6 p.m. each day. You are welcome at LASERWAR interactive booth – #3882.