LASERWAR is preparing for a trip to IAAPA Attractions Expo 2018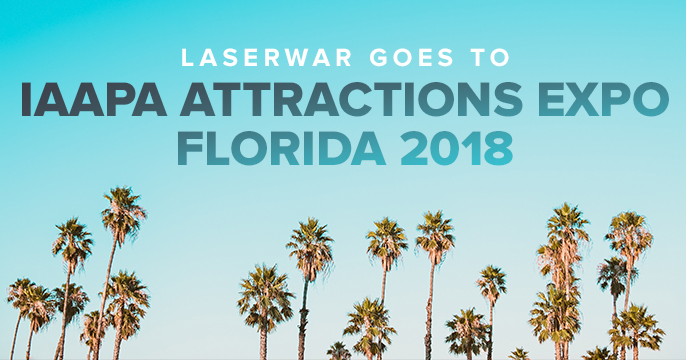 From November 13 to 16 at the American city of Orlando (Florida) the IAAPA Attractions Expo 2018 exhibition of attractions and amusement parks will take place.
Orlando is a real global capital of theme parks. Here, since 1918, one of the most significant international events for of the professionals of the entertainment industry is held. Attractions, parks, casinos, hotels and resorts, shopping malls – all these fields are united at one site by IAAPA Attractions Expo. The forum gathers more than 1100 participants and 39 thousand visitors every year. Numerous guests arrive in sunny Florida to learn about the novelties of the industry, discover the last trends in the entertainment sphere, meet colleagues and business partners, do networking and establish useful connections.
According to forum organizers, this year on their stands IAAPA participants will present the newest equipment and unique developments of the entertainment tech manufacturers. The expositions will show the state-of-the-art level the entertainment industry has reached today.
Of course, LASERWAR company couldn`t stay aside of the event of such scale. We recall, last year we have visited the exhibition in Orlando for the first time. Our team has represented the company well and managed to spark the real interest of foreign visitors, including the members of world-renown companies. It was clear that LASERWAR equipment meets the strict criteria of the modern entertainment industry. We left the USA, overwhelmed by success.
The year has passed, and once again we are full of determination to impress organizers and participants of IAAPA. During the last twelve months, the product range of the company has expanded with new unique developments. We surely won`t miss the opportunity to demonstrate them at the largest entertainment exhibition in the world!
Not long time ago, at out large-scale presentation at Moscow, we have announced the release of the 10th generation equipment. Undoubtedly, it is the concept of the X-Generation that will be the central theme of the LASERWAR exhibition stand. One-of-a-kind X-Core module, new plates, advanced LASERWAR Online configurator – we have what it takes to impress the guests. We will also tell about the brand new indoor laser tag system CYBERTAG 2.0 Black Edition, revolutionary Parallax optical system and demonstrate our original devices in action – Smart Battle Base, Smart Control Point, exclusive Smart RGB headband, and many others. All forum visitors will be able to hold game sets in their hands and shoot with taggers.
As always, IAAPA 2018 exposition in the second largest exhibition center of America – Orange County Convention Center. Our stand is located nearly at the very heart of the exhibition site. Find us by the number 4657.
We are waiting for you from 10 am till 6 pm. We welcome everyone!
Related news