Laser tag Makarov pistol. Transformation

In LASERWAR, our clients' comfort is our top priority. That is the reason why we always place so much focus on details. Hundreds of 3D models, a great number of moulds, in-depth development of electronic stuffing, long-run testing of devices on a polygon prior to their release – owing to these factors, the final product is reliable, ergonomic and fully functional.
Having released a new device, we keep on working. LASERWAR technical support specialists and managers are always there to help our clients. They take down all suggestions and complaints concerning the improvement of laser tag equipment operation.

Today we are going to tell you about the upgrades done to the PM pistol by our service centre specialists. This gadget, which has long become a favourite among laser tag fighters, is ideal for short-range fire. Being quite compact (17 cm long), it will become an indispensable weapon in close combat. Snipers, too, will find it handy as a second weapon.
The game version of the PM has proven to be strong and durable; it has a reliable construction, is easy to use and all its constituent details are high quality. Now, the trigger rolls more smoothly: there is no detectable creep any more.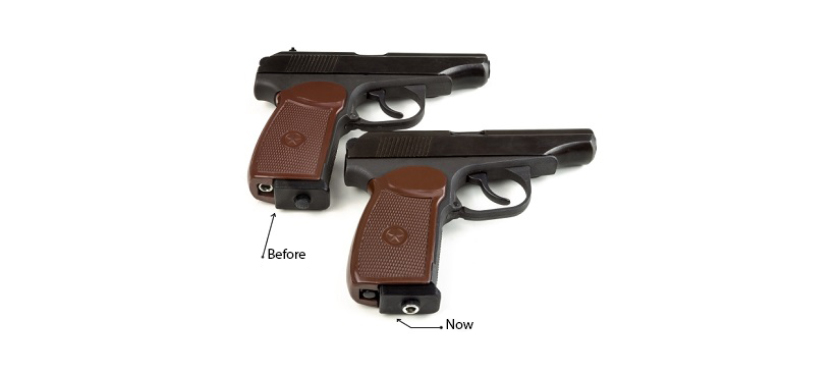 The activation button is now level with the rear side of the grip – thanks to this, any accidental deactivation of the play set during a game has been ruled out. Unlike the rubberized button used earlier, it is made of plastic, according to IP67 international protection code. Thus, it has acquired an advance protection feature. The charger input is at the bottom of the magazine replica.
Besides, to improve the quality of the "Headband – Weapon" connection and for more stable operation of the play set, we partly changed its internal components.
All these enhancements will make the PM pistol even more reliable and easy to use. With your skills, the PM won't leave an opponent any chances and will help you win a laser tag battle. On our part, we welcome any cooperation and look forward to your constructive suggestions.
Related news