Laser tag configurator and firmware updates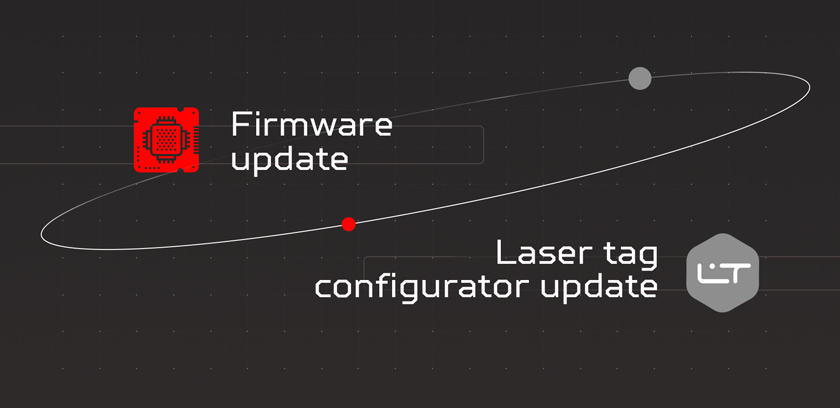 There are a lot of nice bonuses hidden inside our new software update. Smart control point parameters have been added to the laser tag configurator. A new misfire mode and game time count have been added in the 9th generation of firmware. The algorithm of anti-cheat operation has been reconsidered and the stability of interconnection between a headband and a blaster has been improved. Here are all the details about each update.
SMART CONTROL POINT PARAMETERS
It has now been made possible to set up a new control point through a laser tag configurator. The required parameters can be found in the 'Devices' section. To alter values, turn on the device in admin mode and place a USB base in front of infrared sensors. After the configurator has found the control point, click on 'send' and wait for successful sending confirmation.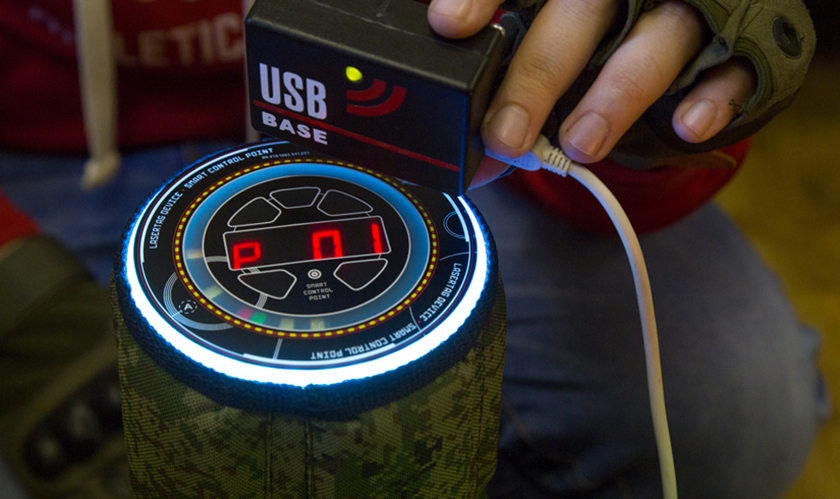 All is utterly clear and simple: if you have ever tried setting up play sets through a USB base, you won't have any problems with a smart control point either. Our program has user friendly design so any laser tag player will take it in.
MISFIRE MODE
Every time LASERWAR equipment gets updated, it acquires new work modes which are characteristic of real combat weapons. Barrel overheating, automatic and single fire modes – all these have been realised on program level. Misfire algorithm has been added to the existing parameters.
According to statistic data, misfire is one of the most frequent problems owners of combat weapons have to face. Therefore, we have decided to add this element of reality to the new firmware of the 9th generation blasters.
Misfire kicks in randomly: when a player pulls the trigger, he will hear a typical sound but the weapon won't fire. To restore correct operation of the weapon, push the reloading button several times. Now laser tag games will have accidental occurrences which may fling any game situation upside down.
As we have been anticipating sceptic questions, we have prepared ready answers: it is unlikely that misfire may affect the result of a game. It wasn't our goal to create 'irritating' mode that would help a weak team win. As always, those are consolidated teams that are going to win in laser tag. At the same time, games will become more memorable and dynamic.
GAME TIME COUNT
A real gift for all rental club owners. We have added a parameter to equipment firmware that reads blaster operation time. When a blaster is on, each minute gets registered in the energy dependant memory. From now on, you can see the details of how many 'combats' the equipment has been through and compare them to the data communicated by an instructor. The device operates by the same principle as the widely known odometer used on vehicles.
To view the values of the parameter, follow these steps:
1. Launch the configurator.
2. Turn on the blaster in the configuration mode.
3. Move on to 'Send' section and click on 'Read'.
4. In the window that pops up you will see weapon and game time parameter (T).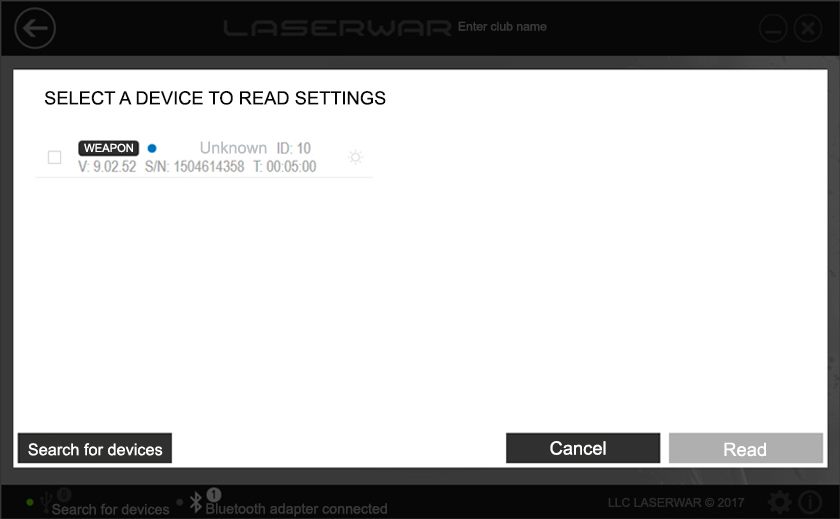 ANTI-CHEAT AND MAINTAINING STABLE CONNECTION
We have thoroughly examined the algorithm of anti-cheat operation and improved the stability of the headband – weapon interconnection. The possibility that the connection between a headband and a blaster may break has been brought down to a minimum. A new principle of connection testing has been applied: now, connecting and reconnecting happens in an instant. Besides, sound indication system of the process of connection has been added. We keep improving our equipment every day as we want to make sure our users won't need to get distracted by trifle things. Victory on a battlefield can only be secured by fully devoting oneself to the matter.
HOW TO UPDATE
The new firmware and laser tag configurator are now available at a special section of our website. We strongly recommend that you update the firmware of your Smart RGB headbands and launch the configurator through admin. This small setting is real magic. Upgrade to the latest version and get the most of laser tag games with LASERWAR equipment.
Related news