LASER TAG CHECKPOINT. NOW ON LI-ION BATTERY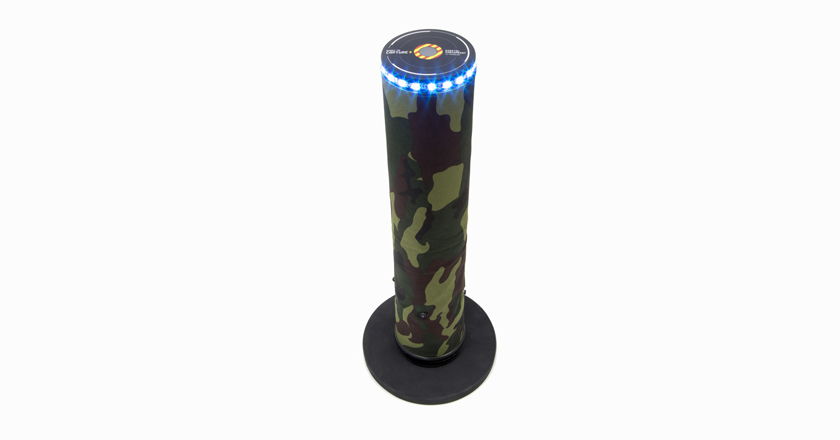 While preparing for the game, the instructors charge blasters, headbands and additional equipment. Charging blasters and headbands is simple: use Smart Li+ battery chargers and plan the future game scenario. When it comes to simulation bombs, LASERWAR bomb, checkpoint – one can't help but remember how lead-acid batteries are charged. In this case the process of preparing for the game takes instructor's extra time. Yet this won't become an issue if one uses same battery charges for all the equipment.
Now LASERWAR checkpoint is being equipped with a lithium-ion battery, with the energy density of 2.2 Ah. This resulted in increased duration of autonomous functioning: the checkpoint will stay in play mode for 24 hours on the playfield.
To the constructive improvements design changes were added. The renewed checkpoint can boast a black RGB-strip and a changed sticker. The latter became more informative: the aim is circled and the battery type is stated. Besides, a short call for action is inscribed on it. Had the player not listened to the instructor attentively before the game, the checkpoint will not appear to be confusing to him: shoot to capture.
RGB-strip base colour has changed. Black base colour matches well with the rest of the checkpoint, while displaying the time of the round became brighter and more intense.
Equipment cost has changed. The new battery and renewed design increased the cost by 600 roubles. The price of the checkpoint is now 5500 roubles. For this price you get a must have equipment. Among most popular laser tag devices checkpoint rates number one. It is easy to set up, to transport and is used in every second game held by laser tag clubs.
The renewed model is available to order from our LASERWAR online store.
Related news