Winter - a time of gifts!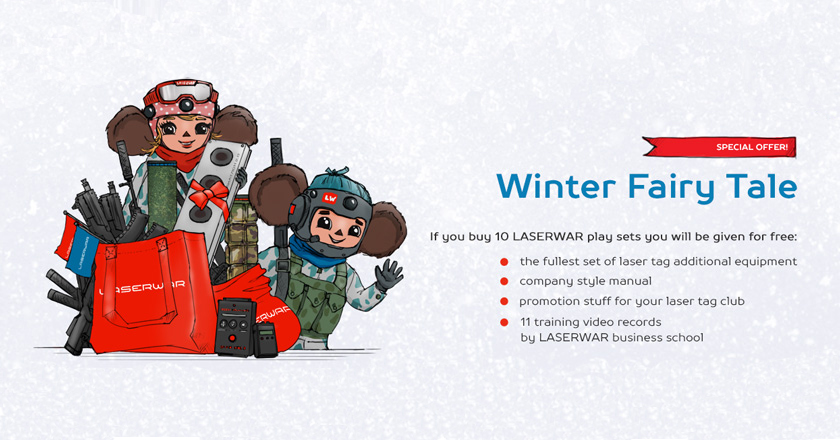 New Year is a time of fairy tales and gifts. We've been waiting for the winter and it has arrived! For all those who do not hibernate so as to survive throughout the cold season and for whom winter is not a cause to forget about laser tag till spring, here is our Winter Fairy Tale.

Buy 10 or more sets of game equipment by 1 February and receive free gifts for your business!

Buy 10 laser tag play sets and choose a free gift by yourself! You can choose either 2 sets of AK-12LT PREDATOR or 2 sets of MP9-LT PHOENIX or a set of the 11 additional devices no vibrantly growing laser tag club can do without.

The set includes:
When you order 20 play sets, you will receive the following items free:
This offer cannot be used in conjunction with any other special offer or discount.
Not only do LASERWAR supply equipment of outstanding quality - we support our customers with media materials.
You will receive marketing materials which can be used to make any printed souvenir products.
These include:
A manual to the LASERWAR brand style
Sources and examples of posters format sizes A3, A4, A5
Sources and examples of flyers
Special fonts used on LASERWAR products
Sources and examples of diplomas that can be awarded on behalf of the club
Sources and examples of z-fold leaflets
Sources and examples of certificates, business cards
Sources of the LASERWAR logo
Sources and examples of designs of watches, mugs, magnets, t-shirts, pennants, badges.
All these will have a uniform style, therefore, you won't need to develop a special style for you club. The materials will be a great help not only for out-of-home media, but also when designing a website and groups in social networks.
If you are planning for a full-scale network of playgrounds, then the uniform style will make your club recognizable. The sources will help you save time and money and will allow you to attend more to the client base.
The media materials include 11 webinars. They provide information and advice on how to create, develop and promote a laser tag club.
The webinars have been created by the LASERWAR business school. The list of webinars with brief summaries are given below:
Webinar 1: Marketing cases
In this webinar, we look into the issues of marketing effectiveness and laser tag club promotion. We explain the principles of managing the target audience. We offer practical examples of extra amusements which can be offered to customers while conducting laser tag games.
Webinar 2: Business plan
In this webinar, we look into the issue of expedience of drawing up a business plan for a laser tag club. We have systematized the knowledge about calculating the required financial and economic markers for successful business management. Dmitry Solodov shares his experience of creating tables and tells us how to analyze big volumes of information competently.
Webinar 3: Promo events and dealing with clients
The webinar unveils the principal means of attracting clients. How to make a client come back again and again? How to make a client bring new players with him? How to increase a client base quickly and effectively? The coach of the LASERWAR business school will answer these questions.
Webinar 4: Survival strategy during crisis
In this webinar, we will explain what approaches need to be adopted by club directors under the condition of budget cuts. You will receive practical advice on how not to lose clients and how to use partnership programmes efficiently. We look into the matter of crisis psychology and identify the main methods of overcoming it.
Webinar 5: Laser tag in the winter and dealing with authorities
The coach of the LASERWAR business school looks into the specifics of a laser tag club operation in winter time. Special offers, ways to attract clients, the specifics of dealing with the authorities - you will learn about these and a lot of other issues from the fifth webinar.
Webinar 6: Marketing without a budget and earning clients' loyalty
In this webinar, we look into ways to minimize spending on marketing. How to make a client use the services of your club only? How to turn laser tag games into an obsession? The answers to these questions can be found in the video.
Webinar 7: Dealing with competitors
Sooner or later, any company has got to confront it competitors. A laser tag club is not an exception. The webinar uncovers 5 main ways of how to acquire a customer fast. No abstract ideas - just the facts that have been tested through personal experience.
Webinar 8: Laser tag for kids and summer games
Bringing up the matter of kids laser tag is not accidental. Summer is a time of extended holidays. One needs to be ready and on the ball for the season. You will learn how to efficiently manage performance within a club from LASERWAR webinar 8.
Webinar 9: Polygon. Finding one and building it.
We look into the matters of finding a place and building a playground. Will it be a building or an open polygon? How to look for new game zones? How to organize all the club infrastructure? The coach of the LASERWAR business school will answer these questions.
Webinar 10: An instructor is the image of a company
Finding the right employees is an important prerequisite to successful work. One must conduct a perfect job interview, sign an employment agreement and supervise an employee's performance. Webinar 10 is devoted to performance instructions, documents writing rules and procedures, timely supervision of an instructor's performance.
Webinar 11: Indoor laser tag is called CYBERTAG
The coach of our business school talks about a separate trend in laser tag, which is CYBERTAG. In the webinar, we look into the specifics of indoor laser tag and uncover the secrets of technical matters and modernizations. If you don't yet know anything about this, it's high time to fill in the gaps in your knowledge.
You can obtain more information about the special offer from our managers through JivoSite (at the bottom right corner of the web page), or by writing to our e-mail. You will find the list of our managers and contact information here.