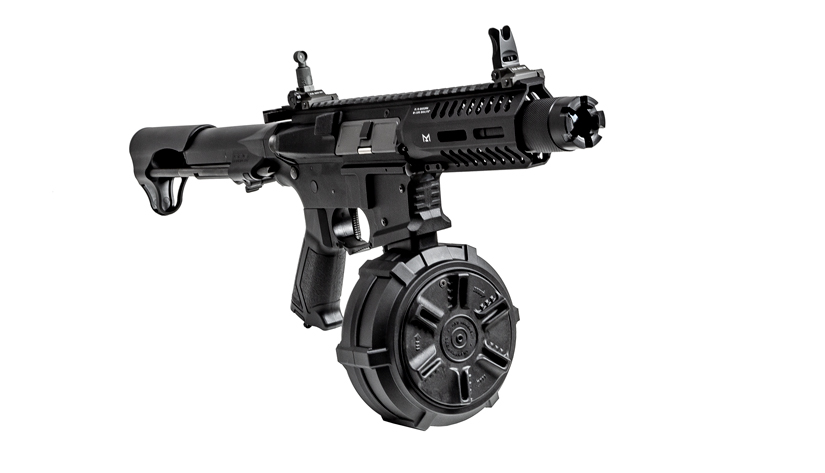 Day by day LASERWAR has been working to increase the product range. We offer our customers not only time-tested classics, but also non-standard game models, as well as exclusive taggers, made to order.
This time we present you a new version of the model ARP 9 «Spark». It should be reminded that this is a compact tagger based on the same-name airsoft model by G&G company. At its core is AR-15 design to which we added a short barrel with M-LOCK foregrip and an extensible buttstock.
In the new version, the familiar «Spark» got a «drum»-type box magazine. Magazine from the manufacturer G&G is made of black plastic. It is attached to the place of the standard extended magazine for 9mm pistol cartridge. Our designers have hidden a speaker inside the magazine. Its holes are placed on the inner side of the box so that the powerful sounding is directed towards the player. On the same side, there is an indicator, which lights up green when you turn on the tagger.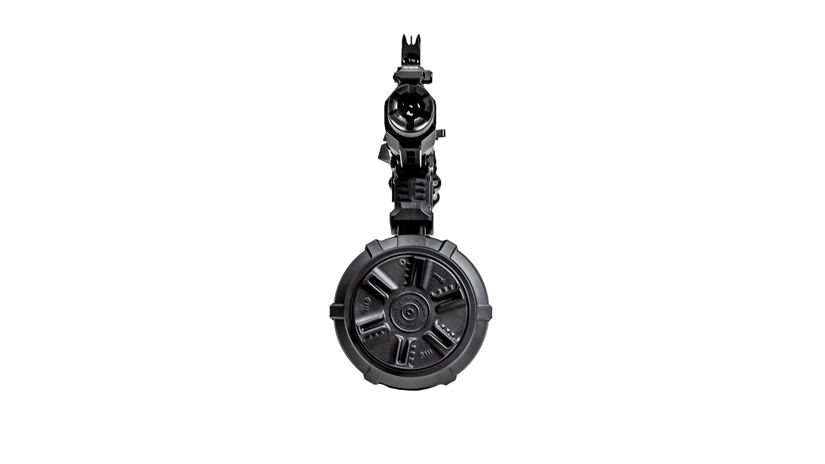 It should be noted that the box magazine increases the weight of the sub-machine gun. With this addition, the "Spark" will weigh 2.1 kilos instead of the habitual 1.8. Despite this, the tagger remains an ideal close combat weapon. Responsibility for that lies on the latest optics "Parallax", which is notable for high accuracy of hit. In addition, the size of the "Spark" is still compact – just 50 cm in length with the buttstock folded and 59 cm with the unfolded one.
An owner of the updated tagger gets enlarged ammunition - such an enemy is dangerous to be met on the battlefield. There is no need to talk about the appearance – the model has become even more brutal and aggressive than before.
It is already possible to buy "Spark" with a box magazine in our online store at the link. In such a modification the price of the tagger will increase up to $120.
Related news