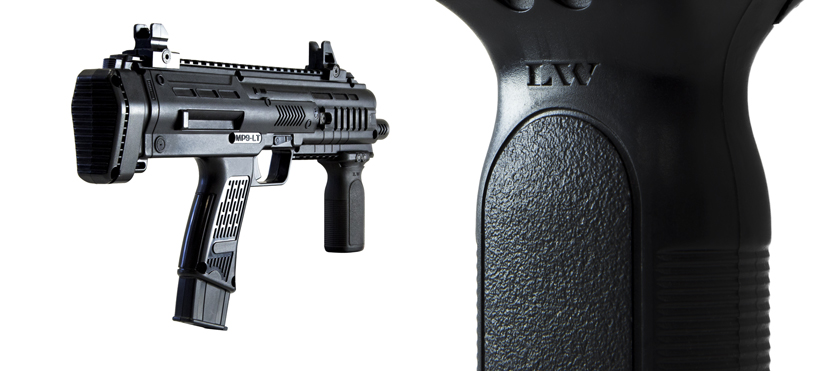 After 10-20 games with a personal laser tag assault rifle you feel that something is missing. You want an additional grip, a precise sight and a tactical torch. Instead, you get the standard sight devices and a "naked" handguard. LASERWAR online store has lots of additional accessories for such cases. Bipods, collimator sights, 2-point belts will make the game more comfortable, which is so essential for lengthy battles.
A LASERWAR tactical grip has been added to our online store range. The model is used by default in PHOENIX, its announcement was made earlier. In that model the grip ensures steady hold of the blaster and precise aiming. Yet the mounts make it also suitable for other models with a RIS-bar on the handguard. The grip is attached by means of two screws, which are set close together. Due to that the grip will not break off if the gun is dropped down, will not crack in a laser tag fighter's strong hands.
The frame is made from thermoplastic polymer. By its toughness and durability characteristics it far exceeds ABS plastic. The grip is hollow, therefore it doesn't weigh much – 49 grams. The grip height is 9 cm, its length is 4.5 cm. These characteristics will be appreciated by those who organize games in different locations: the compact equipment is easy to transport.
The design has been borrowed from the latest models of Magpul grips. The quality beyond doubt is at its highest, for such grips are used by skillful military games players. We have taken the most of Magpul models. The rough surface and the convex shape of the upper part of the grip make it comfortable to hold it in one's hand.
Besides, we have increased the thickness of the walls, therefore the grip has become more reliable: it will not crack in a man's hands and will survive being dropped. We are sure that the practical and ergonomic build of the grip will be appreciated by laser tag players.
The model has a logo inscribed on it and can be purchased from our LASERWAR online store. The comfort and convenience will cost you 340 roubles. Included in the set are the tactical grip, screws and a matching hex key.
Related news