LASERWAR ARE PREPARING FOR EAS-2017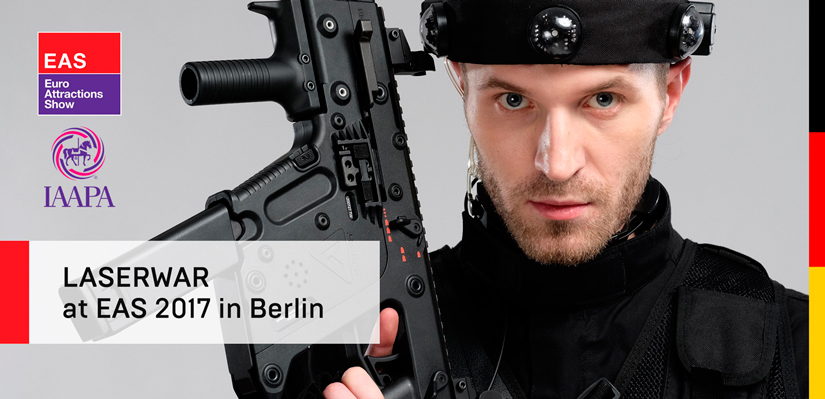 LASERWAR have been preparing for one of the largest foreign exhibitions — EAS (Euro Attractions Show) — international exhibition of equipment, goods and services for amusement parks and attractions, which will take place in the German capital — Berlin — 26-28 September.
The organizer of the event is IAAPA — the International Association of Amusement Parks and Attractions, founded in 1918. It's the largest international trade association for permanently situated amusement facilities worldwide. For LASERWAR company IAAPA 2017 is a place for meeting friends, opportunity for building new business relationships, adjustment of strategy development and chance to demostrate to visitors, dealers, investors and controllers of the event how great the technologies that serve lasertag today is.
The company've already got a certain experience of this kind, as EAS won't become their first business trip abroad. Not long ago — 14 – 16 June 2017 — LASERWAR had a success at the Asian Attractions Expo in Singapore. There the company managers presented developed and produced by the company specialists laser tag blaster models Predator, Phoenix and Krechet and other play sets.
It makes LASERWAR CEO think that the forthcomming exhibition is going to be not less successful for the company. All the more the company has much to demonstrate to the seduced laser tag european experts who are a bit spoiled by enormous amount of new high tech devices from all over the world. LASERWAR engineers is going to show such laser tag devices as CERBERUS mine, CRATER bomb, CHAMELEON universal point. Besides, they'll demonstrate flawless operation of CYBERTAG equipment for indoor laser tag. Foreign partners will put on special vests, shoot from recently constructed blasters and watch real time statistics on the PC screen.
Potential customers will be able to rate the product that is not only technically superb – it also has great advantages when it comes to price-quality ratio.
Dear laser tag fans! We suggest you visiting №1 event of entertainment industry in Europe! Berlin ExpoCenter City, Messedamm 22, D-14055. The show will start in 10 days! Our booth number is 25-218. Welcome!
Related news