MG42 EMGA PLAYSET OF THE ORIGINAL RANGE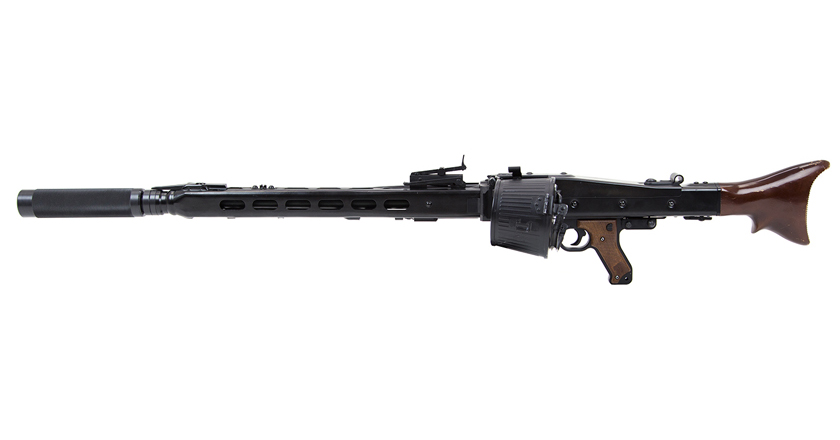 War has always stimulated intensive development of weaponry. Most engineering achievements are now in museums. Some of them are outmoded, others served as the basis for creation new, more superb weapon systems. Yet there is hardly any weapon that survived until today's date and remained unchanged. There are exceptions though. One of those is the legendary German machine gun MG42.
Among soviet front-line soldiers and comrades it was known as "Bonecutter", "Hitler's Circular Saw", "Emga". MG42 and its modifications are still used not only by the Bundeswehr, but also by other countries' armies, including Austria, Burma, Denmark. Besides, it is produced in Italy, Iran, Spain, Pakistan, Turkey and Yugoslavia.
Thanks to LLC LASERWAR now there is a game version of this legendary machine gun. EMGA is based on the airsoft prototype of exceptional quality: it has a reliable metal frame. The grip of the machine gun has corrugated sides, so it won't slip from one's hand. The stock is made from wood and has a typical fish tail shape, which makes holding it against one's shoulder comfortable and allows shooting from a bipod while holding it with one's left hand. The model weighs 5.6 kg.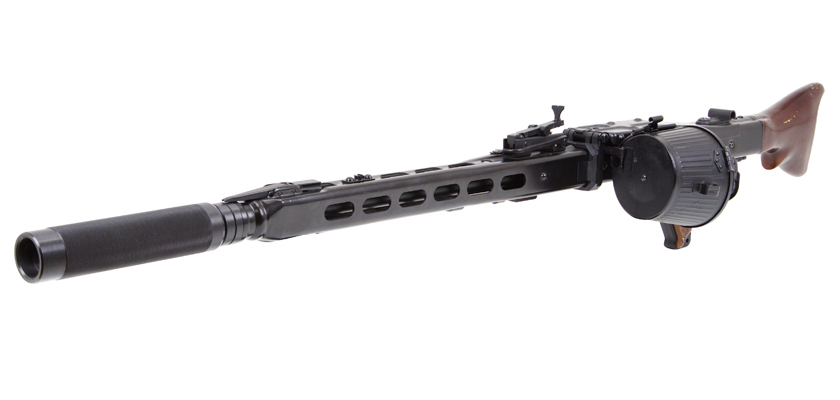 Machine gun sights are composed of an open sight and an iron sight. The flip-up sight is attached to the barrel jacket, it uses a notched sight calibrated in 100 m increments from 200 to 2000 metres. The effective range is 300 metres.
One of the construction features of the model is its cylinder. It is on it that the secure switch lock and the charger port are located. The speaker, that produces clear and loud sound owing to its perfect acoustic characteristics, is located there too. To reload the magazine, one can use the bolt or opt for the button, whichever option one finds more suitable. A lithium-ion battery with a capacity of 2200 mAh, used for charging the device, will guarantee up to 30 hours of independent work. The length of the game weapon MG42 is 135 cm.
EMGA is an exclusive model, its authenticity and power will please stormtroopers. You will have to shell out for the unique item though. The price of the play set starts from 56 200 roubles. The bipods that come with the set will be a pleasant surprise.
We can assure you that the play set will cause a lot of trouble to the enemies, if handled correctly. This point can be proven by the fact that this gun is still in.
Related news