IAAPA Expo Europe 2019. Results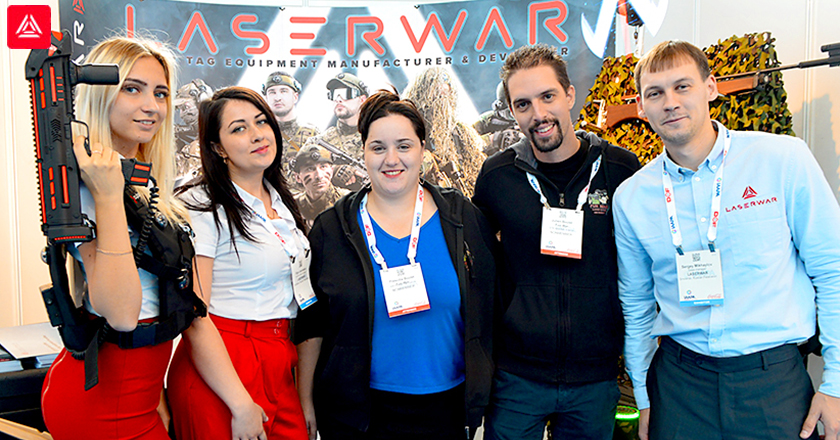 IAAPA Expo Europe 2019, the international exhibition of equipment, goods and services for amusement parks and attractions, has come to an end in Paris.
This year the forum of the international amusement parks association took place in one of the largest European centers - Paris Expo Porte de Versailles. The exhibition stands occupied 17,500 square meters, which was a record for many years of the event's history.
According to preliminary estimates, the exhibition attracted 15,900 participants, including 11,100 professional buyers and 648 exhibiting companies. Compared to the 2018 Amsterdam event, the number of exhibiting companies has increased by 13%, which, according to the organizers, indicates the growth of the global amusement industry, especially in Europe, the Middle East and Africa.
The experience of our company confirms the experts' analysis. For three days, the flow of customers at the LASERWAR stand did not run out for a minute, our employees had fruitful talks with several hundred guests. The managers gave their last consultations at the end of the exhibition, when many companies left the Porte de Versailles center.
Traditionally, CYBERTAG 2.0 Black Edition sets for arena laser tag were the most popular among the IAAPA exhibition visitors. Today, we have arenas in more than 30 countries across the world, and there is every reason to believe that this number will grow after the Paris exhibition.
Our Phoenixes and Predators were also the focus of attention. Men and women, boys and girls, all held laser rifles in their hands with eagerness and asked to shoot at electronic targets.
According to the results of the exhibition, we received contacts of about 30 leads - potential buyers who are ready to discuss the terms of cooperation. And this is not to mention regular customers who did not miss the opportunity to see the new products live at the exhibition. Meetings with French businessmen were particularly successful: a lot of new acquaintances, and existing customers even bought equipment directly from the stand.
International exhibitions like IAAPA Expo Europe convince us that we follow the right path. Laser tag is more popular than ever and has great prospects in both domestic and foreign entertainment industry. This industry is developing rapidly and is becoming more and more technologically advanced, and we do not intend to drag behind. See you in 2020, at the next exhibition of the International Association of amusement parks and attractions.
Related news