Attention, sale! 40% off on all devices when buying a bundle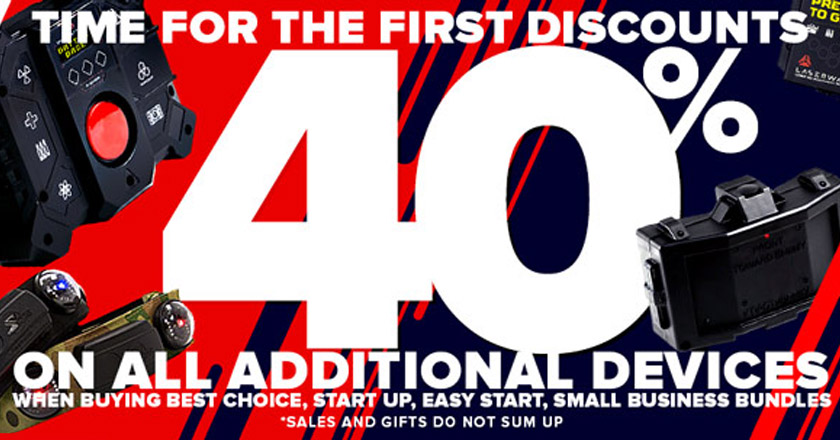 Getting presents on holidays is always nice. Even nicer when you are being remembered about not by occasion, but anytime and completely unexpectedly. LASERWAR company delights customers with sales and beneficial offers regardless of season or day of the week.
From January 16th, a new sale starts! It includes Easy start and Small business bundles of the 9th generation, X-GEN Start Up and X-GEN Best Choice of the 10th. By buying any of these bundles, you get 40% OFF on all additional devices in a selected equipment kit. Additional devices are all devices except taggers (headbands, remotes, chargers, routers, etc.).
If you were planning to renew the arsenal of your laser tag club or wanted to open your business right with the start of the new year, the new sale is aimed to assist you. We work with thousands of rental clubs all over the world and play laser tag ourselves, so we know what helps you most. No need to bother your head and collate the numbers – our experts have already cared about all the details. This is a lucky choice for everyone who cares about saving time and money. Moreover, 40% discount on the devices is a considerable addition to your profit!
Don`t put the decision on hold! The sale will last until the February 1st 2019. The discount DON`T SUM UP with other sales.
For all details, feel free to contact our managers!