Contacts
The item has been successfully added to cart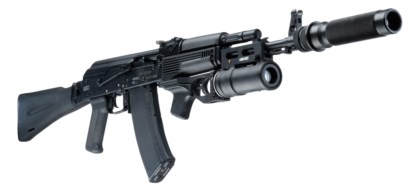 Equipment Options
Version
Optics type
Defeat sensors and battery charger must be purchased separately for selected version
Available options for selected version
Defeat sensors and battery charger must be purchased separately for selected version
Available options for selected version
Defeat sensors and battery charger must be purchased separately for selected version
Available options for selected version
DESCRIPTION

PARAMETERS

CUSTOMER REVIEWS
The weapon is based on a mass-dimensional frame from Izhevsk Mechanical Plant - a famous manufacturer that has been a leader on the market for many decades. The weapon runs on specially designed firmware. Due to special electronics, you can use two optical systems at the same time.
You can fire the weapon by using the trigger point. The underbarrel grenade reloads automatically (takes 10 seconds by default) if the player doesn't fire or reload the main weapon. The tube is made of durable polyamide material, the optimal range is 120-200 meters, the weapon's range is up to 60 meters, the killing zone - 5-6 meters. The game set is very effective when playing indoors.
Here you can find many great LASERWAR features: The high-quality trigger system (uses a microswitch), the safety-catch, Li+ accumulators. The loud sound effects ('flying bullet' sound), illumination of the shot will impress any pro.
The frame with an underbarrel grenade is rarely available for sale. Don't miss the chance and buy the weapon The weapon is sold in small lots.
| | |
| --- | --- |
| Charger type | Li+ (8,4V; 1000 mA) |
| Battery type | Li+ (2,2 Ah; 7,4V) |
| Battery life | 30 h |
| Grenade effective firing range | 60 m |

| | |
| --- | --- |
| Effective firing range | 185 m |
| Length | 106 cm |
| Weight | 5.2 kg |
| | |
| --- | --- |
| Charger type | Li+ (8,4V; 1000 mA) |
| Battery type | Li+ (2,2 Ah; 7,4V) |
| Battery life | 30 h |
| Grenade effective firing range | 60 m |
| Effective firing range | 185 m |
| Length | 106 cm |
| Weight | 5.2 kg |

Download Passport 0.5 MB (DOCX)