AK-PG Cascade Steel Series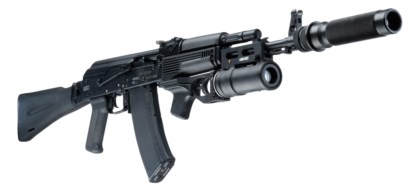 The model is based on AK-103 with a modification in the form of an underbarrel grenade launcher.
AK-103 was developed by Izhevsk Machinebuilding Plant in the mid-1990s and was intended for export with a cartridge size of 7.62x39 mm. The new modification is based on AK-74M. AK-103 is considered the most famous and sought-after Russian export rifle. The model was notable for its high fire density due to the muzzle brake compensator.
Characteristics of design
This is the only rifle from the LASERWAR range that has an underbarrel grenade launcher fitted by default. Not only did our engineers and designers have to mount additional equipment, but they also had to develop special firmware that could emulate the grenade launcher's operation. The body material is gun steel with polyamide inserts. Combined with the AK-PG KASKAD underbarrel grenade launcher it is quite weighty. The weight is 5.2kg.
The running parts include: a carrying sling clamp for a belt, adjustable backsight and frontsight, breechblock and fire mode switch. Otherwise, the body is inflexible and will withstand any rolling loads.
The pistol grip is fluted for the player's convenience.
The electronics support the operation of two optical systems at the same time. The Prism or Parallax optics (customer's choice) are used for usual shooting. The grenade launcher is handled by specialized optics. The tube systems of the rifle provide a range of 200 to 400 m. The grenade launcher works at a distance of 60 m.
The firmware has a simulated recoil feature: for 10 seconds after a grenade launcher shot, the player cannot fire or reload the weapon. A rifle with an attached grenade launcher is included in the standard supply package. Hit sensors, chargers, collimator sights and gun belts are purchased separately.
The Feedback option can only be installed with a replacement pistol grip. The upgrade cost is 1,500 roubles. If an OLED display is installed on the model, the buttstock is welded and becomes non-folding.
Parameters
| | |
| --- | --- |
| Charger type | Li+ (8,4V; 1000 mA) |
| Battery type | Li+ (2,2 Ah; 7,4V) |
| Battery life | 30 h |
| Grenade effective firing range | 60 m |
| | |
| --- | --- |
| Effective firing range | 185 m |
| Length | 106 cm |
| Weight | 5.2 kg |
| | |
| --- | --- |
| Charger type | Li+ (8,4V; 1000 mA) |
| Battery type | Li+ (2,2 Ah; 7,4V) |
| Battery life | 30 h |
| Grenade effective firing range | 60 m |
| Effective firing range | 185 m |
| Length | 106 cm |
| Weight | 5.2 kg |

Download Passport 0.5 MB (DOCX)