Contacts
The item has been successfully added to cart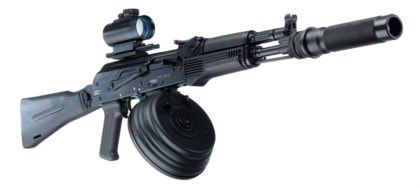 Equipment Options
Version
Optics type
Defeat sensors and battery charger must be purchased separately for selected version
Available options for selected version
Defeat sensors and battery charger must be purchased separately for selected version
Available options for selected version
Defeat sensors and battery charger must be purchased separately for selected version
Available options for selected version
DESCRIPTION

PARAMETERS

CUSTOMER REVIEWS
In this model, we use a PBS-1L tube (the same like in the Kalashnikov series) - our recent development. The tube is made from high-quality polymeric material, and has good insulating properties, and the lightweight optical system will impress any pro.
The standard magazine was replaced with a metal round drum inside. The speaker is inside the drum. Due to the structural features and good acoustic properties of the drum, we managed to achieve high-quality, rich and loud sound.
The range is the same as for the weapons from Kalashnikov series.
*Attention! The sight must be purchased separately and not included in the play set!
| | |
| --- | --- |
| Charger type | Li+ (8,4V; 1000 mA) |
| Battery type | Li+ (2,2 Ah; 7,4V) |
| Battery life | 30 h |

| | |
| --- | --- |
| Effective firing range | 185 m |
| Length | 97 cm |
| Weight | 4.1 kg |
| | |
| --- | --- |
| Charger type | Li+ (8,4V; 1000 mA) |
| Battery type | Li+ (2,2 Ah; 7,4V) |
| Battery life | 30 h |
| Effective firing range | 185 m |
| Length | 97 cm |
| Weight | 4.1 kg |

Download Passport 0.5 MB (DOCX)