Competitive advantages

Leader in the laser tag industry
The success of your laser tag club directly depends on your equipment supplier. In a highly competitive environment, it is important to distinguish real quality from empty promises.
Whose products will justify the investment? Who to trust with the future of your own business? With LASERWAR you will find a reliable laser tag manufacturer and a responsible business partner. The credibility of the company is confirmed by the trust of thousands of grateful clients. We cooperate with managers and founders of rental clubs all over the world, we are the place where professional laser tag players buy equipment.
Unique optics
We have developed and launched two optical systems for laser tag. Prism and Parallax are the first Russian optical laser tag systems certified in accordance with Russian GOSTs.
Prism's effectiveness has been tested by time and tens of thousands of laser tag battles. The design guarantees a stable range of fire of up to 500 meters and a high accuracy of shots. By reducing the power of the shot from 100 to 1%, you can completely get rid of ricochets.
But we have always wanted to go beyond borders. After creating Prism - the best classical optics for laser tag, we continued our research and developed another new product - Parallax. It made a real revolution in the world of laser tag optics. We took flame arresters as the basis, that's why the new device has an authentic appearance. Compared to Prism, the tube length and diameter were reduced by almost three times, the firing range increased by 60% and accuracy by 3.2 times.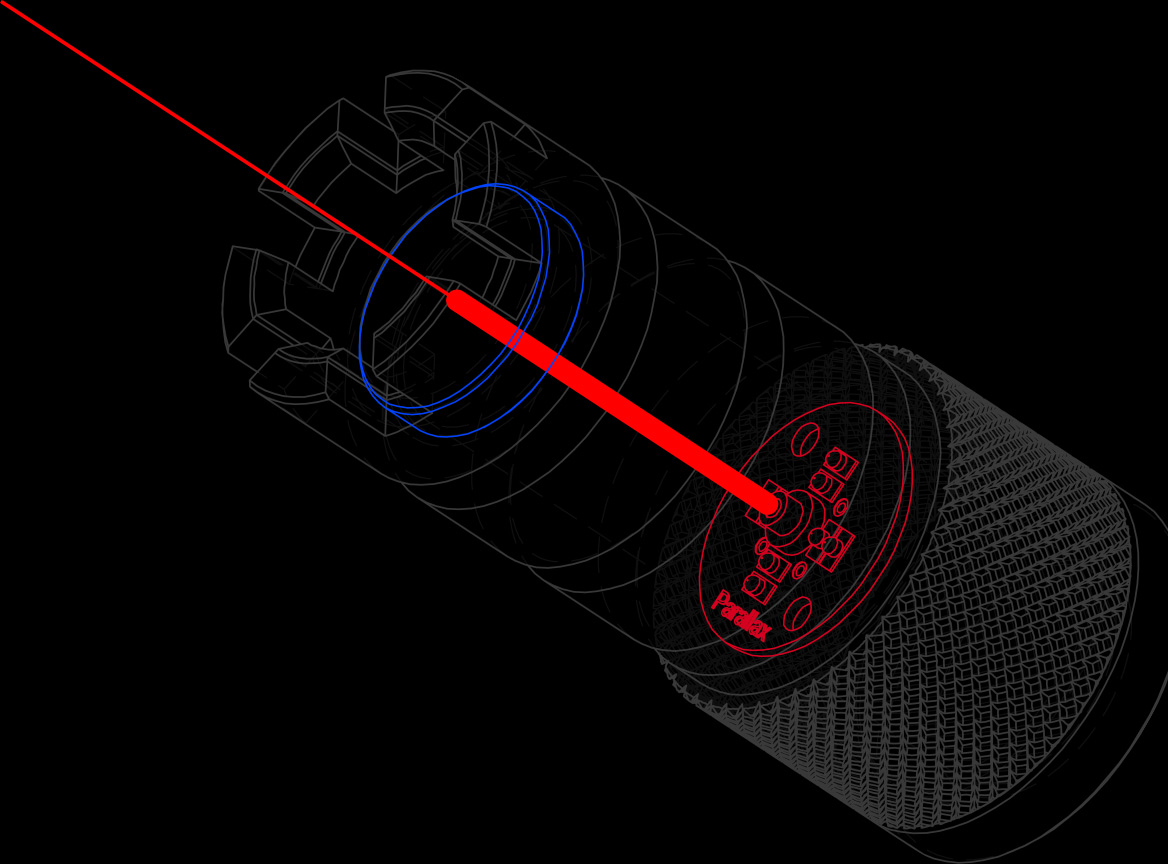 The device is made of high-strength weapon plastic, which reliably protects the internal components from moisture and dirt. There is also a branded orange shot illumination. It really adds bright emotions.
After numerous tests, the optical system was found to be completely eye-friendly. We have obtained a lighting and biological safety certificate in GOSTR. Our device has a safety class 1, which means that it is completely safe in all conditions of use. All this allows us to say with confidence that LASERWAR produces the 1st class of optics.
Available software
Among the successful developments of LASERWAR, a real gem is a unique software. The latest generations of LASERWAR Configurator programs support both ONLINE and REALTIME configuration of laser tag sets, read statistics, print information and display it on big screens.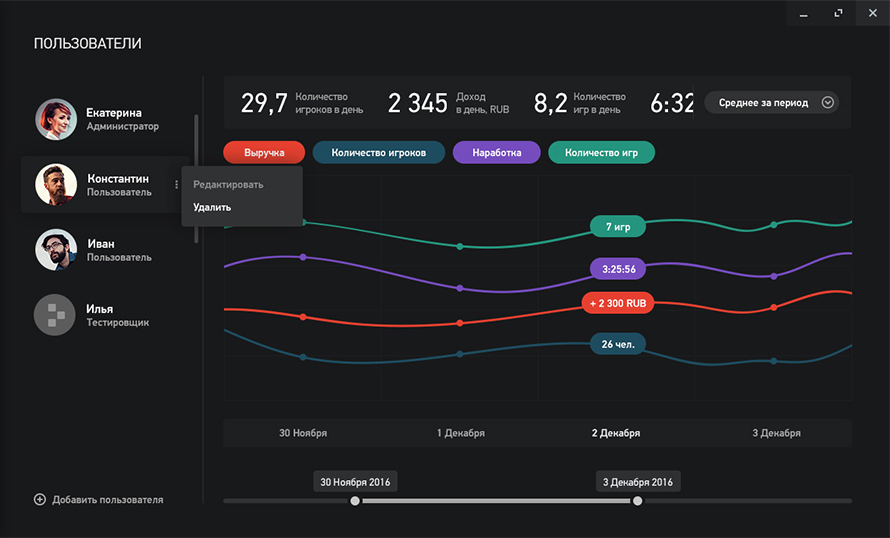 Our applications are available for download from Windows Store - an official Microsoft store. The software is automatically updated, so you do not have to worry about the latest version. We provide the software to our customers absolutely free of charge.
We were the first in the laser tag industry to create a universal Configurator for Android tablets. We are currently developing an application for mobile phones. We are talking about an app for the TAGER project. It allows you to read statistics and save data to your smartphone. However, it was inconvenient to use a device with a small screen in rental clubs. That's why we use tablets with a high resolution and screen diagonal to configure the game and run scenarios. Ease of use instead of advertising slogans is our priority.
We develop programs with thought-out ergonomics, design taking into account business processes in rental clubs. You can choose a ready-made game scenario, create your own unique scenario, upload statistics to the social network, test and update the equipment - everything can be done in a couple of clicks in our innovative software.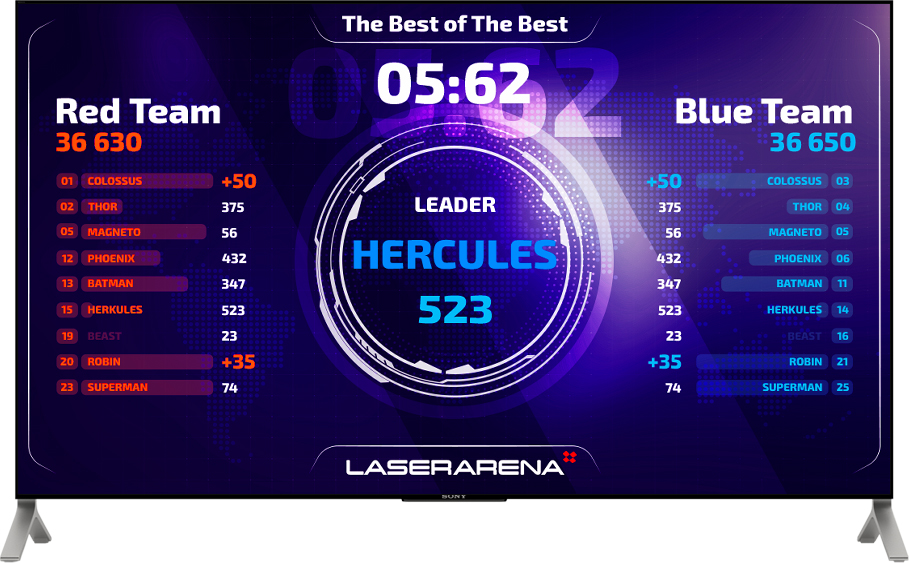 We use only the best experience of our clients, accumulated in thousands of clubs around the world.
Quality sound
Pro Signal and VECO branded speakers are responsible for the sound quality of our taggers. They are not afraid of moisture and are perfect for outdoor use. An increased power output makes the sound fresh and prolongs the life cycle of game sets.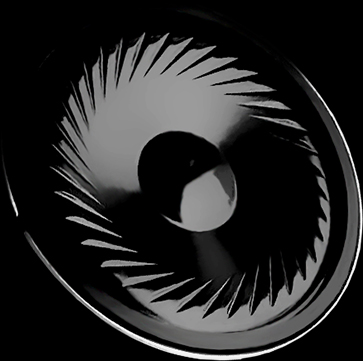 Owners of LASERWAR game sets have access to over 1000 sound effects from the sound library. There's no place for banal copying from the Web in our work. We created our effects in a professional sound studio. Our foreign partners, native English speakers, took part in the recording of sounds.
After thousands of hours of work in the areas of recording and editing of sound effects, we got perfect results. This approach distinguishes LASERWAR from the competitors and allows us to achieve excellent sound effects.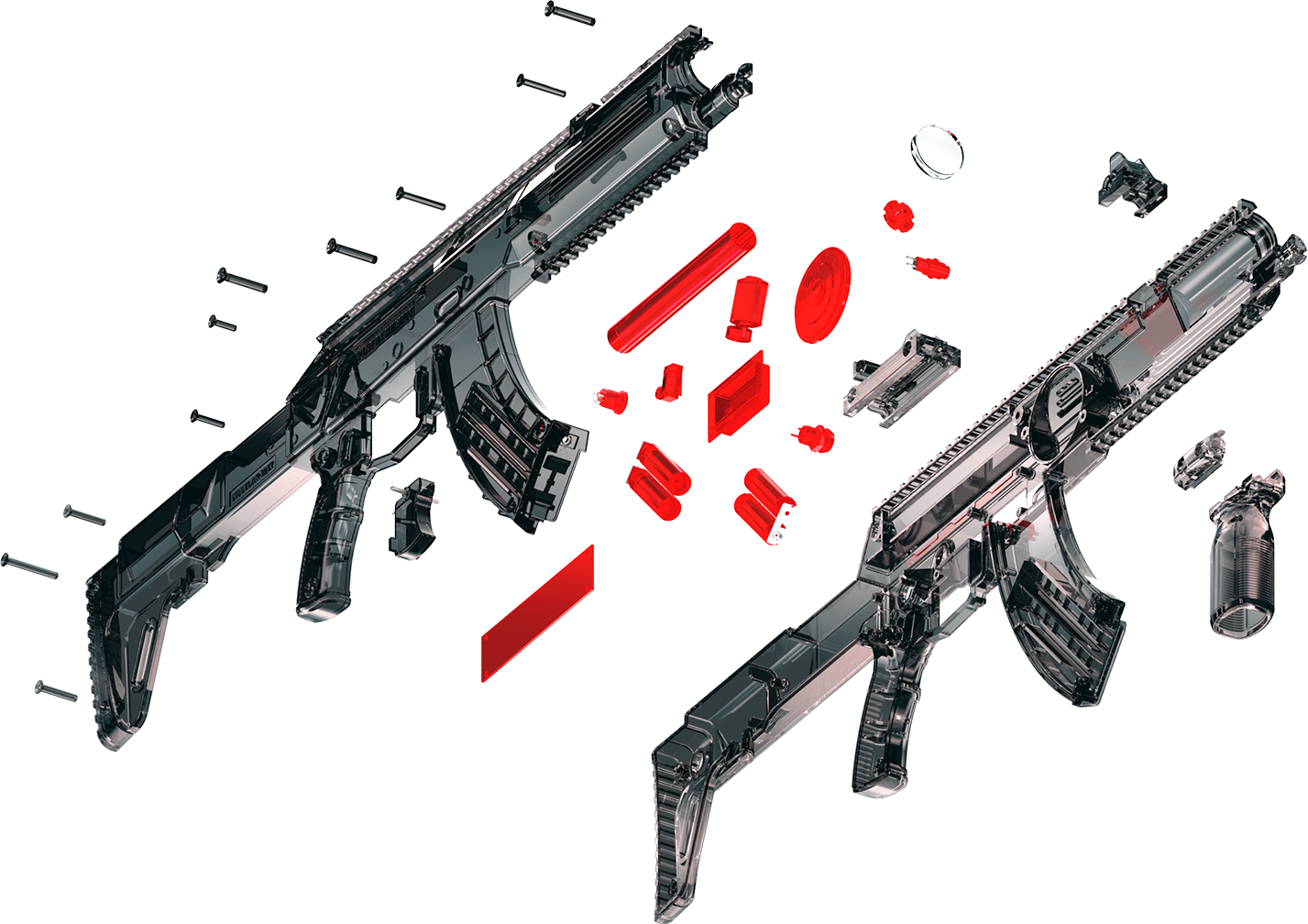 Advanced recoil system
The branded recoil technology makes the experience of the game as realistic as possible. There is no noise inside the gun! Shots, hits, missing ammo signals are accompanied by vibrations. The recoil is gentle but you will feel it and will never miss a hit.
The vibration motor, which provides the recoil imitation, does not require a second battery. It doesn't need to be reloaded and recharged. The technology is available for a wide range of weapons and saves time. Everyone who once experienced this technology in battle has given up alternatives. Give it a try!
OLED displays
The bright OLED-display provides a high level of contrast and sharpness and does not glare in the sun. A comfortable game at any time of the day is guaranteed. In addition, OLED displays allow you to significantly increase the battery life of your game sets.
We've been using this advanced technology for five years now. Winstar's branded OLED displays are very different from cheap LED indicators you might have seen before.
The OLED display shows only the information a laser tag player needs. During the battle, you have no time to monitor the battery charge or icons. The data on the number of remaining lives and ammo is what you're really interested in during combat. We know this not only from our customers' experience but also because we play laser tag ourselves regularly.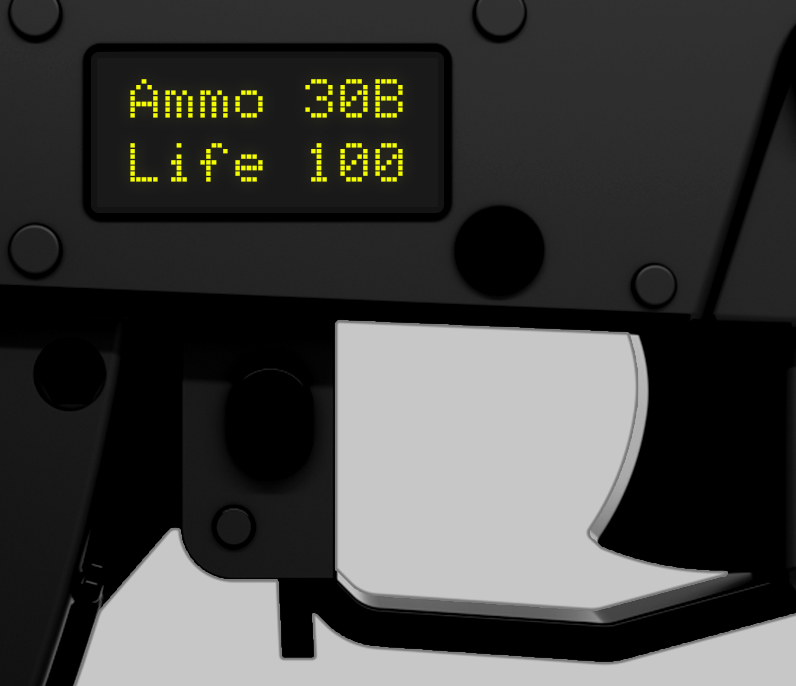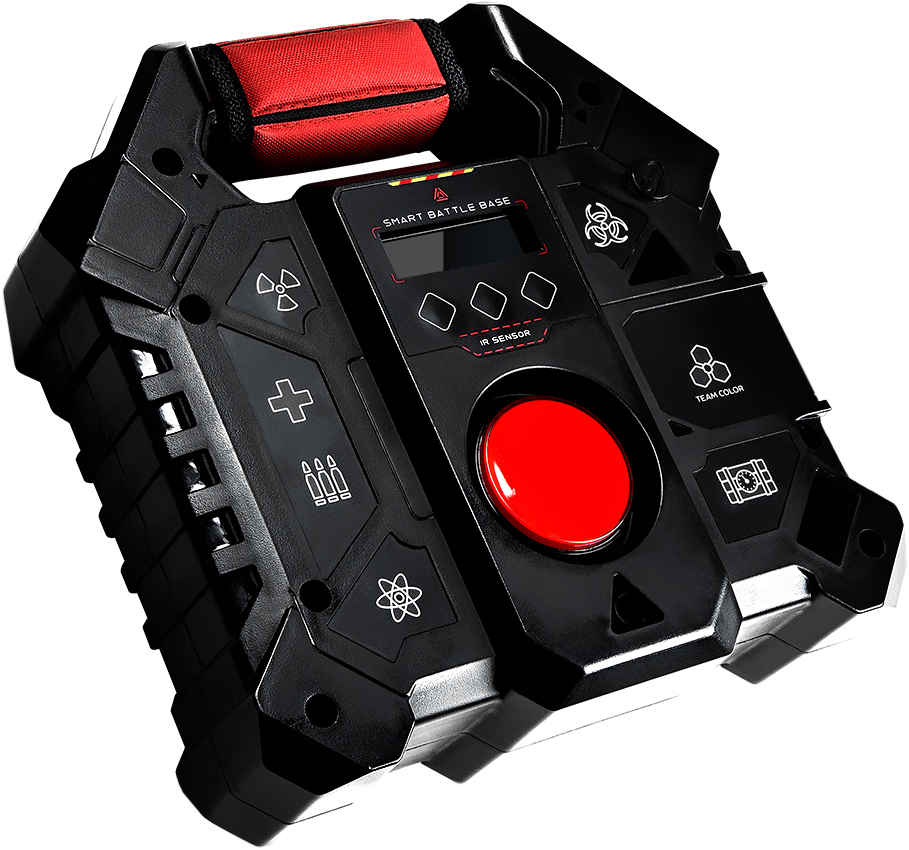 When you turn on the game set, the screen displays default values: a player ID, team color, battery charge and other parameters. They're important to the instructor, not the player. Then you'll see the countdown and only the most useful information during the game. The weapon reloading is accompanied by a beautiful animation with the time countdown. Everything is simple and thought out to the last detail!
High level of battery life
Our laser tag systems show the best battery life. Li+ batteries in weapons have an increased capacity up to 3000mAh, 7.4V or 6000mAh, 3.7V. Built-in protection boards protect the battery from overcharging, deep discharge, and allow game sets and devices to work for a very long time. For the 8th-9th generation, we have record-breaking 36 hours!
We should say a couple of words about the battery capacity of our bandages, vests or headbands. 2000mAh, 3.7V - it is the best indicator in the laser tag industry! The weight of the battery is optimally distributed in the design of the device thanks to the system of two separate headband blocks. It's incredibly convenient.
LASERWAR equipment shows a really high performance of autonomous work during the game! The results are different depending on the generations of equipment. We do not overestimate the parameters for the sake of nice numbers but follow strict testing rules. We're 100% sure: our game sets will last longer on the playground compared to the equipment of our competitors.
Convenient chargers
Universal chargers Firefly and Spider will allow you to charge several game sets at once. It's very convenient and practical! Devices treat the batteries gently, do not recharge them and do not allow their capacity to drop. These "smart" devices are protected from overheating and monitor the charging time. With them, the battery life cycle is doubled due to the optimal charging current of 800 mA per hour.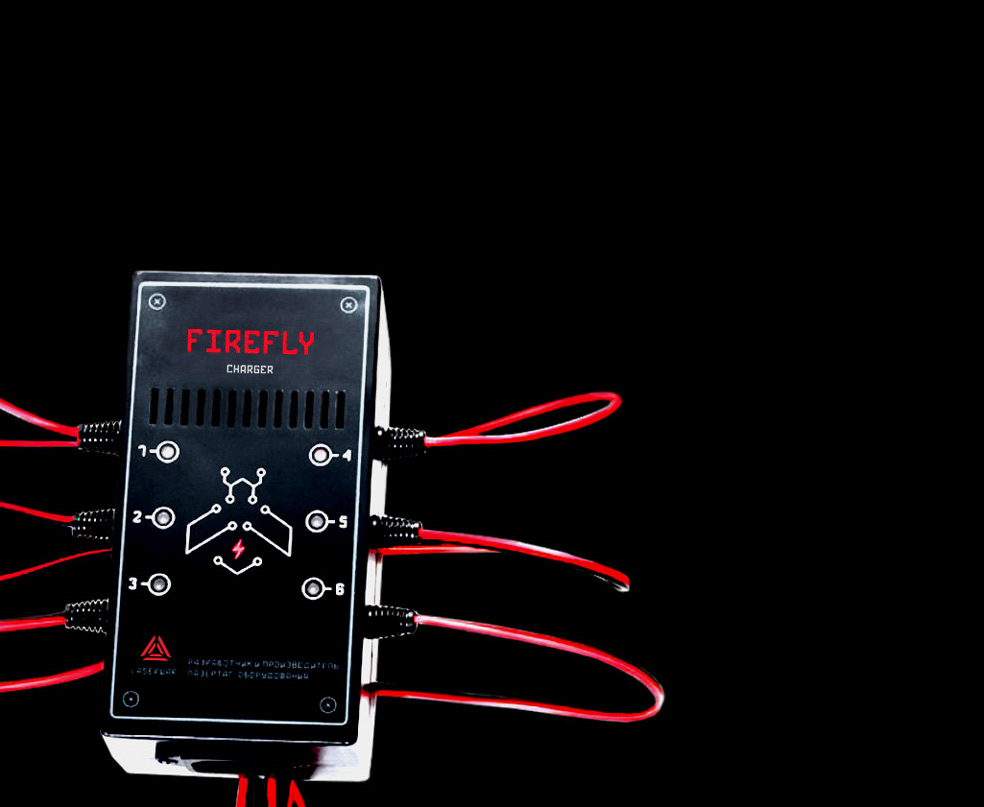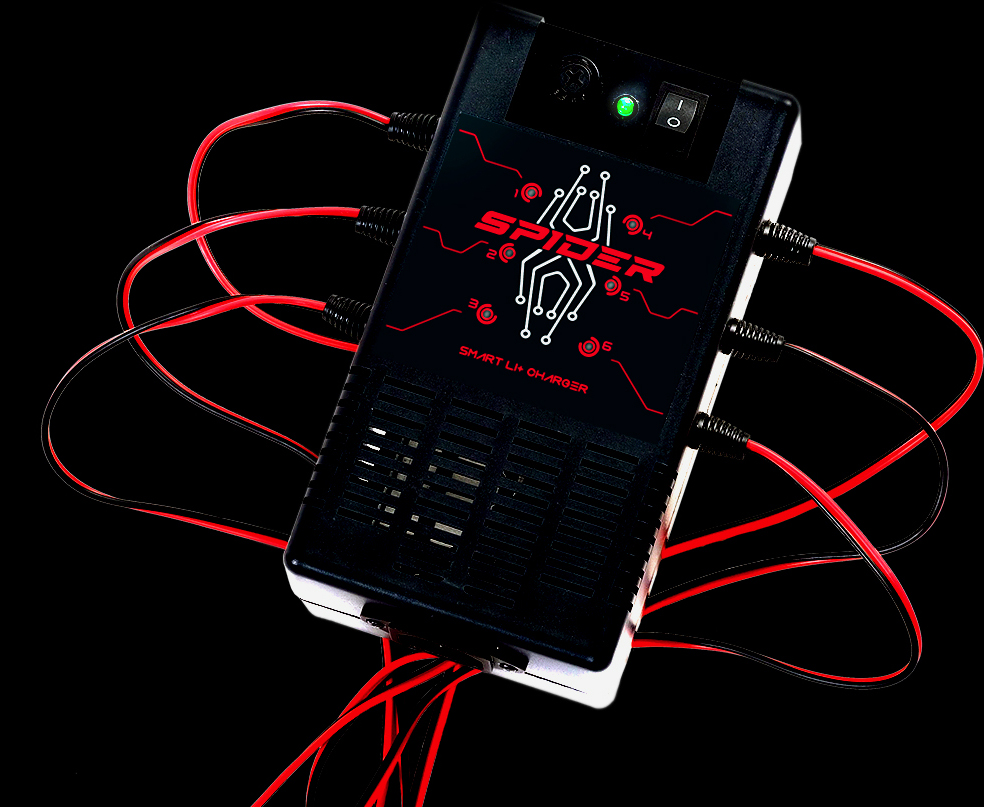 Exclusive laser tag weapon
LASERWAR has launched a successful series of its own laser tag models. Predator, Phoenix, Hornet, Terminator, Hunter - we're proud of these taggers. Each of them was worked on for several years by a team of professional designers and engineers. As a result, we got stylish, reliable and high-quality laser tag weapons, which were highly appreciated by industry professionals and game fans. Our unique taggers have proven their effectiveness in rental and today are the benchmark for laser tag players and club owners around the globe.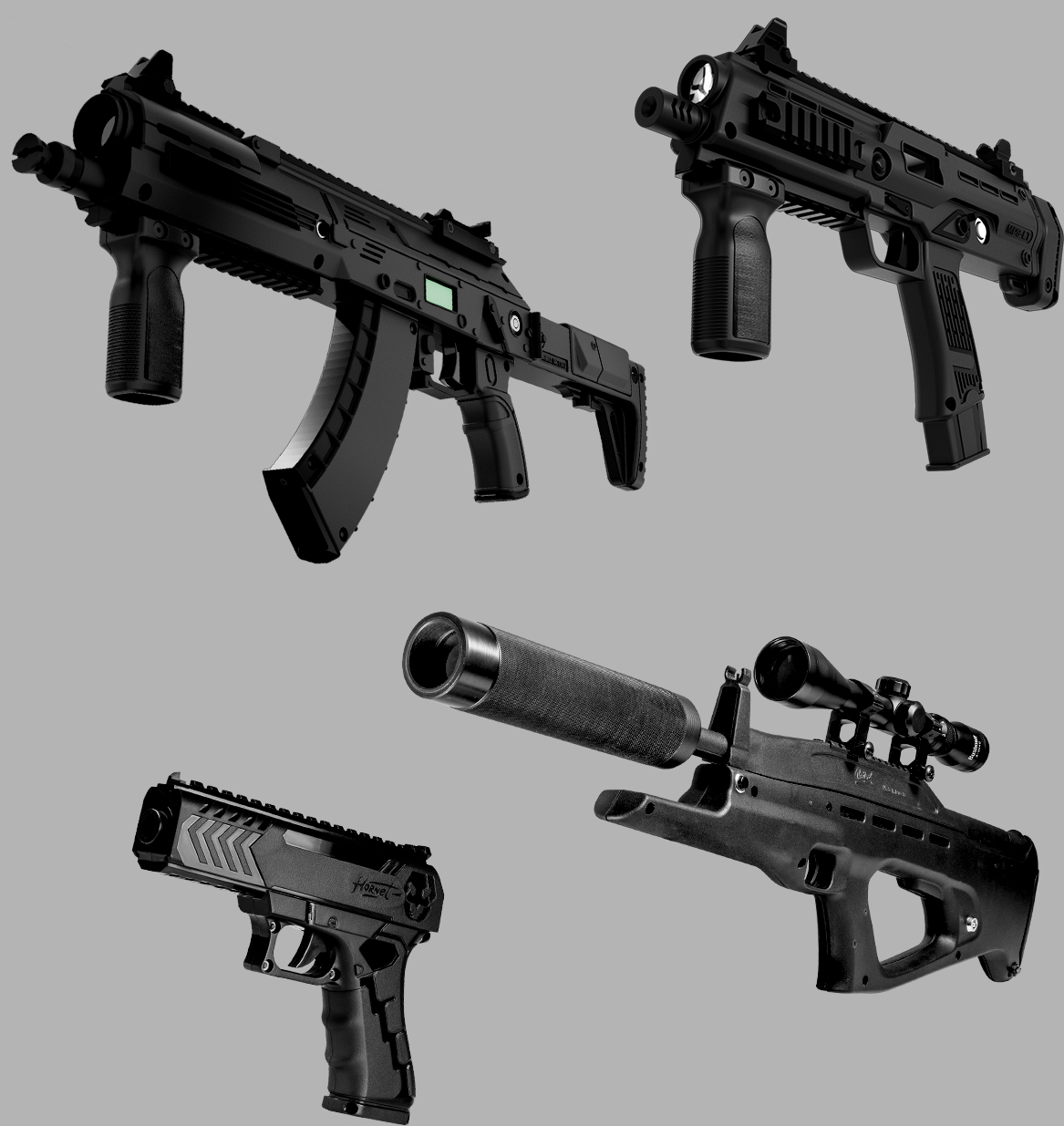 Best wireless sensors
A Wireless SMART RGB Headband - "smart" sensors from LASERWAR, which even a few years after development are considered the best in the world. The device is characterized by a maximum functionality with a minimum weight of only 220 grams. The user can program the brightness of the luminescence and the color of the hit. The background glow function has 15 degrees of brightness and allows you to mark the players of the opposing teams. You can also create your own game characters.
Another advantage of the wireless SMART RGB headband is its multizonality, a unique feature of LASERWAR game sets. Each sensor has a built-in vibration motor. Only those sensors that have received an IR pulse will be activated when the player is hit.
With all the richness of functionality, the SMART RGB headband has a maximum of 36 hours of battery work.
Our developers paid special attention to the product ergonomics: the headband fits perfectly on your head. Choose from four types of camouflage, choose the color of the bandage according to the color of your clothes. Replaceable double-layer cuffs are hygienic and perfectly protect electronics from dampness. The sensors are made of polycarbonate and are not afraid of mechanical damage. The board protects the lacquer coating from moisture.
Our laser tag vests are also equipped with similar sensors. We offer a choice of three types of vests, all of them are available in four colors. Cases, grenades, flashlights or laser tag knives can all be carried with the help of MOLLE strips. At the same time, the load of additional equipment will be reduced due to the banding. The size can be easily adjusted, and you can remove or put on the vest without assistance.
The LASERWAR range also includes other original devices with sensors - tactical shields, helmets and even a pirate bicorne.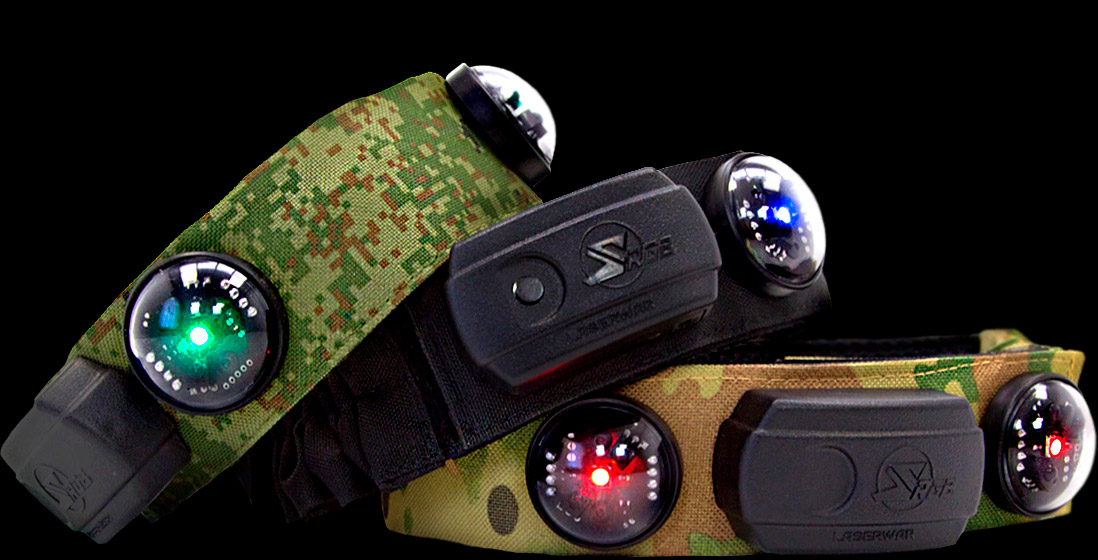 Three statistical technologies
LASERWAR is the only company on the market with offline (generations 4-9), online (generation 10) and real-time (Cybertag) statistics technologies on different specialized platforms. Each technology has proprietary software and is implemented on modern high-speed chips. Features of all three technologies are indicated in detail in the thematic review, which will help you to choose necessary laser tag equipment for the club.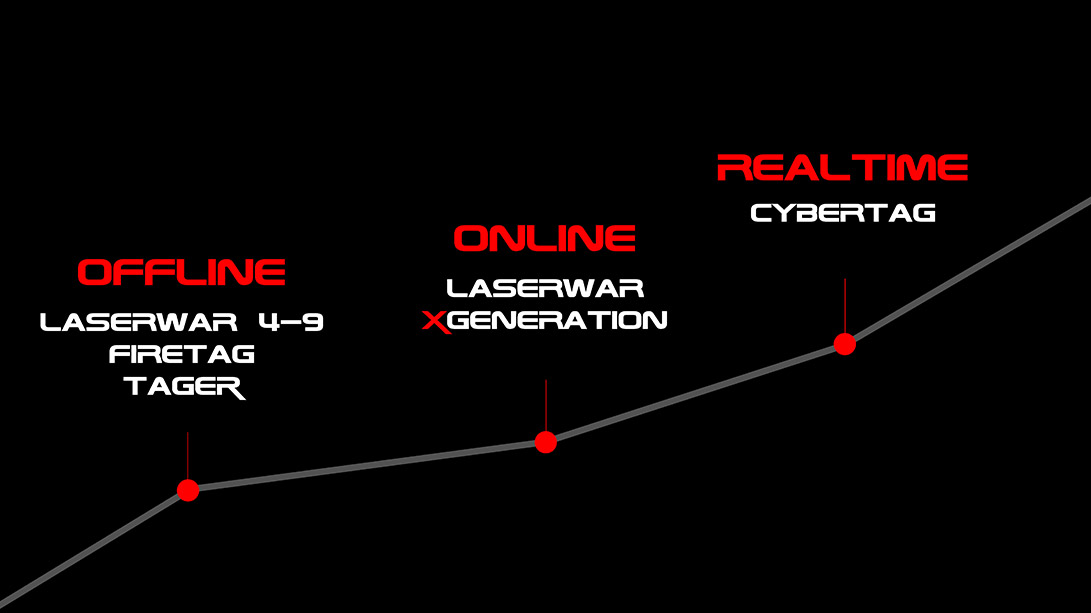 Advanced laser tag technologies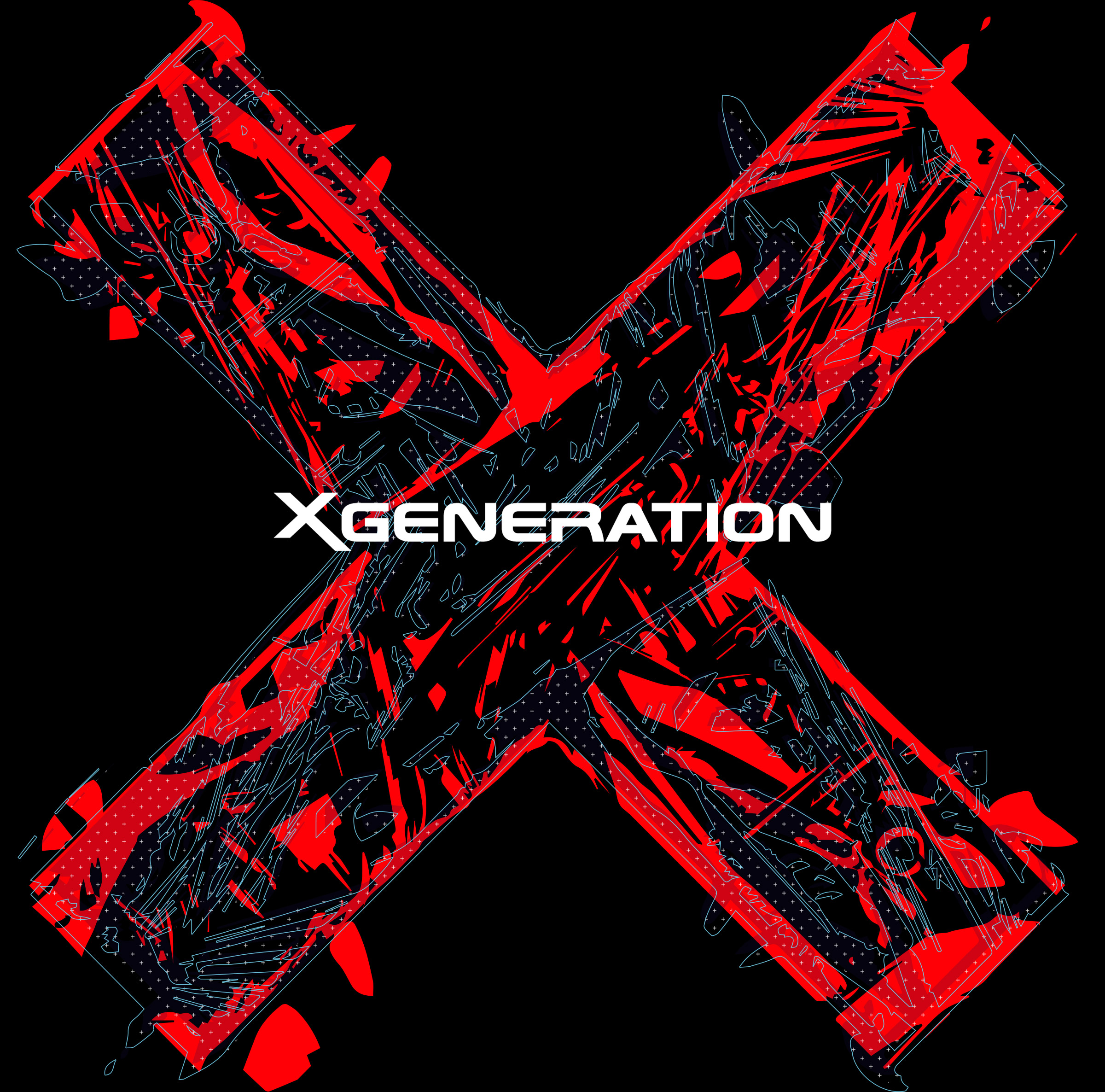 Every new generation of LASERWAR becomes an event in the world of laser tag. The newest, tenth generation, X-Generation has incorporated the most modern developments in the field of electronics.
The tenth generation is based on an X-Core module. For the first time, it combines advanced technologies - 802.11n Wi-Fi standard, Bluetooth v.4.2 BR/EDR and BLE. X-Core creates the possibility of controlling the game in real time. Imagine the prospects for laser tag clubs with such technologies!
The range of communication over Wi-Fi of one standard router reaches 10 thousand square meters in a straight line or 36 thousand square meters in a circle in the open area. LASERWAR recommends the use of retransmission station at an obstacle course. The distance, in this case, will be beyond limits. It is possible to manage the sites of several hectares online - just recently, this result could only be dreamed of. A simultaneous communication with hundreds of laser tag sets is already a reality.
A powerful 240 MHz processor ensures the speed and stability of the X-Core module. A 16MB flash card allows you to store and use statistics for several weeks.
In addition, we have released the innovative LASERWAR online Configurator for Gen X.
The software is distinguished by its stylish design and intuitive operation. This makes it easy for the user to navigate through all the sections. The configurator allows you to change the settings of the weapon online, it shows the battery level of taggers and headband, allows you to launch a new game in three clicks without a need to carry out additional manipulations with the equipment.
The program has not only a nice interface, but it is also convenient for daily use. With its help, owners of laser tag businesses will be able to manage their own arena, view what equipment was used in the games and control the rental process of equipment. They also get an opportunity to upload statistical data to the social network.
In its tenth generation, LASERWAR has brought to life the previously unattainable possibilities for laser tag clubs to control games and their own playgrounds. They will help rental clubs to attract thousands of customers and take laser tags to a new level.