AKS-74U Falcon Practical Series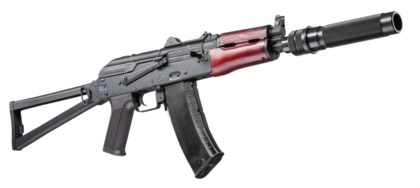 AKS-74U Falcon Practical Series
Following worldwide fashion in the 1960s and 1970s, the USSR launched the production of a small-sized assault rifle that could be used in close and medium ranges. Mikhail Kalashnikov won another competition.
And so came AKS-74U, which outlined an entire line of AKs. Compared to the previous model, the barrel was shortened from 415 to 206.5 mm, which resulted in a pulled back gas chamber. The shortened rifle was fitted with a more solid wooden foregrip and gas tube cover, and could use both standard 30-round and shortened 20-round magazines.
In order to make the shortened assault rifle more uniform with AKS-74, they decided to use the same stock, unfolded on the left side of the receiver.
Characteristics of design
The game tagger is based on a CYMA airsoft model. In terms of quality, this weapon is as good as other models based on real combat game sets. The weapon has an all-metal case, real-type magazine, framed buttstock and wooden foregrip. Although we recommend this model for personal use, rest assured: the tagger is ready for harsh conditions.
The model is free from backlash and creaks, the bolt carrier travel is short and stiff, the trigger pull, on the other hand, is soft and smooth. The length: 86 cm (unfolded), 62 cm (folded buttstock). The weight: 2.5 kg. Falcon is perfect for long field outings. The carrying sling clamp and compact dimensions make the tagger easy to carry and ready for action.
By default, the scope of supply includes the tagger only: hit sensors, chargers and sights are purchased separately. A 3 Ah lithium battery is housed inside Falcon. The range of fire varies depending on the optical system. Prism provides a max. of 250 m, Parallax optics - 400 m.
The tagger is part of the Practical series. The warranty period for the model has been extended to 12 months. The combination of the airsoft body, combat-like parts and compact size makes this tagger the perfect "partner" in game shoot-outs.
Parameters
| | |
| --- | --- |
| Charger type | Li+ (8,4V; 1000 mA) |
| Battery type | Li+ (3 Ah; 7,4V) |
| Battery life | 30 h |
| | |
| --- | --- |
| Effective firing range | 200 m |
| Length | 86 cm |
| Weight | 2.5 kg |
| | |
| --- | --- |
| Charger type | Li+ (8,4V; 1000 mA) |
| Battery type | Li+ (3 Ah; 7,4V) |
| Battery life | 30 h |
| Effective firing range | 200 m |
| Length | 86 cm |
| Weight | 2.5 kg |

Download Passport 0.5 MB (DOC)