Contacts
The item has been successfully added to cart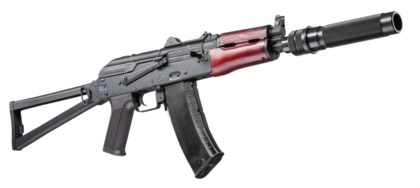 Equipment Options
Version
Optics type
Defeat sensors and battery charger must be purchased separately for selected version
Available options for selected version
Defeat sensors and battery charger must be purchased separately for selected version
Available options for selected version
Defeat sensors and battery charger must be purchased separately for selected version
Available options for selected version
DESCRIPTION

PARAMETERS

CUSTOMER REVIEWS
CYMA airsoft gun is of the same good quality as the previous version. The cast metal frame, the magazine, the foldable frame stock, and the wooden handguard are same as those of the combat gun.
The metal parts are properly made, you get a smooth trigger pull, there is no backlash in the stock. In spite of the good breechblock action, we decided to not take a risk. Therefore, the device is fitted with a reloading button.
In order to switch the FALCON on, one needs to turn the key in the advanced security lock. The 3 Ah Li-ion accumulator provides up to 30 hours of continuous operation, while the optical system makes it possible to defeat rivals as far as 200 away.
The weight of the play set is 2.5 kg, which makes it slightly lighter than the previous version. The length remained the same – it is 86 cm long when the stock is unfolded, 62 cm when it is folded.
We certainly recommend the AKS-74U FALCON play set of the PRACTICAL edition for renting out. This blaster is a combination of an airsoft gun and a replica of a combat gun. When combined with its low cost, this makes it a perfect choice for any laser tag club.
| | |
| --- | --- |
| Charger type | Li+ (8,4V; 1000 mA) |
| Battery type | Li+ (3 Ah; 7,4V) |
| Battery life | 30 h |

| | |
| --- | --- |
| Effective firing range | 200 m |
| Length | 86 cm |
| Weight | 2.5 kg |
| | |
| --- | --- |
| Charger type | Li+ (8,4V; 1000 mA) |
| Battery type | Li+ (3 Ah; 7,4V) |
| Battery life | 30 h |
| Effective firing range | 200 m |
| Length | 86 cm |
| Weight | 2.5 kg |

Download Passport 0.5 MB (DOC)