Contacts
The item has been successfully added to cart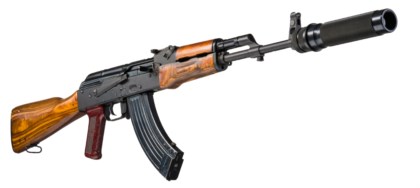 Equipment Options
Version
Optics type
Defeat sensors and battery charger must be purchased separately for selected version
Available options for selected version
Defeat sensors and battery charger must be purchased separately for selected version
Available options for selected version
Defeat sensors and battery charger must be purchased separately for selected version
Available options for selected version

DESCRIPTION

VIDEO

PARAMETERS

CUSTOMER REVIEWS
The weapon is based on a mass-dimensional model. The frame is made of metal, foregrip and buttstock - wood, pistol grip, and the magazine - plastic (looks like wood).
The weight is 3.4 kg, the length is 107 cm.
The optical system consists of an AK PBS-1 tube that allows you to confidently hit the target at a distance of 200 meters.
Use the anti-vandal lock to turn on the weapon.
The lithium accumulator (2.2 Ah) gives you up to 30 hours of great performance.
| | |
| --- | --- |
| Charger type | Li+ (8,4V; 1000 mA) |
| Battery type | Li+ (2,2 Ah; 7,4V) |
| Battery life | 30 h |

| | |
| --- | --- |
| Effective firing range | 185 m |
| Length | 107 cm |
| Weight | 3.4 kg |
| | |
| --- | --- |
| Charger type | Li+ (8,4V; 1000 mA) |
| Battery type | Li+ (2,2 Ah; 7,4V) |
| Battery life | 30 h |
| Effective firing range | 185 m |
| Length | 107 cm |
| Weight | 3.4 kg |

Download Passport 0.6 MB (DOCX)