AKS-74U Crow Practical Series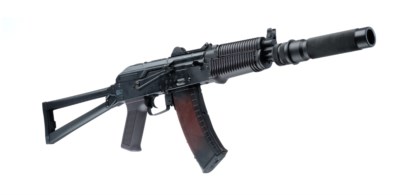 The family of small arms for the 5.45x39 cartridge included a radically new type of individual weapon - the AKS-74U shortened assault rifle. The development of such weapons began in the mid-1970s with the adoption of the intermediate small-calibre cartridge. The Kalashnikov, which was based on components and parts of the already produced AKS-74, entered service in 1980 and greatly simplified the production, development and maintenance of the new weapon type.
The use of AKS-74U as the standard armament for airborne troops was not justified due to its short effective range. This compact and lightweight weapon has proved more useful for elite forces units, armament of combat vehicle crews, special forces - liaison officers, sappers. AKS-74U is also useful for the police, government building guards and money collectors. The portability of the short weapon allows it to be operated without interference in a crowded street, indoors or in a car. AKS-74U was also the basis for the production of the so called "case-gun" for the elite forces units of the Ministry of Internal Affairs and Federal Security Service.
Characteristics of design
The range of "compact" models has been replenished with this chic option. AKS-74U or "Ksyucha", as it is called by the veteran players, is a delight with its construction, memorable appearance and small size.
The game set is part of the Practical series, which means - it's a reliable tagger that will stand up to any scenario combat. The Crow's features include: the all-metal body, shock-resistant plastic foregrip and folding frame buttstock. The weight is 2.5 kg. The length in unfolded state - 86 cm, in folded state - 62 cm.
The Crow is fitted with a side rail, which means that the standard backsight and foresight can be changed. When integrating the electronics, we wanted to preserve authenticity. The mechanics of the bolt carrier and the fire mode switch have been retained. The buttstock has a carrying sling clamp for a gun belt.
The basic scope of supply includes a laser tag weapon. Hit sensors, a charger, collimator sights and gun belts are purchased separately. The weapon is packed with a 3 Ah lithium battery. Any Li+ series device will be suitable for charging.
There are no restrictions in laser tag electronics and tube generations: any platform, any optics will do - Crow will show maximum productivity. The placement of an OLED display and recoil imitation technology is optional and available at extra cost. Any trigger pull is duplicated by a cross-shaped illumination of the shot and the sound from the built-in Pro Signal speaker.
Parameters
| | |
| --- | --- |
| Charger type | Li+ (8,4V; 800 mA) |
| Battery type | Li+ (3 Ah; 7,4V) |
| Battery life | 30 h |
| | |
| --- | --- |
| Effective firing range | 200 m |
| Length | 86 cm |
| Weight | 2.5 kg |
| | |
| --- | --- |
| Charger type | Li+ (8,4V; 800 mA) |
| Battery type | Li+ (3 Ah; 7,4V) |
| Battery life | 30 h |
| Effective firing range | 200 m |
| Length | 86 cm |
| Weight | 2.5 kg |

Download Passport 0.4 MB (DOC)