Contacts
The item has been successfully added to cart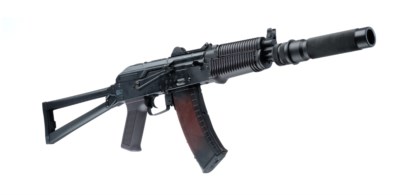 Equipment Options
Version
Optics type
Defeat sensors and battery charger must be purchased separately for selected version
Available options for selected version
Defeat sensors and battery charger must be purchased separately for selected version
Available options for selected version
Defeat sensors and battery charger must be purchased separately for selected version
Available options for selected version
DESCRIPTION

PARAMETERS

CUSTOMER REVIEWS
Based on a CYMA airsoft gun. Cast metal. The impact resistant handguard is its chief distinctive feature compared to the previous version. Just as before, the AKS-74U combines the features of airsoft guns and replicas of real-life guns. The resulting combination of low price and exceptional quality is perfect for renting out. It will suit both adults and children, for it only weighs 2.5 kilos (just as the MP-514, which has become a favorite among many players).
The game set has a foldable frame stock. It is 86 cm long, 62 cm with the stock folded.
The device can be switched on using an advanced security mechanism, which is located on the magazine (the magazine design has been borrowed from the real-life gun replica). Button reload (among all its strong features the breechblock is a weak one). The 3 Ah lithium-ion accumulator provides up to 30 hours of continuous operation of the device.
The AKS-74U CROW game set of the PRACTICAL edition is one of the alternatives to the discontinued gun of the same name, of the same good quality.
| | |
| --- | --- |
| Charger type | Li+ (8,4V; 800 mA) |
| Battery type | Li+ (3 Ah; 7,4V) |
| Battery life | 30 h |

| | |
| --- | --- |
| Effective firing range | 200 m |
| Length | 86 cm |
| Weight | 2.5 kg |
| | |
| --- | --- |
| Charger type | Li+ (8,4V; 800 mA) |
| Battery type | Li+ (3 Ah; 7,4V) |
| Battery life | 30 h |
| Effective firing range | 200 m |
| Length | 86 cm |
| Weight | 2.5 kg |

Download Passport 0.4 MB (DOC)