AKM LEGEND Steel Series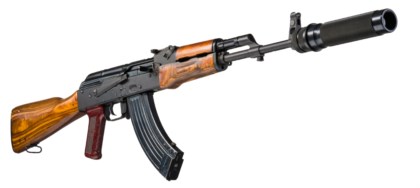 From the outset, Mikhail Kalashnikov sought to make the assault rifle as technologically advanced and adaptable as possible for mass production. The goal was achieved in 1959, when the production of AKM, a modernized Kalashnikov assault rifle, began. The new stamped receiver reduced the gun weight and significantly increased the number of produced rifles. In the late 1960s, the Izhevsk Machinebuilding Plant alone produced more than half a million AKM rifles per year.
The weapon is still one of the most widely used around the world. The game model is now also available in the LASERWAR online shop.
Characteristics of design
Feel the history holding the tagger. A perfect solution for scenario games and historical reconstructions. The buttstock, foregrip and receiver are made of wood. The magazine and pistol grip are made of plastic, and the barrel is made of gun steel. Legend lives up to its name in real combat and in play.

A durable tagger with a minimum of running parts. The only moving parts are the bolt carrier and fire mode switch. Everything else is fixed, secure and will last forever. The rifle is part of the Steel series, which means it can be used for rental purposes.
The fame set is fitted with carrying sling clamps for belts and a standard adjustable frontsight and backsight. The tagger weighs 3.4 kg and is 107 cm long.
By default, the game set includes only the rifle. Hit sensors, chargers and sights are purchased separately. Special mention should be made of the installation of the vibration motor. If Legend requires a recoil imitation, it can only be fitted by replacing the pistol grip. The installation cost will be RUB 1,500.
Otherwise, Legend has no limits. A special backsight will be required to mount sights. We recommend the 1x40 and 1x33 collimator sights. If you want optics with magnification, the 4x32 AOE, 3.5-10x40 will do. If you want both sights at the same time, the TA31x4x32 is your choice.
Legend supports the operation of any generation of electronics and any type of optical tube. It's up to each customer to decide the package contents. If you have any questions, contact the managers for professional advice.
Parameters
| | |
| --- | --- |
| Charger type | Li+ (8,4V; 1000 mA) |
| Battery type | Li+ (2,2 Ah; 7,4V) |
| Battery life | 30 h |
| | |
| --- | --- |
| Effective firing range | 185 m |
| Length | 107 cm |
| Weight | 3.4 kg |
| | |
| --- | --- |
| Charger type | Li+ (8,4V; 1000 mA) |
| Battery type | Li+ (2,2 Ah; 7,4V) |
| Battery life | 30 h |
| Effective firing range | 185 m |
| Length | 107 cm |
| Weight | 3.4 kg |

Download Passport 0.6 MB (DOCX)