AK-BM Hammer Steel Series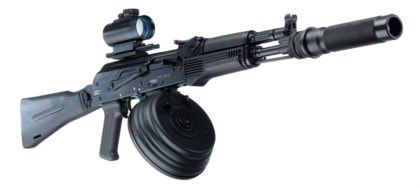 The game set is based on the familiar AK-105 combat-like model with a modified magazine. Since the model belongs to the "100th series", it retains the brand's original merits. AK-105 is still simple. There's nothing to break here. One hundred mln copies and a worldwide reputation underscore the brand's virtues.
The weapons were designed for the domestic Russian market. The Russian security services have a very good opinion about this model. With the help of LASERWAR specialists, another variation of AK-105 is available for sale.
Characteristics of design
The design uses a metal drum instead of a standard magazine. That affects the overall weight and the sound quality of the model. Hammer impresses with its sound effects due to a larger acoustic space.
The weight: 4.1 kg. Such an assault rifle is only suitable for confident players. In big scenario games, you'll have to sweat with such a rifle. Apart from that, it's AK-105 packed with great features: minimal running parts, a side rail for sights, bolt reloading and a fire mode switch. The body reliability has been proven by hundreds of thousands of rental games worldwide. Although AK-105 has not been exported, AK-BM Hammer can be found in rental clubs in England, Sweden, Germany, USA and Canada. Now this nice rod may end up in your club as well.
By default, the scope of supply includes the tagger only: hit sensors, chargers and sights are purchased separately. Regarding the sights, we recommend the1x40 collimator, TA31 4x32.
The standard Prism or Parallax can be used as the optical system. The tube of the former will resemble a silencer, the latter will resemble a combat flame arrester. It is up to you to decide which platform to choose. The choice of optical system affects the range of fire. Prism: max. of 250 m; Parallax: a higher accuracy of 400 m.
AK-BM Hammer runs on a 2.2 Ah lithium battery. The installation of the recoil imitation will require a replacement of the pistol grip and will cost an additional 1,500 roubles. When the OLED display is mounted, the buttstock is welded and cannot be folded down.
Parameters
| | |
| --- | --- |
| Charger type | Li+ (8,4V; 1000 mA) |
| Battery type | Li+ (2,2 Ah; 7,4V) |
| Battery life | 30 h |
| | |
| --- | --- |
| Effective firing range | 185 m |
| Length | 97 cm |
| Weight | 4.1 kg |
| | |
| --- | --- |
| Charger type | Li+ (8,4V; 1000 mA) |
| Battery type | Li+ (2,2 Ah; 7,4V) |
| Battery life | 30 h |
| Effective firing range | 185 m |
| Length | 97 cm |
| Weight | 4.1 kg |

Download Passport 0.5 MB (DOCX)