Contacts
Production LASERWAR
At LASERWAR, we create laser tag equipment all the way through to the ready product.
We design electronic circuits, develop prototypes of devices and launch batch production of the final product version.
LASERWAR has several departments, each specializing on a particular task. Yet the play set you get is the result of cooperated work of all our company. In our blasters, ergonomics is combined with the light weight, reliability – with refined design.
We will tell about what each department does and how the work done by our many specialists influences the final result.
CONSTRUCTION DEPARTMENT
In the construction department, we design play sets and additional devices. We create test prototypes of each element of the construction. Pistol grips, back sights, foresights and triggers – we test every detail and ensure that it is practical and works fine.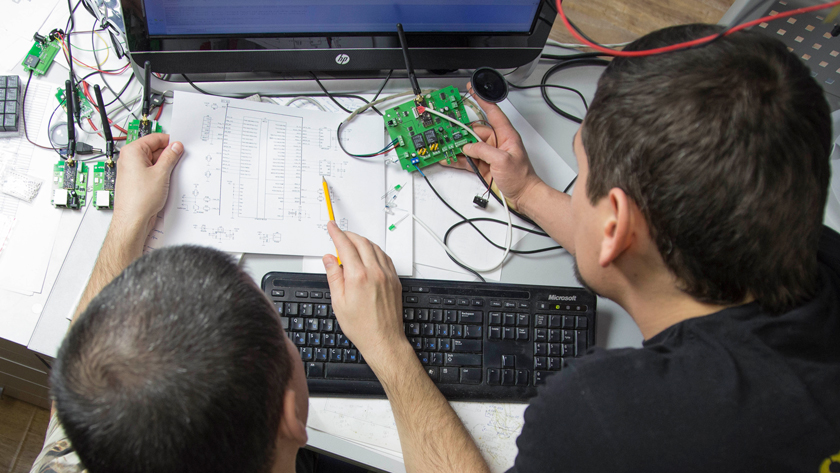 Our specialists know everything about what a comfortable game must be like. LASERWAR models are strong and are equally good for personal use and for renting out. Our products guard players in thousands of clubs all over the world. Flagship models can be viewed in the International Laser Tag Museum.
During the construction process, we closely cooperate with professional military men. Their opinion is important for us, for they use combat weapons on a daily basis and are familiar with all the specific features.
PROGRAMMING DEPARTMENT
Implementing ideas is what LASERWAR programmers do. They design circuit boards and hardware.
Our specialists design not only the electronic stuffing of the future devices – they write hundreds of lines of code for the software. Programmers department is responsible for the correct and stable equipment operation. Therefore, there are no debates as to who has been hit or wounded and by whom. Everything is calculated by the electronics, which cannot be fooled.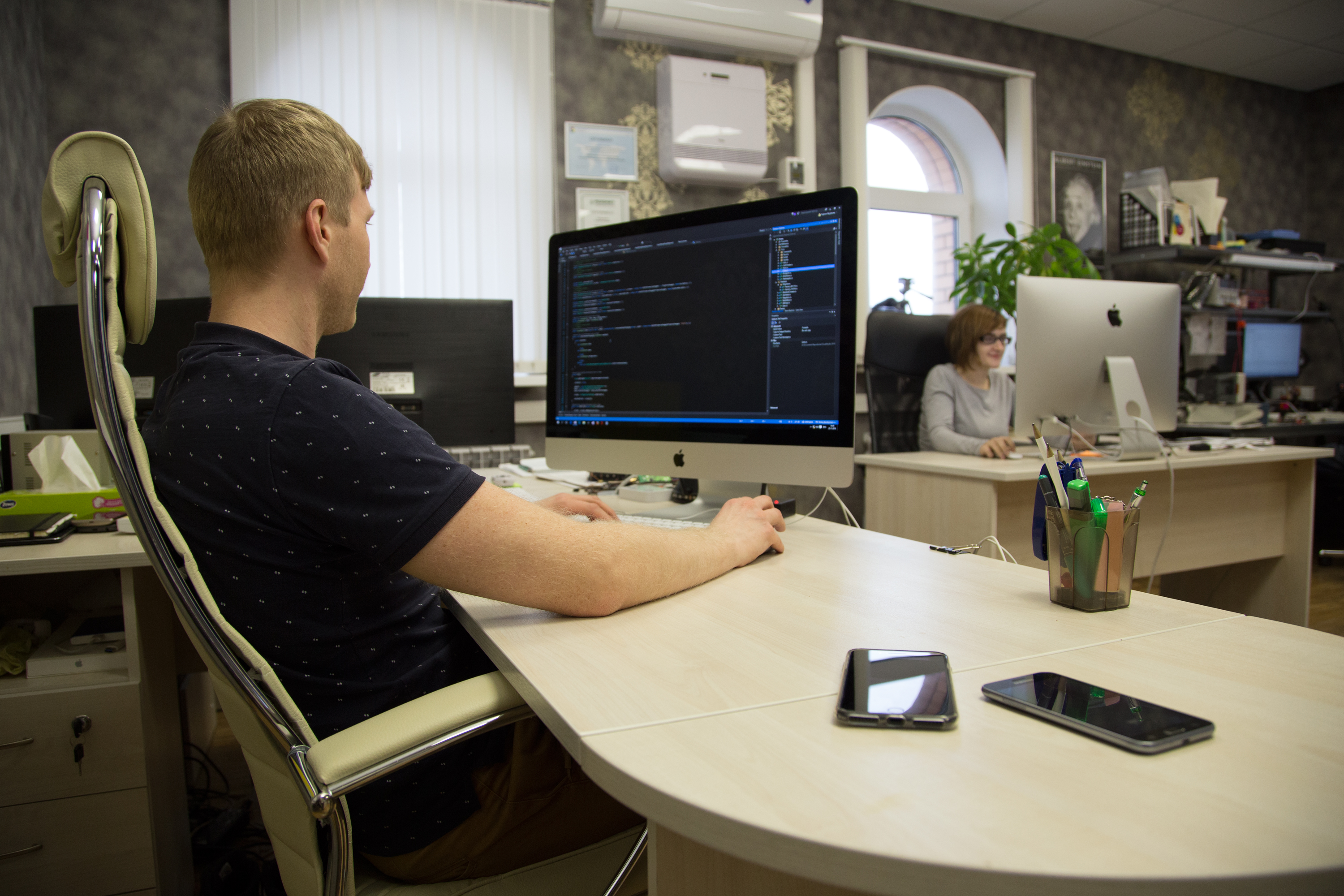 In LASERWAR playsets, statistic data is gathered and can later be shared on Facebook. We do our best to ensure that everyone knows about your achievements.
DESIGN DEPARTMENT
Our designers create the look of the software, website, catalogues, banners. As we design program interfaces, we make certain they are convenient for the user.
It takes a while to decide on each element of configurators. The specialists draw many variants, try out different solutions and then choose the best one. The resulting product is glossy and stylish.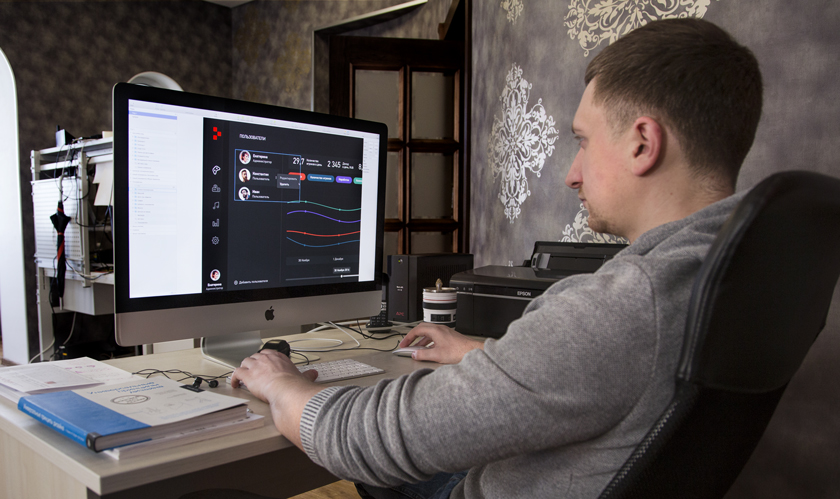 The graphic elements, animation, icons and the adaptive interface must be flawless. The standard level for such elements is very high, for hundreds of players activate their software every day. We manage this task by creating sleek and functional design.
Besides, our products come with special brand stickers on them. Our company letters are delivered in special envelopes. We supply new laser tag clubs with free marketing materials. LASERWAR equipment cannot be mistaken for any other, for our devices look better than the equivalents that are offered on the market.
ASSEMBLY SECTION
Having decided on the design, electronic components and the body, we start to assemble the product. The assembly includes automatic installation of the boards, applying a special protective coating to the electronic components, fitting of the wires.
Thanks to the smoothly running system of production, all LASERWAR products are free from technical defects and faults. Vast industrial areas, special machines and strict control at every stage rule out human faults.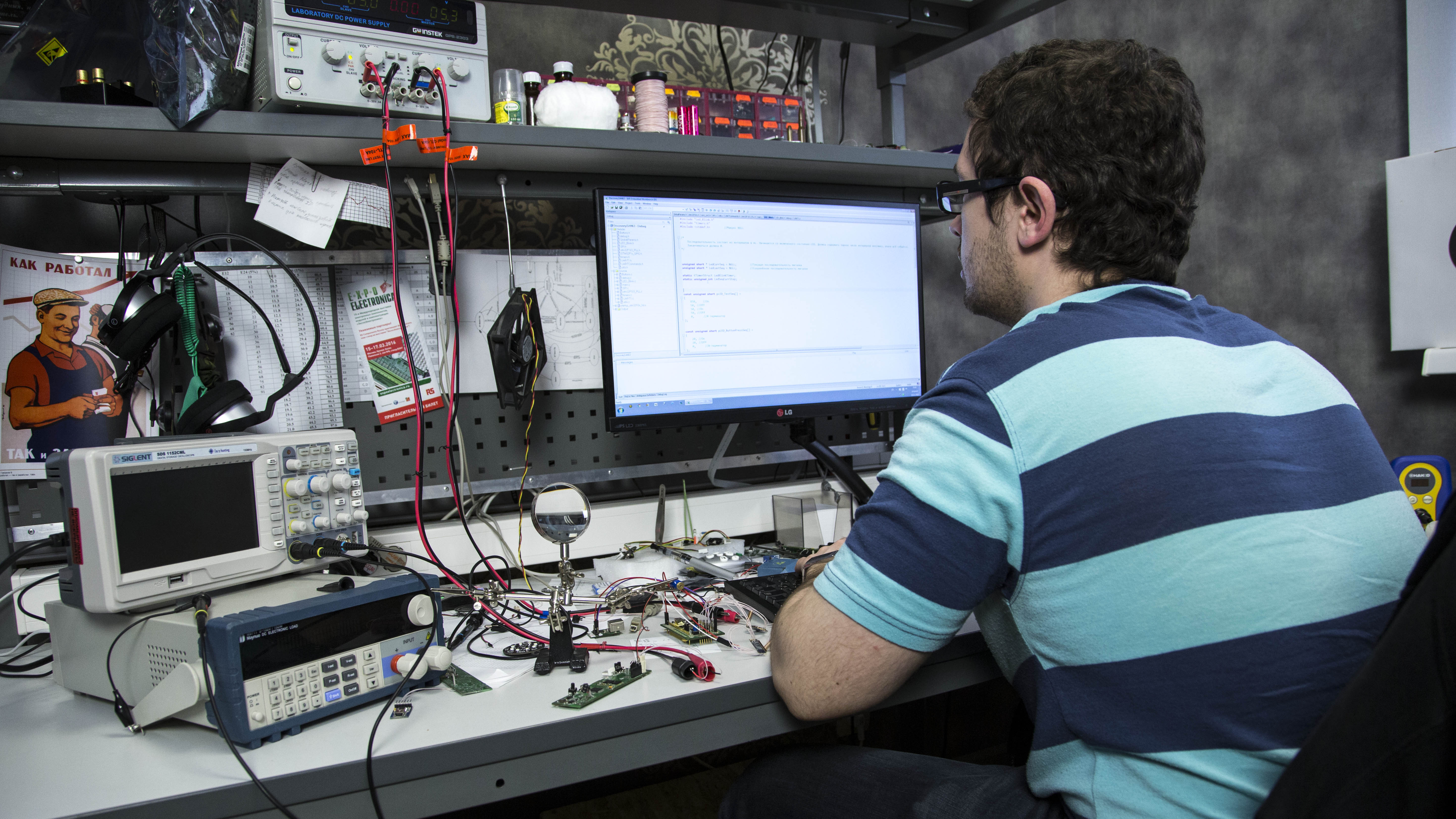 We launched batch production of play sets. The quality of our products is guaranteed by CE, ISO, GOST certificates. We only use safe materials for our products. Therefore, LASERWAR equipment is absolutely safe.
Our scopes pass light and biological safety testing. Our play sets will not harm a player's eyesight and will not affect it in any way.
TESTING DEPARTMENT
All our company products go through the department of technical control. There, we imitate various weather conditions in which the equipment may be used. The play sets are tested in special fridges and rain chambers.
After the equipment passes such testing, we can be sure that it is ready to be used in any conditions.
Besides, we test all the functions of laser tag rifles. This includes checking the look, reliability of Bluetooth connection, OLED displays performance.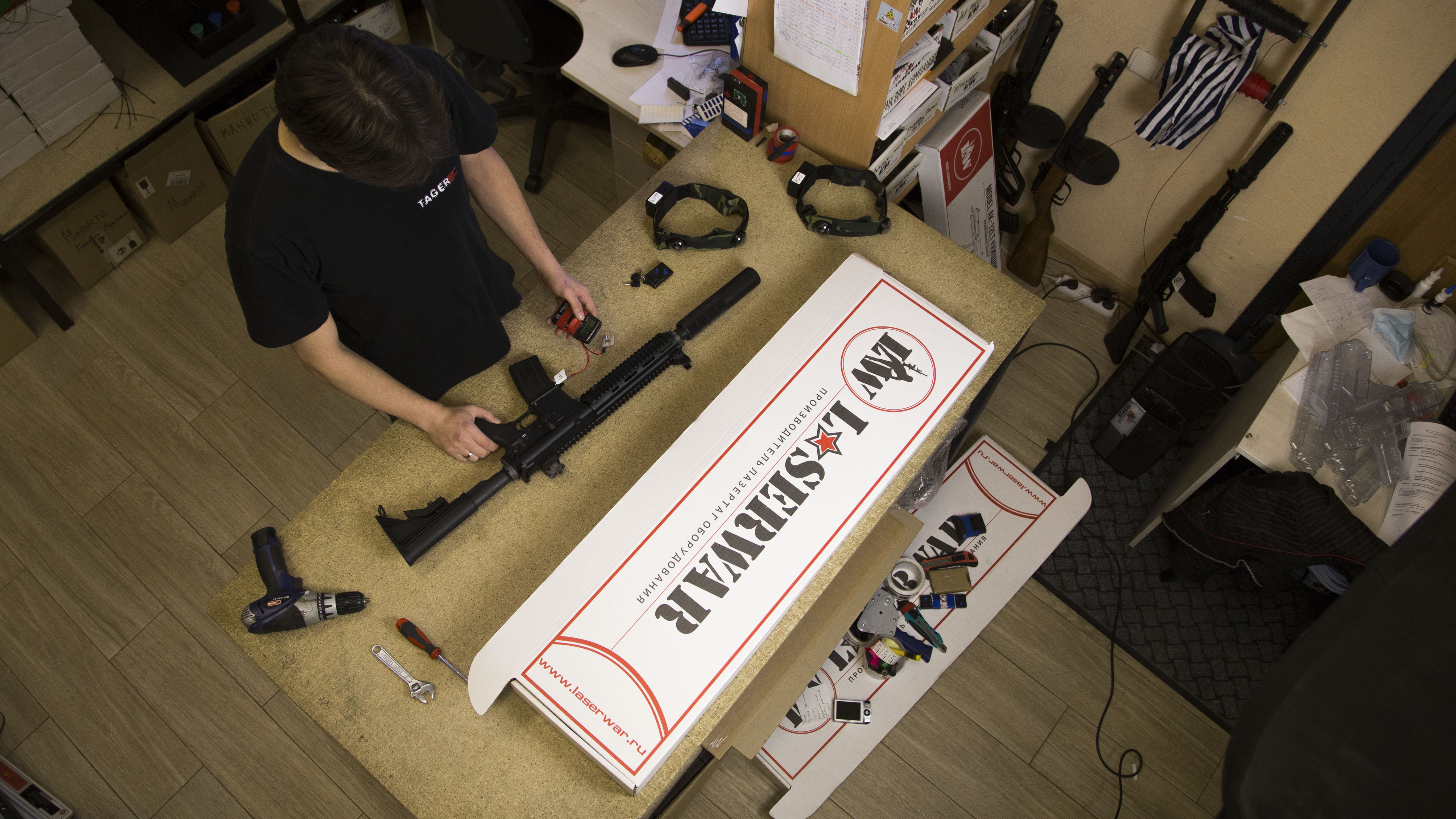 The scopes are adjusted using a special machine tool. Therefore, the customer will receive a product which can be used right away.
The functions of the additional equipment are checked, too. Various parameters, figures and settings are selected during testing. If all the results are ideal, the item is sent to the client.
MARKETING DEPARTMENT
LASERWAR equipment is delivered to 60 countries of the world. Each customer has a personal manager, who will tell the client all about our products, demonstrate play sets, do the paperwork and answer any questions that the customer may have.
We often have nice offers and discounts for laser tag players. Our specialists work with individual orders, too. If you need to have electronics integrated into a blaster body, have your blaster painted, we will take on even this kind of job.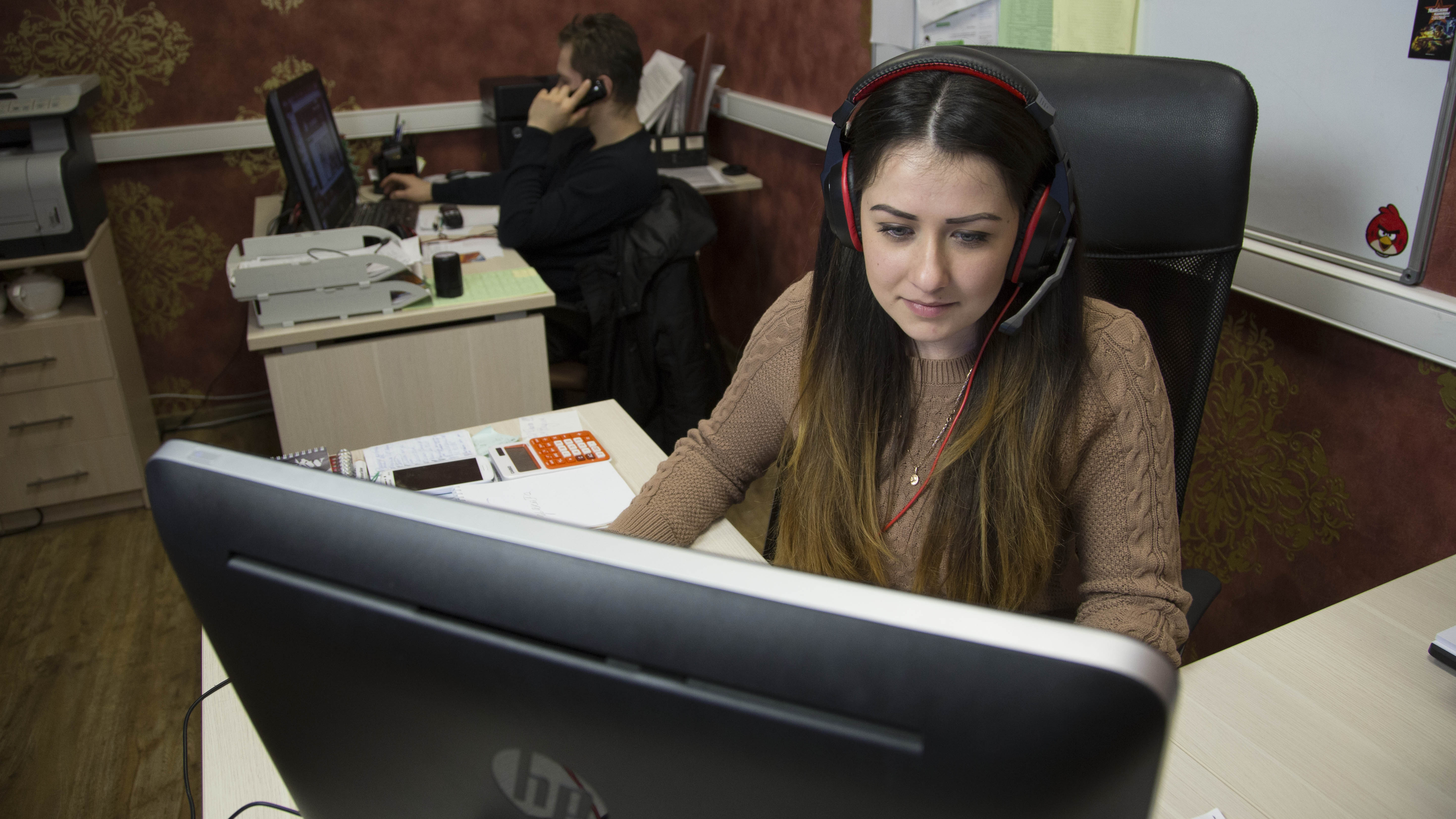 Our marketing department works seven days a week. This means that we can be reached by our customers nearly always.
To add to that, we sponsor laser tag events. We help to hold and cover the International Laser Tag Tournament every year. Players from different countries take part in it.
We cannot but mention the Open LASERWAR Cup. This tournament is known by its strict rules, honest judgement and well-planned grounds. As well as by the generous LASERWAR awards.
LASERWAR IS A RELIABLE COMPANY
Laser tag is not just a game. It is a profitable business. We are professionals. We know the difference between a good and a bad blaster. Therefore, we only sell reliable models. The money spent on the basic equipment set is recovered on average within three months. By cooperating with us you become part of a big team, which is known in many countries. The name of this team is LASERWAR.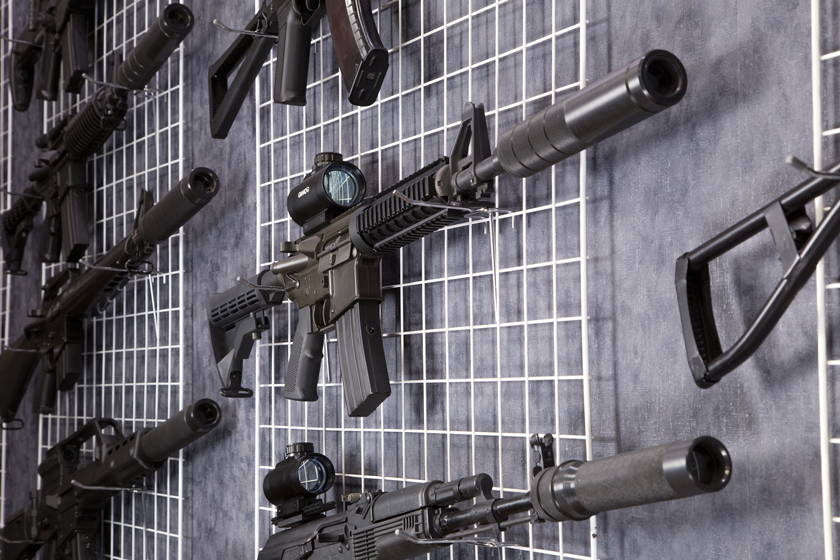 We have been 10 years on the market, and have set the standard of laser tag equipment. Laser tag is not just a combination of letters or a way to spend one's time – it is a whole philosophy and a path we have selected. Everyone who would like to share our philosophy with is welcome to do so. Our specialists are certain to provide you with top laser tag equipment.