Storm laser tag club. Winners don't give in
A short while ago, we visited the Storm laser tag club, which is based in Moscow, and met with its wonderful team.
The history of the club creation started 5 years ago. Now, this is a big project. 2000 square metre premises have been adapted for the games and fitted with all the necessary modern equipment. A team of expert instructors cater for the safety of players of all age groups. Valdis Pelsh, the club director, treated us to tea and divulged the secrets of his success.
— Valdis, what became the starting point of the Storm?
— In fact, I've been playing tactical games for many years. At some point, it struck me: "Why not open a club of my own?" This is how it started. Certainly, there were a lot of options to choose from. But when I weighed all the perspectives and possibilities, I settled upon laser tag. This sort of game is the safest and suits all client categories. It is good even for the most demanding customers. I must say at once that there were several attempts to open a club. It didn't go smoothly right from the start: sometimes we lacked resources; at other times, we were let down by our partners. Now, at last, I have finally arrived to my current standing. Of course, there is still so much ahead, we have our goals and development objectives.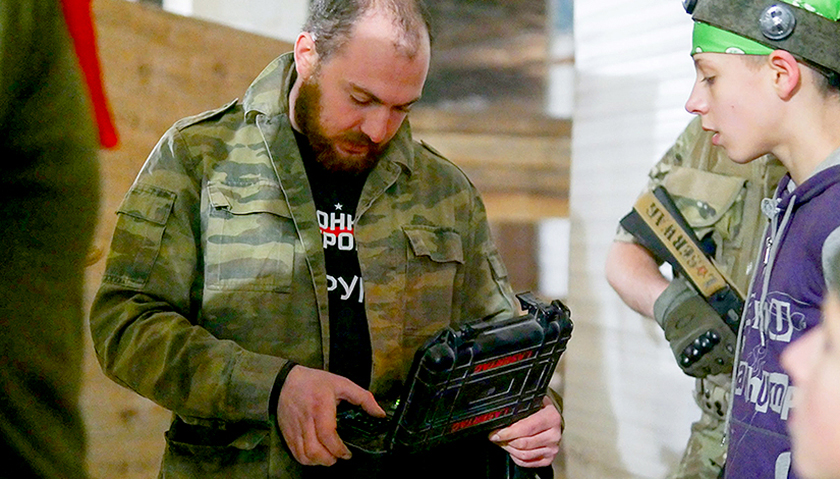 — You surely must have encountered difficulties when you just opened the club.
— I did of course. As a matter of fact, one thing, well, probably, any entrepreneur must be ready for – they have to work with their own hands. My main job takes away a lot of my time. When the club was just opening, this created some problems. Yet I decided at once that I needed premises for the club. It took me some six weeks to search for it, to contact landlords, some of whom were not at all honest and trustworthy. Finally, we got an excellent playground conveniently located in the city.
Clearly, the premises were not equipped at first. We had to dismantle some objects by ourselves, to bring in building materials, set up hideouts, do the lighting. Let me tell you one secret: when you do not sleep, your day becomes a lot longer. There were moments when I wanted to give it all up, but each time I made myself go on with my undertaking. I simply realized that all those hardships were temporary. And so they were.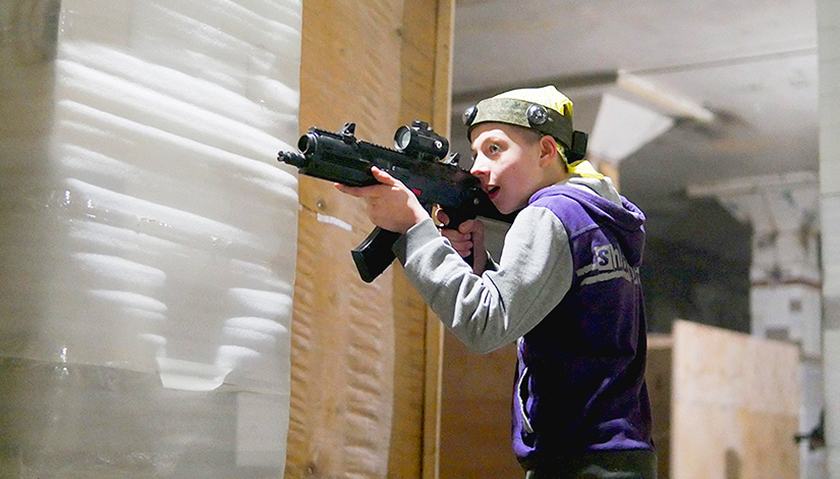 — Did you have to deal with this all by yourself or was there anyone who helped you open the club?
I am very grateful to Michael, who is my business partner. Even though he hardly knew anything about laser tag, he built this all along with me, he created it and went all out. It is easy to recall this all now. All we have left to do is to find a uniform style for the place and refurbish it. Besides, we have Aleksey – he is the soul of our team of instructors. He can always create the right atmosphere. Our clients admire him for this. Some of our partners joined us after we had opened the club. The L n P team, which participate in the well-known "Night Watch" games, is my favourite. It frequently seems to me that they spend as much time in the club as I do. I am not talking about mutually beneficial relationships now. All these people have been supporting me in different ways.
I can't help mentioning a relatively new Fire-strike project. This is a type of military games and tactical training. Their equipment is identical to its real-life prototype when it comes to audio effects and to handling it. The guys worked on the project all by themselves. Creating a realistic atmosphere of combat is its objective.
— Wow! Valdis, please tell us about further plans of the club.
— At the moment, our top priority is expanding the playground and fitting it will all the necessary facilities. This is essential if we want to get good photos and for marketing purposes in general. Our specialists promote the club in the internet and in social networks and wait for more material. All is interconnected.
And there is more to come. We want to build up our client base. Thanks to the service, word of mouth is very effective in this business area. Time has come to bring about new scenario ideas. Now there is Zombie, hostage release, disarming a bomb etc. on our price list. We have created our own scenario of a game played in complete darkness. Now what do you say about that? Those who have tried this scenario know about it.
And of course, one can celebrate a birthday or corporate party, stag parties or any other occasion. For example, now, many women are booking for the 23d of February. There is a good reason for that! The stronger half of the human race are sure to appreciate this.
— This sounds really interesting. How are scenario games held in the club and how do you establish the winner?
— As a rule, we follow this scheme: warming up, instructions, giving out weapons, registering players, dividing into teams and playing the game itself. We provide support and advice to those who play for the first time. We cannot allow such a situation when one team always wins while the other one always loses – then, combat spirit may be lost. We often combine several objectives in one game: control point capture, bomb mode, hostage release. Here is yet another important point: we always provide the statistics of the results of each player. In spite of the work load, we aim to provide reports on same day or on the following day at the latest. Otherwise, you may realise what a rush begins.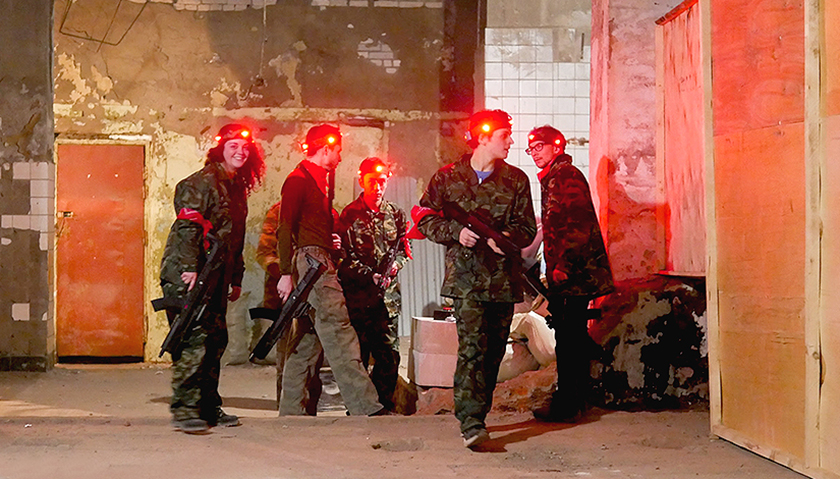 — I always wondered how safety measures are adhered to at laser tag clubs? For kids come to play here.
— Although a laser tag club is safe by itself, we place the quality of instructions before a game in the first place. Besides, we closely watch a game and we always stay close. Besides, we have ensured that the premises are suitable and safe for children and teenagers. The main partitions and fortifications are made of wood, the passages are wide and spacious; we removed all potentially dangerous elements and constructions when we were refurbishing the area. Besides, we are planning to purchase additional protection for knees, elbows and wrists. So as their parents feel at ease.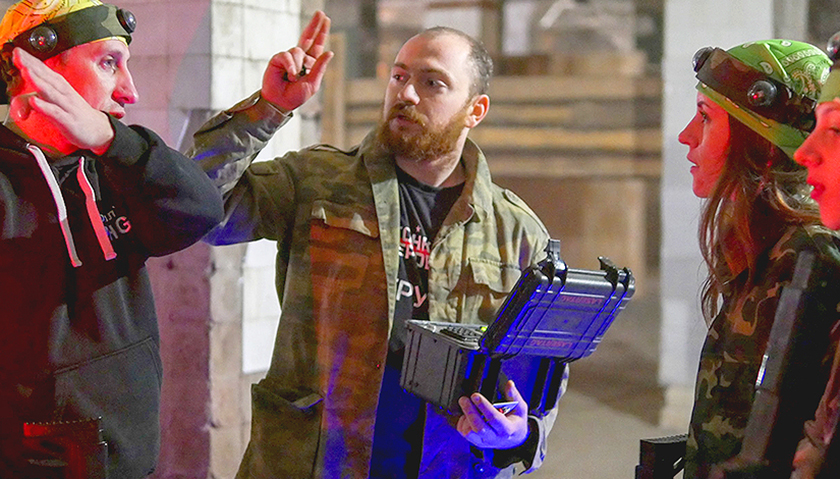 — Valdis, many new entrepreneurs in Moscow claim that starting and maintaining a business venture is extremely hard considering the fierce competition. What about laser tag?
— From the moment we opened, we didn't experience fierce rivalry. In my opinion, this is because we do not really want to be rivals. We all do same type of thing and there is still so much to develop. Lots of people have never played laser tag, many do not even know what laser tag is. In addition to this, each club has own clients, own target audience. Besides, the location of a playground shapes a particular circle. We are on very good terms with other laser tag clubs located in Moscow or near Moscow, to say the least. We share ideas and learn from one another.
— And the last question. As a user of LASERWAR equipment, what can you say about its quality and the service provided by this company?
— I have known LASERWAR as a producer of equipment and devices for laser tag for a long time. At first, I tried to cooperate with other producers, yet that did not bring any results. So I have no regrets whatsoever about my choice of producer. Both the quality and the service provided by the firm are top level. As equipment user and club director, I am waiting for a mobile application for gathering players' statistics. It would have been very convenient and would have made the work so much easier!
— Valdis, thank you so much for the interesting discussion! We wish you successful further development.
Related news