International safety & security exhibition
Laser tag has long moved beyond the scope of entertainment and private game clubs. Safe, harmless, highly technological and accessible to all age groups, this active recreation activity keeps gaining popularity throughout the world. Year in and year out, demand for it in its market segment has been growing and it has been earning users' acclaim.
A short while ago, LASERWAR blasters were used at the Presidential Regiment, delivered devastating blows to enemies at a large scale Battle of Heroes milsim quest, saved virtual lives at an MLT and successfully supported laser tag fighters in a FallOut Universe game. There is an extensive application area and a wide target audience for the equipment by LASERWAR - these are not limited to game territory only.
This time, our play sets were sent to the North capital, where on 24 - 26 October 2017 the 13th International Safety & Security Exhibition conference was held at the St. Petersburg University of State Fire Service of EMERCOM of Russia.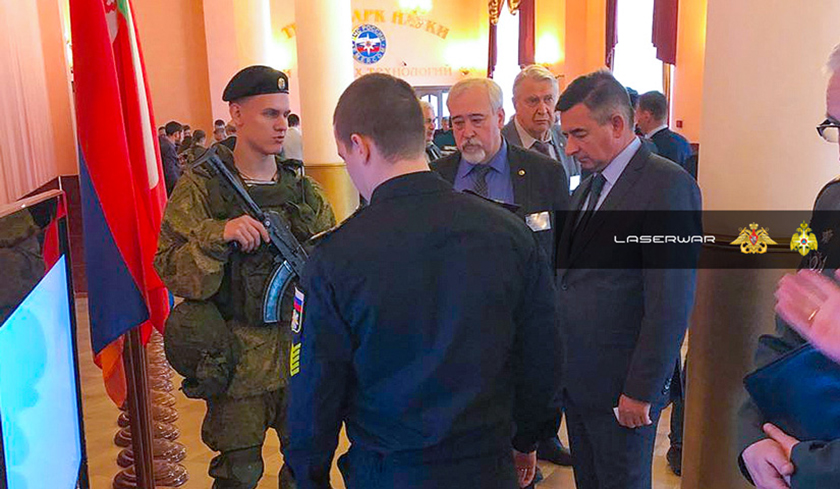 On 25 October, an exhibition of technical counter-terrorism means was held as part of the conference. LASERWAR equipment was used to demonstrate a training system for counter-terrorism and anti-piracy units.
"When introducing weapon imitation systems in the process of education and training of subunits, the biggest problem that we face is their similarity with toys", said Illia Aleksejevich Galkin, the academic supervisor of the Naval Academy of the Ministry of Defence of the Russian Federation, Doctor of Science, senior lecturer. Nevertheless, the officials that were present at the event noted that LASERWAR blasters managed to dispel this belief. All those who saw the models and held them in their hands, including Eduard Chizhikov, chief of the Saint Petersburg University of State Fire Service, General Lieutenant of the Internal Affairs, and the representatives of the National Guard Forces Command of the Russian Federation, pointed out the exceptional likeness between the blasters and their combat prototypes.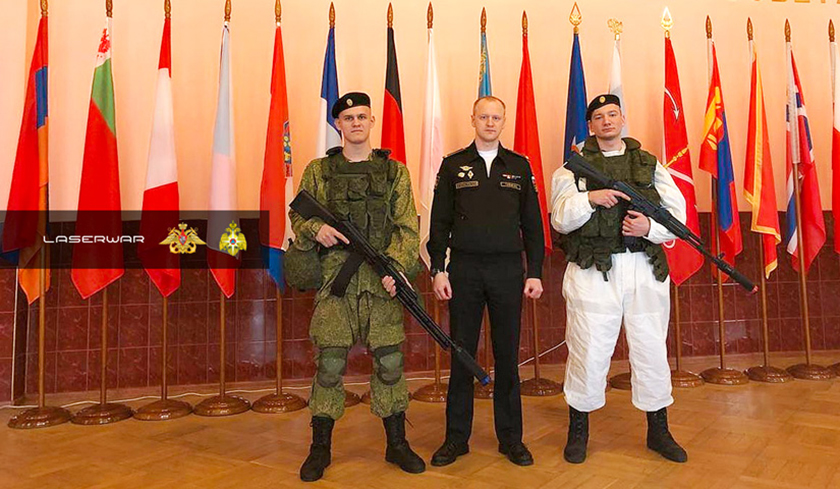 Besides, the effectiveness of the play sets application was demonstrated: the officers and the cadets of the Saint-Petersburg University of State Fire Service used them in their imitation of a military camp assault. The following play sets were used: the AK-74M Golden Eagle of the Steel Edition and the RPK-74M Hail of the Steel Edition.
In his report, the C-in-C of the Russian Navy highlighted the advantages of the application of weapon imitation systems for training of military units:
Increased learning efficiency;
Improved weapon handling skills in simulated combat conditions;
Saved ammunition - combat weapons are only used for final tests;
Lowered risk of traumas when performing exercises as part of subunits;
Fewer staff required for provision of such exercises;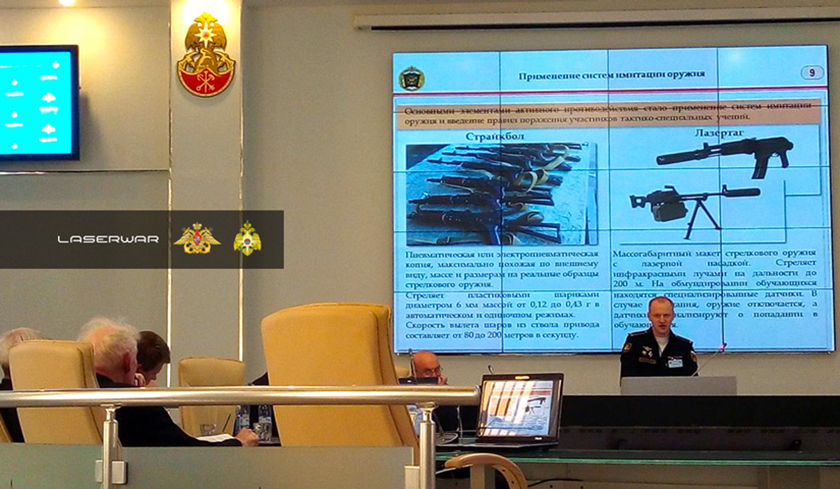 Due to this, chiefs of the Russian Navy expressed their wish to continue the cooperation with LASERWAR in this field.
Every now and then, LASERWAR offered their assistance with organizing and holding events to both state and commercial organizations and supplied them with play equipment. Therefore, if you ever need laser tag blasters or other equipment produced by our company, we are pleased to let you know that we are always open for cooperation. We look forward to requests from ambitious laser tag organizers. Please send them to our e-mail: director@laserwar.ru