Business Success. Participation and victory
You have to agree that no victory is ever gained by chance. Even when you are successful at everything, you still truly value every victory. For a long-awaited result is always an outcome of the challenge of searching for solutions, months, sometimes years of trials and errors, the arduous and well-coordinated work of a whole team. Therefore, we cannot find the right words to express our feelings of joy and pride over LASERWAR company's victory at a major pan-Russian event – the regional stage of the Business Success National Award project. It took place at the Exhibition Centre named after the Tenishevs last Friday, on 27 October.
Business Success Award is a special event for small and mid-sized businesses in Russia. Being the only of its kind and based on an unbiased professional approach to analysing a number of most decent projects, this award encourages the development of entrepreneurship and boosts the economy and the social situation in the country.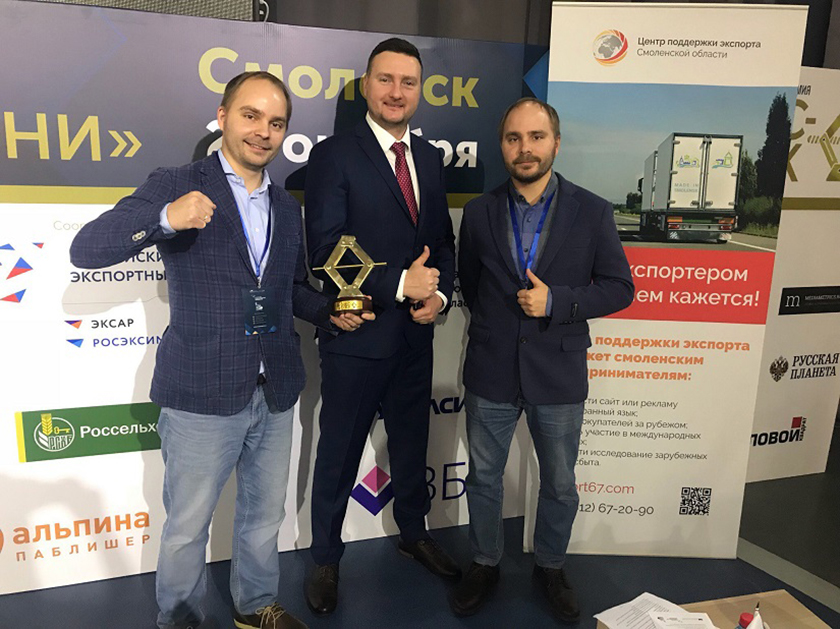 The Smolensk business forum opened with a welcome speech of the governor of the Smolensk Oblast Aleksey Ostrovsky, followed by reports of the participants: entrepreneurs and municipal entities. An authoritative jury consisting of members of the presidium and of the steering committee, high-ranking officials of the Oblast Council evaluated the presented business ideas for originality, financial dynamics and social significance. The event ended with a ceremony of awarding the winners. The LASERWAR company was proud to be honoured with an award.
The CEO of the Russian Export Centre Boris Igoshin and Smolensk Oblast Governor Deputy Konstantin Nikonov honoured LASERWAR CEO Sergey Tereschenkov with a memorable statuette Golden Jack in the Best Export Project nomination. You may want ask a logical question: why does the statuette has the shape of a jack? There is a simple answer to this: a jack is a piece of equipment used for raising something off the ground. Entrepreneurs are those who raise our economy.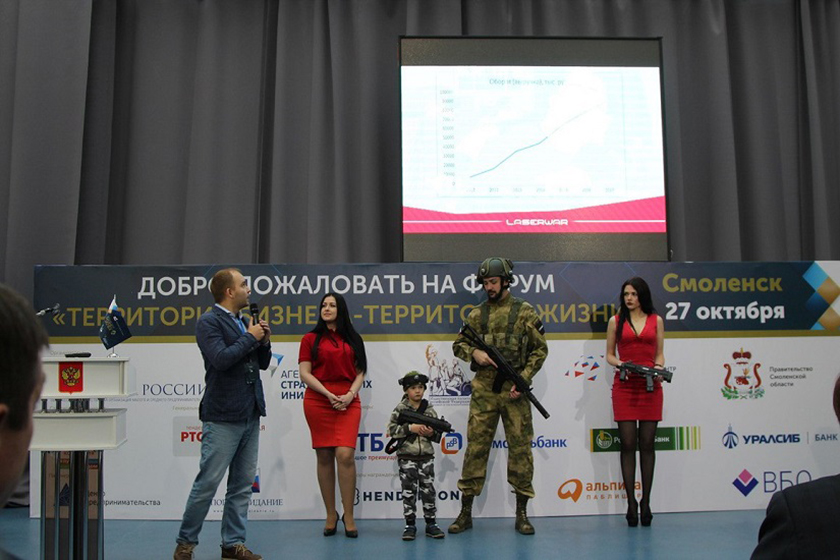 Besides the Golden Jack, LASERWAR received an invitation certificate for participation in the next stage of the Business Success program. Next, the winners are going to be challenged during the nationwide stage.
Let's wish good luck to our guys: we hope that this victory will become the first brick in the base of the 'export project'. Just remember: our victory is in our hands!
Related news