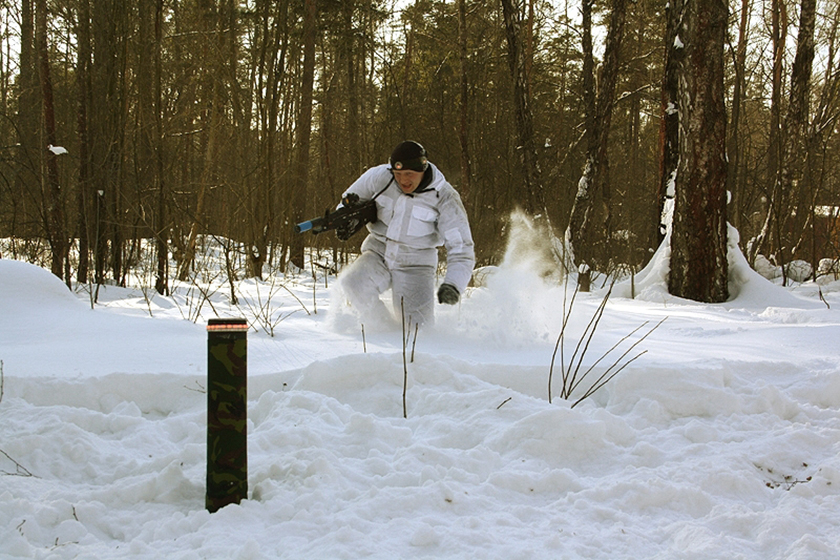 At last the long-awaited winter has come! One shouldn't assume, though, that playing laser tag in the winter is not as good or more difficult than it is in the summer. Laser tag at winter time means special atmosphere, heat coming from players, even more adrenaline and new emotions!
What are the things that you must remember if you make up your mind to play in the winter?
Let's begin with the outfit. You need to wear clothes that are just slightly warmer than usual. Why slightly? Because during the game you will be nearly constantly on the move, while the adrenaline, the drive and the sublime emotions will not let you freeze! Second, by no means should your clothes be constricting. One should take with them a change of clothes for a winter game, especially if one needs to travel a dozen or more kilometres to the place. Socks and a t-shirt are a must. Taking a thermos with hot tea with you wouldn't be a bad idea at all. You must think about the colour of your outfit, too. You will make a great target wearing a khaki camouflage outfit on a snow-white polygon, while your 'white' rivals will get a significant advantage.
One must also remember that at temperatures below zero laser tag equipment will not work the same way it does in the summer. Batteries discharge faster, especially when it is biting cold. To avoid such problems, one must either take spare accumulators with them or take into consideration the maximum time of devices operation at minus temperatures when planning the game. Still, this is just a minor disadvantage – playing paintball in the winter is not deemed possible, for the balls frequently freeze inside the barrels, while the barrels can blow up at minus temperatures.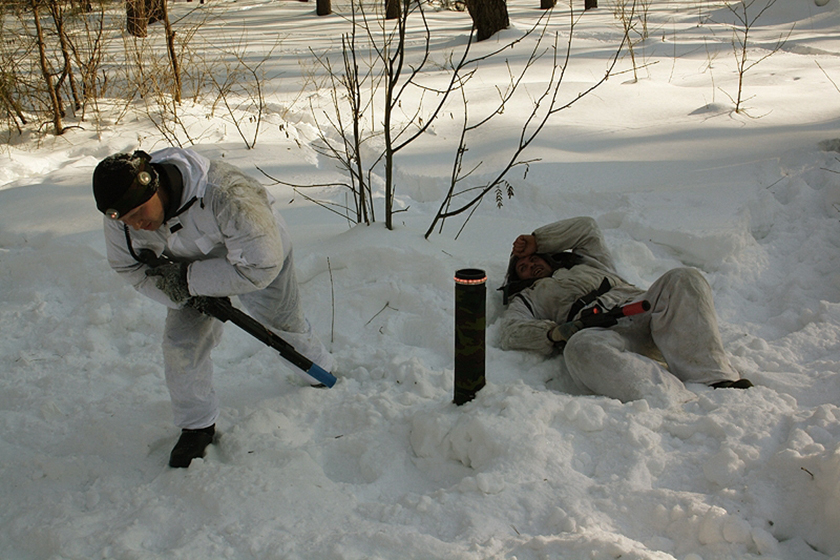 Try to be constantly on the move. To protect yourself against excessive heat loss, make sure that stops or pauses during the game do not exceed 5 – 10 minutes. The heat generated during the game will be enough to ensure that you do not freeze during breaks, while the hot tea thoughtfully taken with you from home will keep you warm even during longer intervals.
You must always remember that laser tag is a team game irrespective of whether it is held in the summer or in the winter. Therefore, stay in touch with your team mates at all times and remember about team work.
Winter offers great opportunities for lovers of ambush to realize their strategies. One can wear a warm white camouflage outfit and wait for the enemy behind a snowdrift. But be careful! You had better not stay in a hideout for too long and reveal yourself than get a pneumonia.
The problem that players may encounter in winter time is that their favourite outdoor polygons can get fully covered with snow. Still, some may find positive sides to this disadvantage, too. Adrenaline junkies will enjoy crossing snowdrifts! If none of you are, then go get some shovels – you will need to clear some paths in the snow.
Wish you good luck and victories in laser tag games!
When taking care of your equipment after the game, please remember:
1) You must not charge the blasters immediately after bringing them from freezing conditions into a warm room.
2) Before you put your blasters on charge, leave them at room temperature and let them dry out for at least two hours.
3) It is forbidden to charge blasters using car chargers in the winter – you can use this charging method in the summer only.