Choosing clothes and footwear for laser tag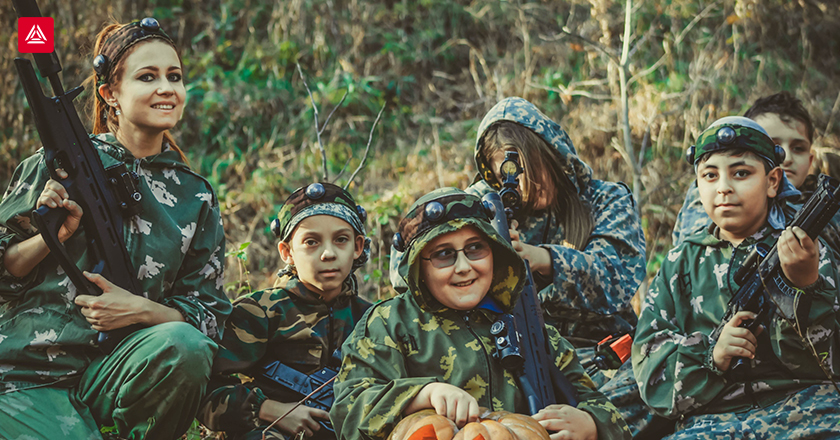 The right clothing for laser tag increases the chances of winning many times. There are two basic rules here – comfort and disguise.
Laser tag is a military tactical game that can be played anywhere and in any weather conditions. This factor attracts both entrepreneurs who can develop their business all year round, and participants themselves – you can play whenever you want. More over the change of weather conditions and the location of the games adds variety. This makes laser tag even more exciting and addictive.
Laser tag games can be played in the arena or in the field. For each case it is necessary to choose comfortable clothes to feel as comfortable as possible.
The rules of clothing selection apply to children and adults, women and men. What should I wear to a laser tag game to help me look great and win the battle?
Outerwear for laser tag
Preference is given to light, sports or military clothing that does not embarrass movement, fits the player's body, has no unnecessary details (open pockets, iron chains, bright logos, etc.). The choice of clothing for laser tag games should be based on the location of the game and weather conditions:
1. In field conditions you should wear clothes made of dense fabric that covers the arms and legs. On construction sites, in forests and other natural objects, it is often necessary to climb through branches, along walls, fall and squat, so the body should be protected from grazes and blows as much as possible.
2. Light clothing made of natural fabrics that absorb sweat well will suit for the arena. A T-shirt and shorts will do here. To protect the elbows and knees from falling injuries, elbow/knee pads can also be worn (especially for children).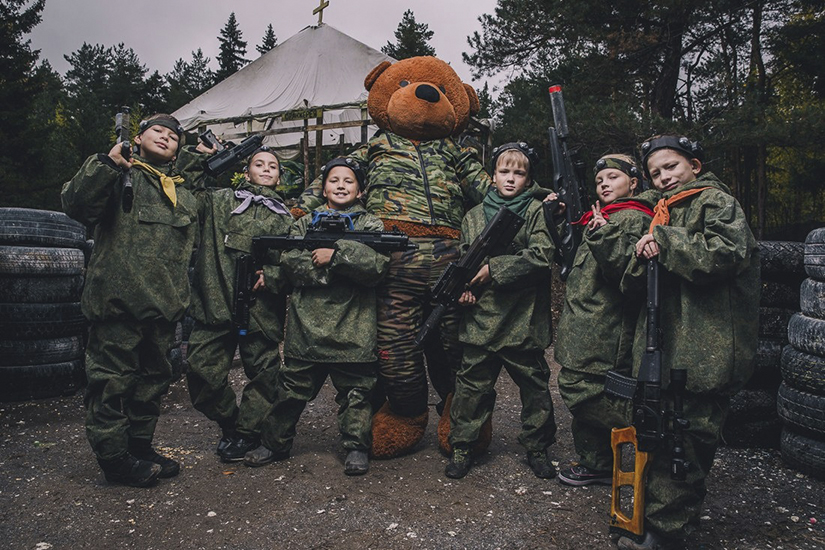 3. If the weather conditions are not very favorable, (it is rainy/cold, the wind is blowing heavily) the clothes should be neither too light – to protect the player from cold, nor too dense – to prevent sweating.
4. As for camouflage, the color of clothing is selected based on the conditions of the game. For example, camouflage, which perfectly masks the player among trees and bushes, is ideal in the forest. If the games are played in a special arena, it is necessary to wear dark clothing, because the white color will shine in ultraviolet and betray the player. Playing laser tag in winter, the clothing is selected in light tones or white camouflage is used.
Types of clothing for laser tag
Game clothing can be picked up from your own wardrobe, rented or bought/made to order, if regular visits to the laser tag club are expected. Below you will find the most practical clothes, which will be the best option for different laser tag games.
1. Camouflage cloaks are camouflage suits made of light but durable fabric. You can wear them over normal clothes. Available as a set of jacket and trousers or as a poncho. The camouflage cloaks are used by people of different professions – from snipers to ornithologists and zoologists who watch animals in the forest. The main purpose – the object in the camouflage cloak should be as discreet as possible, so they are often sewn for a particular area according to the density of greenery and shades that are most characteristic of the location.
2. Camouflage – the familiar khaki color is a camouflage color that makes a person or object in any space invisible. There are many camouflage colors, each of the colors are relevant to a particular natural landscape – silver leaf, butane, flora, undergrowth, tiger, partisan, etc. The camouflage has two functions: deforming (breaks the integrity of perception by breaking the silhouette) and imitation (merging with the surrounding nature). Suits for military purposes represent a set of a top jacket and trousers. Depending on the season, they differ in fabric thickness and style, are made of dense fabrics with waterproof and inflatable properties. Camouflage suits are often offered for rent by the organizers of the games. However, given the khaki fashion, many people may well find suitable camouflage clothing in their wardrobe.
3. Sportswear is relevant for arena/outdoor laser tag, stationary clubs and for outdoor events. It's very adaptive to different game conditions. It is only important to select the suit according to the weather and color. It is worth giving up bright colors so as not to be seen by the enemy, and synthetic materials. T-shirts and shorts in dark tones are quite suitable for the arena or summer period. Sweat jackets and sports pants can be worn at the playground in colder times. The main thing is that the clothes have to be comfortable.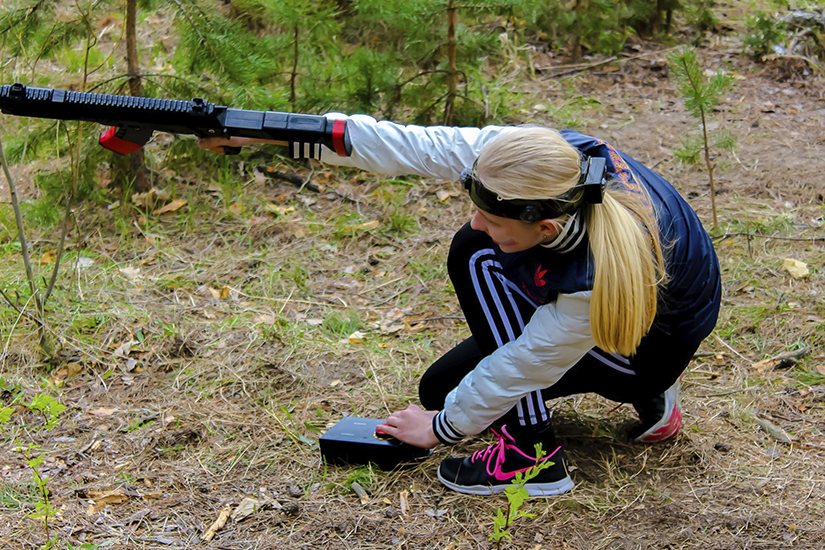 Footwear for laser tag games
An important part of the equipment for laser tag battles is footwear. It should be comfortable, not rubbing, not sliding and provide comfort when moving. Light sneakers will be great for the arena, and for battles in field connections you should choose running shoes or boots.
The following shoes are the best option for laser tag battles at the playground:
1. Combat shoes – army shoes with lacing. This type of shoes differs from conventional boots in that it optimally fixes the ankle joint, preventing tendon sprains. At the same time, the combat shoes provide complete freedom of movement. The shoes are comfortable, practical and wear-resistant, suitable for slush and dirt. They are often used as travel shoes and are also ideal for mobile military tactical games such as laser tag, paintball, and airsoft.
2 Tracking boots will be an excellent solution for laser tag on rough terrain. The shoes have a hard sole made of special rubber to improve traction, which is especially important when walking on wet grass, ruins or slopes. Tracking boots are wear-resistant, they fix your ankle (to prevent twisting of the leg and the risk of injury), protect against impacts, tree roots, falling stones and other traumatic factors.
3. Sneakers do not need a special introduction – everyone knows this type of footwear. For a laser tag games it is necessary to select a quality model that will ensure safety and comfort – the games involve rapid movement. Lightweight summer sneakers of urban type or special sports shoes will be a nice option for arena laser tag. In field conditions it is possible to put on trekking sneakers intended for walking on unsophisticated wood and mountain paths, hiking sneakers protecting the socks from blows on stones and roots of trees, insulated – in cold and rain, mesh – if an area is flat, and barriers are artificial.
Special footwear differs from everyday city footwear with greater durability, protection and resistance to wear, so for laser tag games, regardless of the location (the arena or in the field), choose the best special footwear. In this way you'll get better manoeuvrability, comfort and safety.
Laser tag in winter: clothing
You can play laser tag not only in warm seasons, but also in winter. Laser tag equipment from LASERWAR withstands frosts up to 25 degrees, so cold is not a hindrance for true laser tag fans.
The only nuance – in winter you have to dress warmer, and this is the excess weight, which contributes to rapid fatigue and inhibits movement. Therefore, to play laser tag in the winter clothes should be selected carefully.
1. Clothing must be made of impermeable materials to protect you from snow, cold and wind.
2. It shouldn't be too heavy not to create extra physical activity.
3. The color should mask the player in the snow, so preference is given to light tones or white clothing.
4. By style you can choose a suit of a jacket and trousers, overalls, or put a camouflage cloak of the appropriate color on top of ordinary warm clothes.
5. Blinding camouflage is often used in the army. This is a special color of clothing that makes it difficult for the enemy to estimate the distance to the object, the speed of its movement and the course of direction. You can use such white camouflage in laser tag games.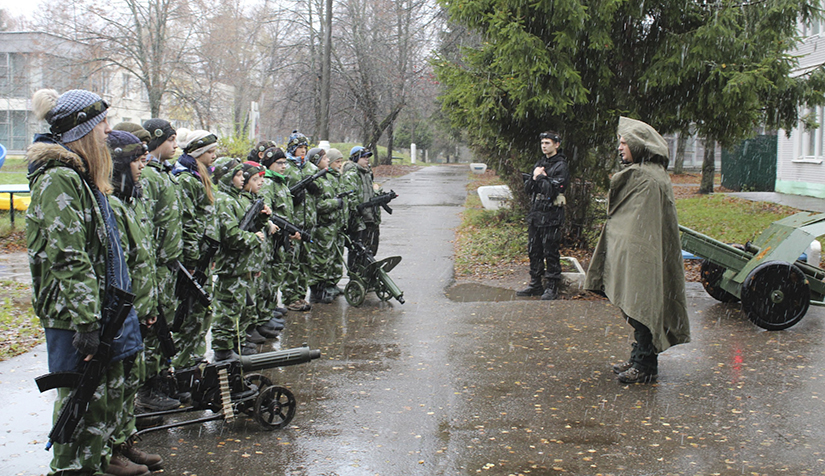 In winter laser tag clothing, the choice of material is crucial. Products are mainly made of cotton fabric, but modern manufacturers also use synthetic polyester and viscose. Such clothing dry quickly and retain their structure even in severe frost.
For a one-time game of laser tag or irregular trips the usual clothing will do – sports suits in dark colors, shirts and shorts, plus comfortable sports shoes. If you plan to play frequently in different environments, you should be more careful when choosing clothing for the laser tag. Specialized items of clothing can be found in tourist, hunting and sports shops, where they are purchased for various purposes by professional tourists, hunters, fishermen, wildlife photographers, zoologists, huntsmen and foresters, etc. These suits are ideal for active and exciting laser tag games.