3 tips for running a successful business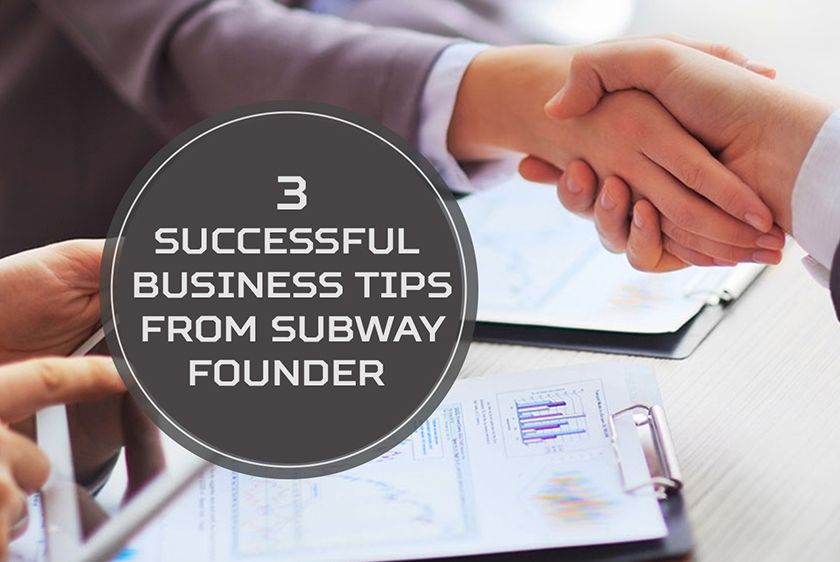 We are constantly seeking advice on running business from successful entrepreneurs that gained world recognition and build big companies. Fred DeLuca, the co-founder of the Subway franchise empire, is one of them.
The 50 year-long experience of business running taught Fred DeLuca three truths:
- People understand that workplace negligence is not in their best interests, which means that there are a lot of conscientious employees;
- You can be easily replaced by an unexperienced secretary studying at a college;
- Your employees want you to trust them. If they cannot secure your trust, be prepared for revenge.
1. Chuck instructions into a bin! Let people work
For his first sandwich shop, DeLuca hired his school friend Art and other friends who worked as cooks, cleaners, barkers and at the checkout. These people did all they could and there was no need for instructions. 'They didn't always make right decisions. Yet they did their best, motivated by our trust-based relationship. Many times, the business survived after being on the brink of collapse only through friends' support. Had I treated my supporters as subordinates and insisted on my own rules, we wouldn't have succeeded', recalled Fred.
When the company launched a franchise, DeLuca and his colleagues were not experienced enough, while the service provided by consultants was rather costly. DeLuca studied articles online and created regulations for the franchise on their basis. Shortly it became clear that the regulations were interpreted in different ways by everyone. DeLuca's partners called him and complained that inspectors from the head office were nitpicking in order to fine them. Then, the head of the company ran a risk: he made an employee from the control department solely responsible for the task of solving controversial matters in an honest and just way. That was the only directive he gave her. At the beginning, she was scared to make a mistake, but as soon as she realised that her opinion was valued she learned to settle disputes on her own. Thus, the company got their own ombudsman. They have over a hundred of them now.
2. Student Mary will easily replace you
When DeLuca owned several snack bars, he sorted out all the work matters. Yet when there were 30 shops in his chain, controlling every trifle thing became impossible. Still, the head of the company wouldn't admit that. He answered all the incoming calls all by himself and the phone lines were always busy. E-mails kept accumulating and the partners that didn't manage to get through got angry. Every day, DeLuca had to deal with a great deal of enquiries and was torn between daily matters and the necessity to control the company.
'I was sure that no one would do the job better than me. The blow to my ego came unexpected', recalled Fred with irony. Once, when he came into his office, the phone was ringing off the hook and there were loads of e-mails that needed a reply. Twelve of the phone calls required an urgent action. Processing such a number of requests would have taken a couple of days considering DeLuca's busy schedule. For the first time then he asked his secretary Maria for help. The girl had recently graduated from a college and was just getting the hang of things. The director asked Maria to help him with six of the phone calls but he was almost sure he would have to do it all over by himself. It took his assistant an hour to finish the task. The secretary managed two of the requests by herself. She delegated the remaining four to her colleagues who gave her advice on the matters. DeLuca, offended, realised that he had been a third wheel. 'I finally got it what a secretary was for', he said. Fred delegated the remaining six phone calls and from that day on he devoted his time only to the matters for which his participation was required.
3. Lack of trust inflicts losses
DeLuca believed that there are no poor subordinates – there are short-sighted executives. He encouraged others to trust people, for they are able to do a load of work. If you want your employees to become part of your team, all you need is:
Offer your people the kind of work that they find interesting and where they can apply their talents;
Teach your employees and allow them to reach their goals uninterrupted;
Supply your workers with resources and provide them support. Give them a special role. Next, go away and let them do their job.
One evening, DeLuca went into his snack bar and found there was a mess. He told off the sales assistant. Fred helped the worker tidy up, but he warned him that if the same thing happened again, he would fire him. Next day, the snack bar set a new record of the speed of selling sandwiches.
When DeLuca compared the previous months data, he realised that was a new sales record. The mess was put down to the fact that the boy had to serve five to six clients per minute didn't have any time left to tidy up. On that same evening, DeLuca visited the snack bar again in order to apologize to the boy. The employee accepted the apology. He confessed that he got offended when Fred told him off and poured away four litres of vegetable oil into the sink out of the feeling of revenge. 'Trust your people … or you will have only yourself to blame when you calculate the losses', summarized the entrepreneur.
Fred DeLuca's 15 successful business tips:
Start with the small.
Earn a few cents.
A start is an idea.
Be farsighted.
Believe in yourself.
Act on the spot.
Win or lose everything.
Stay positive.
Keep improving your business.
Trust own people.
Never spend all the money.
Keep attracting new clients every day.
Be persistent: never give up.
Find a name for your brand.
A walking foot is aye getting.