3 MOST POPULAR LASER TAG DEVICES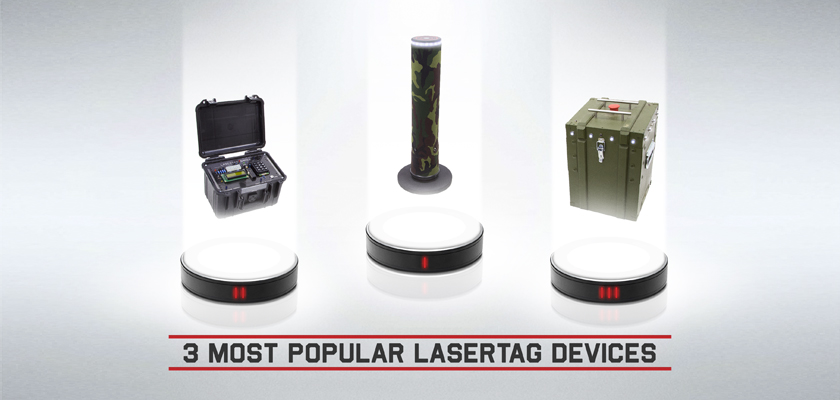 Laser tag is no longer associated with primitive shooting afield. Today, it has developed into a serious game stream of military sports. It allows to hold competitions which involve setting goals and solving various strategic tasks. Modern laser tag can't be imagined without a set of additional equipment which brings variety into the game process. How to make the right choice? What to choose from the rich LASERWAR arsenal? What is surely to be found in any Laser tag club? Read our announcement and you will get the answers.

We have made up the top list of 3 most popular LASERWAR devices. This equipment is used by practically all clubs and players. Our experts recommend it as an absolute must-have included in any starting set. Buying these sets you may be absolutely sure: each of the devices will make your laserwars full of adrenalin and thrill!

THIRD PLACE WINNER – THE COMMAND POST GAME SET

The Command Post is a multifunctional device which helps solve many tasks simultaneously. Its exterior and facilities are really impressive. The result of the recent design improvement is a lithium battery providing autonomous operation up to 12 hours. Besides, now the Command Post has even lighter weight – only 6.5 kg. Large-scale competitions simply can't do without this device. Many players consider CP a multipurpose device as it can be part of any game scenario. You may use it as

checkpoint

first aid box

multipurpose point

Thanks to its design features, the Command Post has enough inside space which can be used to transport minor equipment, such as first aid boxes, hand grenades, mines, artifacts, and other. Handles on either side of the device provide easy transfer.

Wonderful sound quality is one more feature the modern CP can brag. Loudspeaker system of 3W gives out a pure new generation sound and that creates a really authentic atmosphere of the battle.

We can assure you that the Command Post is a true revolution in the laser tag additional arsenal and third place in our top list! Store

SECOND PLACE WINNER – THE EXPLOSION DEVICE SIMULATOR GAME SET

The Explosion Device Simulator is simply adored by children and adults. This device gives thrill to all laser tag players. No wonder! The exterior of this "nuclear briefcase" is really up to the mark. A lot of users have noted that it resembles the Counter Strike bomb. The latter has to deal with virtual reality whereas the EDS can bring your chances to win a laser tag battle to a naught. The device is made of impact-resistant ABS plastic of black colour and has a characteristic case form. The EDS is equipped with two display screens: the segmental one shows the timing, whereas the LSD one shows the club name, the password and the menu. The nuclear briefcase is a "fair" device: it is activated and recharged by means of a key. Players cannot influence the device operation once it has been activated. The only way to switch it off is by using the password. Trying to work out the code figures by the search method (which is the only possible way to deactivate the device) you will feel yourself a real intelligence agent in the enemy's rear. However, if you failed to defuse the bomb, it will go off with a loud piezo signal. Do you want your nerves to be tickled? Now you can afford it buying the EDS! Number 2 in our top list! Store

FIRST PLACE WINNER – THE CHECKPOINT GAME SET

There is hardly a game without a checkpoint lodgement. It is one of the most dynamic and captivating scenarios! More than that, this very type of game requires maximum tactical activity from the players. The checkpoint is the next must-have device. Let us list its advantages:

light weight

stylish exterior

easy use

adjusted within a minute

If tactical elements are not enough and you wish to add some strategy, we recommend buying at least 3 checkpoint sets. In order to expand their zone of influence, the players will have to think which of the 3 points is better to attack. Today, the CKPT is one of the best LASER TAG devices. Game scenarios involving this equipment will add popularity to your club and make the players absolutely delighted. There is another important advantage – low price – and that really makes it the best option among our additional equipment. First place winner in our top list! Store

RESUME

Our nominee candidates were grenades, knives, hostage sets, tripwire mines, the Remote Control PRO and other devices. Surely, they were close to the pedestal but the vast majority of the players voted for these 3 game sets. Therefore, choosing these game sets you rely on the opinion of our company's experts and of those who have successfully tested that equipment. See you on the game battle fields!