Contacts
The item has been successfully added to cart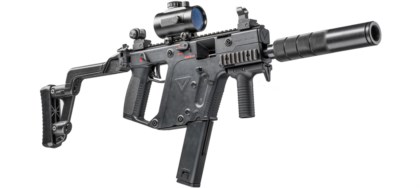 Equipment Options
Version
Optics type
Defeat sensors and battery charger must be purchased separately for selected version
Available options for selected version
Defeat sensors and battery charger must be purchased separately for selected version
Available options for selected version
Defeat sensors and battery charger must be purchased separately for selected version
Available options for selected version
DESCRIPTION

PARAMETERS

CUSTOMER REVIEWS
The weapon has a metal body with plastic elements made in Taiwan. All the electronics are inside the frame, and everything works picture perfect. The device has a safety catch and a fire mode switch. The safety catch turns the weapon on/off.
The weapon is relatively heavy (3.55 kg), due to the body materials used (metal and special plastic). But despite that, it is comfortable to hold KRISS VECTOR as well as to shoot from it.
The length of the device varies, thanks to the collapsible buttstock. 58 cm (folded position), 80 cm (unfolded position).
The device has three Picatinny rails, the top one is for the backsight and foresight, which can be removed if needed. The rail at the bottom (included in the game set) has a tactical grip.
Use the bolt to reload the weapon. The 3000 mAh lithium accumulator gives up to 36 hours of great performance. KRISS VECTOR from ELITE series is one of the best quality weapons in LASERWAR history. Without doubt, it will find the buyer.
*Attention! The sight must be purchased separately and not included in the play set!
| | |
| --- | --- |
| Charger type | Li+ (8,4V; 3000 mA) |
| Battery type | Li+ (2,6 Ah; 7,4V) |
| Battery life | 30 h |

| | |
| --- | --- |
| Effective firing range | 150 m |
| Length | 80 cm |
| Weight | 3.55 kg |
| | |
| --- | --- |
| Charger type | Li+ (8,4V; 3000 mA) |
| Battery type | Li+ (2,6 Ah; 7,4V) |
| Battery life | 30 h |
| Effective firing range | 150 m |
| Length | 80 cm |
| Weight | 3.55 kg |