Contacts
The item has been successfully added to cart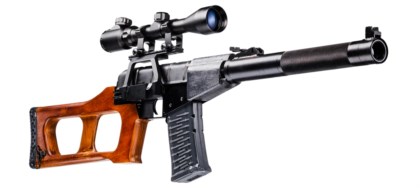 Equipment Options
Version
Optics type
Defeat sensors and battery charger must be purchased separately for selected version
Additional options for selected version
Defeat sensors and battery charger must be purchased separately for selected version
Additional options for selected version
Defeat sensors and battery charger must be purchased separately for selected version
Additional options for selected version

DESCRIPTION

VIDEO

PARAMETERS

CUSTOMER REVIEWS
The main innovation is the frame. Now it is made completely of steel. Even the suppressor with the optical system inside is made of steel as well as the receiver (the previous models couldn't afford that). As a result, the weight of the Vintorez ALPHA has become identical to the real figure - 2.6 kg. But its reliability has increased as well. Given the fact that this model is not a full-fledged copy of the real weapon, ALPHA looks remarkably good.
As for the rest, the Vintorez differs from the previous versions in no way: use the anti-vandal lock to turn on the weapon, the bolt is responsible for reloading. There is also a safety catch.
*Attention! The sight must be purchased separately and not included in the play set!
| | |
| --- | --- |
| Charger type | Li+ (8,4V; 1000 mA) |
| Battery type | Li+ (3 Ah; 7,4V) |
| Battery life | 30 h |

| | |
| --- | --- |
| Effective firing range | 175 m |
| Length | 90 cm |
| Weight | 2.6 kg |
| | |
| --- | --- |
| Charger type | Li+ (8,4V; 1000 mA) |
| Battery type | Li+ (3 Ah; 7,4V) |
| Battery life | 30 h |
| Effective firing range | 175 m |
| Length | 90 cm |
| Weight | 2.6 kg |

Download Passport 0.8 MB (DOC)