SVK Rossich Steel Series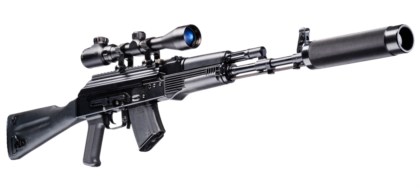 The SVK is a prototype sniper rifle proposed by Kalashnikov in 1959. Two versions of the rifle were developed, with a semi-pistol grip and a pistol grip.
SVK did not enter service, but "Kalashnikov Group" announced a new rifle in 2016. The old body, though recognised as a success, was not put into service as it did not meet the accuracy criteria.
The Dragunov sniper rifle was a serious contender for SVK, which after numerous modifications was adopted in 1963. LASERWAR specialists pay tribute to the SVK designer. The model is now available to all laser tag players.


When we talk about the Steel series, it means we have a gun that can withstand "fire, water and rental laser tag games". The combat-like SVK is not just reliable, it is virtually indestructible. The steel body in tandem with the impact-resistant inserts make the model last forever.
Looking at the exterior, we see a traditional AK, only with a shortened magazine version. In laser tag games SVK, like the combat version, is considered as a sniper rifle.
That means that it can be fitted with a rifle scope without any hesitation. Switch the weapon on by using the safety catch. Use the bolt to reload it. Absolutely all electronics are integrated inside. Thanks to quality components, we have also achieved stable wireless communication with the hit sensors (headband, vest, helmet).
That means that buying SVK is, as they say, "once and for life". The Steel series is recommended for both personal and rental use.
The most important issue when choosing a sniper rifle is the optical system. And this is where the buyers will rejoice. The tagger can be purchased with any of the available optical systems: Prism or Parallax. The choice of optics will affect the range, but optimum shooting is possible at 250 to 400 m.
Inside the device there is a 2.2 Ah lithium battery. The tagger will run for 36 hours without interruption.
The rifle is included in the game set by default. Hit sensors, a telescopic sight, charger, Feedback can be purchased separately.

Parameters
| | |
| --- | --- |
| Charger type | Li+ (8,4V; 1000 mA) |
| Battery type | Li+ (2,6 Ah; 7,4V) |
| Battery life | 30 h |
| | |
| --- | --- |
| Effective firing range | 220 m |
| Length | 107 cm |
| Weight | 3.7 kg |
| | |
| --- | --- |
| Charger type | Li+ (8,4V; 1000 mA) |
| Battery type | Li+ (2,6 Ah; 7,4V) |
| Battery life | 30 h |
| Effective firing range | 220 m |
| Length | 107 cm |
| Weight | 3.7 kg |

Download Passport 0.8 MB (DOCX)