Contacts
The item has been successfully added to cart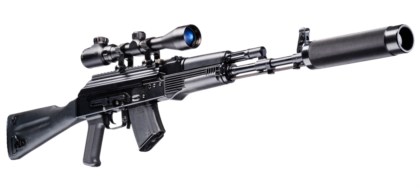 Equipment Options
Version
Optics type
Defeat sensors and battery charger must be purchased separately for selected version
Additional options for selected version
Defeat sensors and battery charger must be purchased separately for selected version
Additional options for selected version
Defeat sensors and battery charger must be purchased separately for selected version
Additional options for selected version

DESCRIPTION

PARAMETERS

CUSTOMER REVIEWS
Welcome the new version of the Kalashnikov sniper rifle for laser tag. The game set is made on the basis of a mass-dimensional model. The main feature is that all laser tag electronics is inside the frame. In addition, to make the model look like a real weapon we reduced the size of a magazine.
The firing range is increased compared with the previous model and now amounts to 150 to 350 meters. Lithium "Li +" accumulators give you up to 30 hours of great performance. The weight is 3.7 kg. The length - 107 cm.
*Attention! The sight must be purchased separately and not included in the play set!
| | |
| --- | --- |
| Charger type | Li+ (8,4V; 1000 mA) |
| Battery type | Li+ (2,6 Ah; 7,4V) |
| Battery life | 30 h |

| | |
| --- | --- |
| Effective firing range | 220 m |
| Length | 107 cm |
| Weight | 3.7 kg |
| | |
| --- | --- |
| Charger type | Li+ (8,4V; 1000 mA) |
| Battery type | Li+ (2,6 Ah; 7,4V) |
| Battery life | 30 h |
| Effective firing range | 220 m |
| Length | 107 cm |
| Weight | 3.7 kg |

Download Passport 0.6 MB (DOCX)