Contacts
The item has been successfully added to cart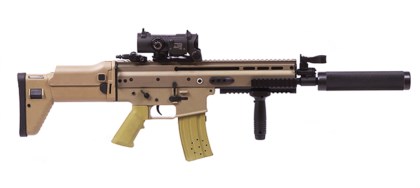 Equipment Options
Version
Optics type
Defeat sensors and battery charger must be purchased separately for selected version
Available options for selected version
Defeat sensors and battery charger must be purchased separately for selected version
Available options for selected version
Defeat sensors and battery charger must be purchased separately for selected version
Available options for selected version
DESCRIPTION

PARAMETERS

CUSTOMER REVIEWS
The main frame material - metal. The pistol grip, magazine, buttstock, bottom of the receiver are made of plastic. The weight is 3.3 kg.
Four Picatinny rails allow you to install different additional equipment ( sight, tactical grip, flashlight) The weapon has a folded buttstock. The length varies from 69 cm to 90 cm.
The lithium accumulator (2600 Ah) gives you up to 30 hours of great performance.
Turn on the weapon by switching the safety catch into the automatic firing mode. Pull back the breechblock to reload the weapon.
You can order it in black and sandy colors.
*Attention! The sight must be purchased separately and not included in the play set!
| | |
| --- | --- |
| Charger type | Li+ (8,4V; 1000 mA) |
| Battery type | Li+ (2,6 Ah; 7,4V) |
| Battery life | 30 h |

| | |
| --- | --- |
| Effective firing range | 185 m |
| Length | 90 cm |
| Weight | 3.3 kg |
| | |
| --- | --- |
| Charger type | Li+ (8,4V; 1000 mA) |
| Battery type | Li+ (2,6 Ah; 7,4V) |
| Battery life | 30 h |
| Effective firing range | 185 m |
| Length | 90 cm |
| Weight | 3.3 kg |

Download Passport 0.5 MB (DOC)