HK416 Bergman Elite Series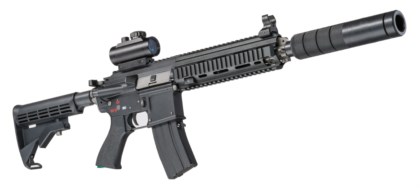 After reviewing the OICW Block 1/XM8 program, Heckler & Koch decided to enter the US military and police arms market with a new, alternative HK416 system. This modular assault rifle combines the ergonomics and look of the M16 rifle, familiar to any American, with a significantly increased reliability through a number of introduced changes.
Nowadays HK-416 rifles are in service with special forces of many countries. The M27 IAR rifle is in operation by US Marine Corps, and G38 is used by KSK (German Special Forces). In 2017, NK-416F became the French army's new main assault rifle, designed to replace the outdated and worn-out French 5.56 mm Famas rifles.
Characteristics of design
HK-416 looks like the little brother of the M-series rifles. Indeed, common features can be observed in the fore-end, buttstock and pistol grip. But these are still different models. Bergman is equipped with Picatinny rails for additional equipment. The grip, sights, tactical flashlights, target indicators - there are no limits. Customise the barrel to suit your needs.
The buttstock is telescopic and can be locked in several positions. The buttstock is also fitted with a carrying sling clamp for a gun belt. The bolt is used for reloading and the key - for switching. The pistol grip has no extra finger recesses, but has a rough texture for a firmer grip. The unfolded length of the model is 94 cm. Weight - 3 kg.
By default, the scope of supply includes the rifle only. Hit sensors, gun belts and sights are purchased separately. When it comes to additional equipment, the list is endless: from camouflage tape to cool optics. So it is up to each player to decide how far into modernization they want to dive.
Inside the device there is a 2.2 Ah lithium battery. The shot is additionally indicated by a cross-shaped illumination and a special sound coming from the Pro Signal speaker. The optimal range is up to 400 m, depending on the choice of optics.
An OLED display and vibration motor are optional and are available at extra cost. The tagger is part of the Original series. The warranty period is 12 months.
Parameters
| | |
| --- | --- |
| Charger type | Li+ (8,4V; 1000 mA) |
| Batttery type | Li+ (2,2 Ah; 7,4V) |
| battery life | 30 h |
| | |
| --- | --- |
| Effective firing range | 185 m |
| Length | 94 cm |
| Weight | 3 kg |
| | |
| --- | --- |
| Charger type | Li+ (8,4V; 1000 mA) |
| Batttery type | Li+ (2,2 Ah; 7,4V) |
| battery life | 30 h |
| Effective firing range | 185 m |
| Length | 94 cm |
| Weight | 3 kg |

Download Passport 0.4 MB (DOC)